"India is the country with a maximum number of women pilots in the world, be it in Air India or Indian Air Force. This is a testimony of the contribution made by women to the aviation sector." Indeed! India has outperformed most of the developed countries in recruiting women pilot for airlines. Globally, the total number of airline female pilots is 8061, which constitutes a little more than 5% of over 1.5 lakh airline pilots worldwide, as per the 2018 statistics available with the International Society of Women Airline Pilots.
The total number of Indian women pilots for airlines is almost equal to 13% of the total female airline pilots in the world. India has 1092 women pilots, including 385 women captains for commercial airlines, as of the year 2018. The biggest US airlines, including United Airlines with 7.5% female pilots and Delta Airlines with even lower 4.4% female pilots, lag behind the national carrier of India, of which women pilots form 12.4% of its total pilots.
Air India alone, which operates most of the nonstop flights to India from the US, the UK and other parts of the world, has 217 women pilots to operate its fleet. Air India's Women's Day celebration is a testimony to the increasing female pilot strength of the country.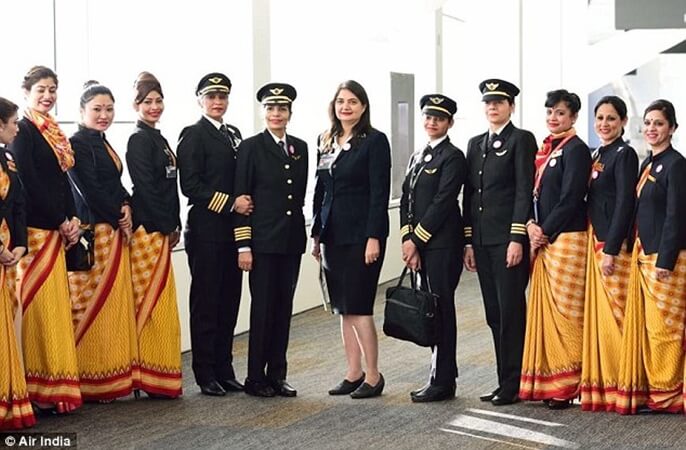 This Women's Day 2020, Air India took the lead in operating 52 flights with all-women crew, including 12 international and 40 domestic. Celebrating the women power of India, Air India's all-women-crew flights hit 12 international routes in medium-haul and long-haul ranges.
New Delhi to San Francisco, Delhi IGI to New York JFK, Delhi to Chicago ORD, and New Delhi to Washington DC are the long-haul international routes Air India's #WomensDay2020 special flights with all-women crew hit today. Mumbai to New York, the newest route for nonstop Air India flights to the United States is not exempt to the airline's all-women-crew flight today. Each of these nonstop flights takes more or less 16 hours 30 minutes.
Air India's all-women crew comprising pilots, ground-handling staff, engineers, flight dispatchers, flight attendants and onboard doctors took charge of B787 Dreamliner and B777 aircraft to operate the 12 international flights on the Women's Day.
On International Women's Day 2020, Air India's medium-haul flights to London, Sydney, Rome, Paris and Shanghai from New Delhi; and to London and Shanghai from Mumbai are operated by all-women crews taking charges from the ground to the cockpit to the travel cabins.
Also Read: A Sneak Peek into Glamorous Days of Air India Hostesses
Air India's #WomensDay2020 special flights with all-women crew hit the domestic skies for as many as 40 routes, sending a message of women empowerment and celebrating its women workforce. The airline's chairman and managing director Ashwini Lohani referred to the women crew as Nari Shakti (women power) while congratulating them for operating a record number of flights on their own.
We at Travel Beats, an overseas Indian community portal by Indian Eagle Travel, believe that Air India and its women workforce will play a great role in realizing India's Aviation Vision 2040. Happy International Women's Day!