With the pandemic giving rise to the demand for nonstop flights to and from India, another Indian airline is all set to venture into the US-India travel sector. Air Vistara, a full-service Indian carrier, has officially received the foreign air carrier permit from the US Department of State (DOT), based on its commitment to complying with the regulations related to aviation security, passenger safety and refunds, among others, put forward by the Federal Aviation Administration (FAA), and Transportation Security Administration (TSA). Air Vistara, a codeshare partner of United Airlines, had applied for the DOT's foreign air carrier permit in April this year.
Previously, the airline had planned commencement of regular services to and from the US in September 2021. As long as the government of India continues to suspend regular/scheduled international civil flights, Air Vistara's US-India flights are unlikely to hit skies. Meanwhile, the airline can decide its destinations in the United States.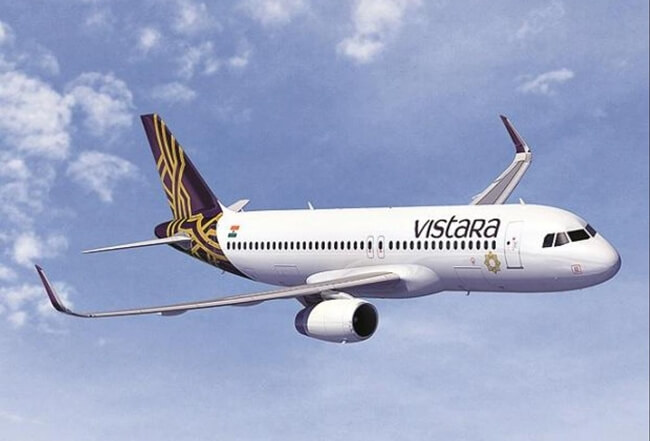 With a growing network in India, Air Vistara has carved a niche in the international sector. Currently, Singapore, Dubai, London, Frankfurt and Thailand are its international destinations. Incepted in 2015, Air Vistara is a joint venture between TATA Group and Singapore Airlines – both have superlative experience in aviation. TATA Group is a pioneer in aviation, and Singapore Airlines is one of the best international carriers.
There is lots of room for nonstop flights in the US-India travel sector. Currently, Air India and United Airlines are the only carriers flying nonstop between USA and India. If things go as planned, American Airlines' comeback to India with nonstop services will happen in October or November this year. Vistara will be the fourth airline to fill in the space available for US-India nonstop flights.
Air Vistara has not yet revealed which US airports it is likely to target for non-stop services. Indian Eagle, a leading air-ticketing organization headquartered in the US, would like Vistara to operate to major US cities other than New York, Chicago and San Francisco. The South Coast does not have nonstop air connectivity with India. If Vistara connects the South Coast to its hub, New Delhi IGI Airport, it will be a welcome move.
Vistara should connect Texas to India with nonstop flights
Dallas, Austin, Houston, Atlanta and Los Angeles are the major cities in the South Coast. Companies moving/having moved to Houston, Austin and Dallas make Texas a strategically viable gateway to the South Coast for nonstop flights from India and other Asian countries. In addition to Tesla, Oracle and Hewlett Packard are moving their headquarters from California to Austin and Houston respectively. Google announced investment plans worth $50 million for Texas, the Lone Star state. 8VC, a venture capital form, is relocating its operations from the Bay Area to Austin.  Goldman Sachs is planning on making Dallas its second major business hub.
The tech exodus from California makes Texas a most emerging business destination for the rest of the world. Besides, Texas is home to the second largest Indian American population in the United States. Texas' fast-growing ethnic community comprises nearly 5 lakh Indian-origin people. On top of that, Dallas/Fort Worth, George Bush Intercontinental, and Austin-Bergstrom International – the major and busiest airports in Texas – have the infrastructure suitable for operations of Boeing 787-9 Dreamliner, which is part of Air Vistara's fleet for medium and long-haul international flights.
If TATA Group, India's pioneer in international aviation, acquires Air India, Vistara will make a formidable force with the national carrier in the US-India travel sector, according to leading aviation experts.