Be it Ganesh Puja or Durga Puja in USA, Indian Americans' enthusiasm for festivities knows no bound. They exhibit similar exuberance when it comes to celebrating Indian festivals in USA as while in India. That's why Virginia Indian community from the Washington DC Metropolitan Area organized one of the biggest Ganesh puja celebrations in America.
Indians of Lorton in Virginia meticulously planned a 10-day Ganesh puja event at the Workhouse Arts Center in the national capital region of USA. A 20-feet eco-friendly Ganesh idol, a 1000-pound laddu, and a 10-long cultural program are some of the major highlights of the Virginia Ganesh festival at the Workhouse Arts Center in Lorton.
Popular with Indian Americans in and around Washington DC, the Virginia Ganesh festival commenced on August 25 with the installation of a breath-taking Ganesh idol from Kolkata, India. A group of artisans in Kolkata made the idol with high-quality fiberglass for 45 days.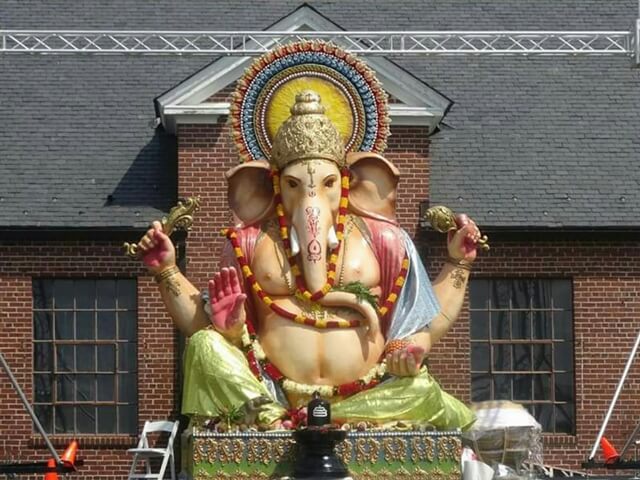 A 1000-pound laddu (a traditional Indian sweet dish) has been offered to the deity during the 10-day Virginia Ganesh puja event in Lorton. It took 12 volunteers two days to cook the giant laddu with authentic ingredients. The festivity will culminate in spectacular immersion of the idol and distribution of the laddu as Prasad.
Daily maha aarti of the deity is performed four times a day – 11 AM, 2 PM, 6 PM and 8 PM – in eight Indian languages. The aarti and archana, a numinous attraction of the Virginia Ganesh festival, draws a huge crowd of devotees from the Washington DC Metropolitan area. Interestingly, the Ganesh puja events at Lorton's Workhouse Arts Center are expected to fetch more than 80,000 devotees over 10 days this year.
Also Check: Ganesh Puja – Hyderabad vs Mumbai
Cultural programs, drone racing, virtual reality, 3D selfies printing and art workshop for children are some of the daily events for visitors and devotees to engage with the festival until September 3, 2017. The schedule of the Virginia Ganesh festival events includes a live performance by Indian Idol PVNS Rohit and fireworks on September 2, 2017. Grand immersion of the deity will follow a musical performance on Sunday, September 3.
Kids2Kids Network, an Ashburn-based non-profit organization, is the organizer of the Virginia Ganesh festival in Lorton. Incepted 3 years back aiming to motivate and aid students of STEM (Science, Technology, Engineering and Mathematics), Kids2Kids Network hosts Ganesh puja at the Workhouse Arts Center in Lorton for children to heave a sigh of relief from the pressure of studies.
Also Check: Interesting Things about Tirupati Laddu Prasad
The Virginia Ganesh festival is not just a religious celebration but also a cultural one since it brings Indians from the Washington DC Metropolitan region for a get-together during daily cultural events. It helps children refresh their minds and imbibe Indian values at the same time. Indians can go on a shopping spree for traditional jewelry, clothes and food at nearly 100 booths at the festival venue.

Interestingly, Kids2Kids Network will donate the 20-feet Ganesh idol to an organization for a similar celebration in USA. A four feet clay idol will be immersed on the 10th and last day of the Virginia Ganesh festival in Lorton.
Subscribe to Upcoming Indian Events in Washington DC Metro Area