'History repeats itself.' The US, which was home to the world's tallest buildings until the 2001 September 11 attacks crushed the Twin Towers of the World Trade Center in Manhattan into a colossal heap of debris, is all set to revive its lost pride and glory by transforming the skyline of New York City once again.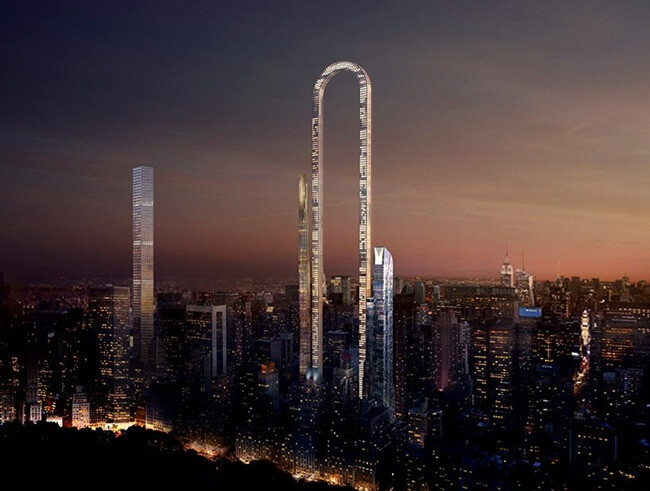 New York, 'the City that Never Sleeps,' is going to have the world's longest building titled The Big Bend, a U-shaped giant structure measuring 4,000 feet in end-to-end length. If the U shape is stretched out into a horizontally or vertically straight line, The Big Bend will boast almost twice the height of the world's sky-penetrating structures. It will also outshine Dubai's Burj Khalifa, which has possessed the distinction of being the world's tallest building (2722 feet) since 2010.
The Big Bend, once it's erected and bent at its highest central point, will change the way the skyline of New York City looks now. The Empire State Building with a roof height of 1250 feet (1454 feet including the antenna), which has been dominating the city skyline for years, will be dwarfed once The Big Bend is completed. The U-shaped curved structure will be a whole new tourist attraction in New York, the Big Apple.
The Big Bend, modeled as a glass-lined slim tower, will have a lift that can operate along the building's length from end to end and through the curve at the highest point. The other architectural details of the world's upcoming longest building in New York will be made public later on.
Overlooking the Central Park, The Big Bend will add to the engineering marvel and architectural beauty of the existing luxury skyscrapers in the area which is popularly known as Billionaires' Row in New York City. The super ambitious project like The Big Bend is inspired by the unflinching obsession with incomparable luxury and unsurmountable height in Manhattan, according to the developers.
The developers are awaiting approval of the project. If the project gets a concrete shape, The Big Bend will be a whole new reason to visit New York, the Empire City.
Travel Beats is a digital magazine on air travel, tourism, immigration, visa and the Indian community by Indian Eagle, a leading travel organization. Indian Eagle strives to make US to India travel easier, better and cheaper. Check the best available flights from New York to India.