Post the US elections 2016 and the rise of Donald Trump to the supreme Presidential power of America, India witnessed the birth of a new human god. Before and after Trump ascended to the hot seat of US President, some sacred Hindu rituals including yagna (holy fire) were performed in honor of the newborn god in some parts of India. The new god does even share space with traditional Hindu gods and is worshipped daily in a rural India household. He is none other than US President Donald Trump himself.
While President Trump might have invited flaks for his rigorous take on US visas and immigration, his wellbeing is prayed for and his birthday is ceremonially celebrated in an Indian village. While he has critics and opponents within and outside the US, he enjoys divine stardom in rural India. The sincerest of all his fans, followers, admirers and well-wishers is Bussa Krishna in Telangana, thousands of miles away from the United States.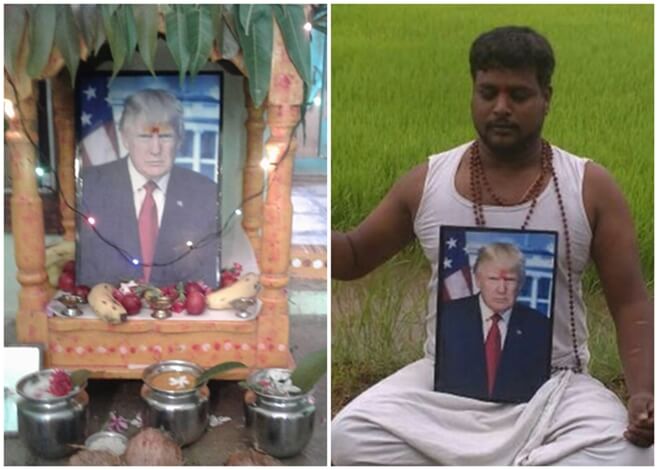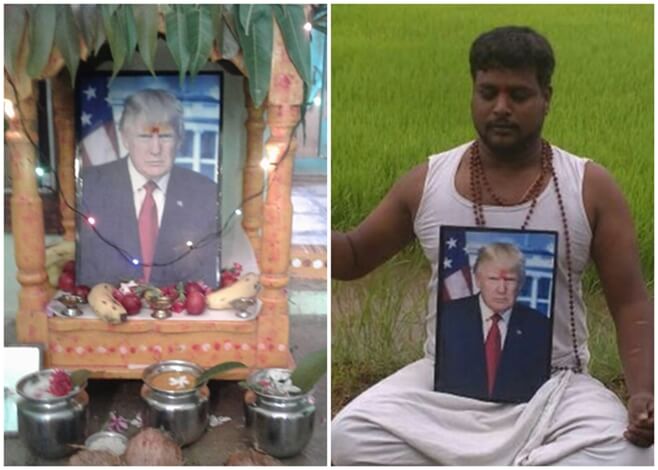 A 31-year-old farmer in Konne Village in Telangana's Jangaon district, Bussa Krishna worships Donald Trump, offers prayers to him and adorns his photograph with flowers, vermilion as well as turmeric every day in his humble abode. He has installed a framed picture of Trump on a wooden altar just as effigies or imageries of gods are reverently placed in most Hindu households. He does also clean Trump's photograph with milk before worshiping it with an ignited lamp, a ritual called aarti that Hindus perform for gods and goddesses.
What made Bussa Krishna attribute divinity to Donald Trump and worship him became a universal question when it grabbed social media attention and made headlines the world over.
Worshipping eminent political figures is not an uncommon phenomenon in India. In addition to memorials and museums, brick and mortar temples have been consecrated to political personalities like former Prime Minister Indira Gandhi, former President Dr. APJ Abdul Kalam, and Mahatma Gandhi. Even Sonia Gandhi, former President of Indian National Congress, and Prime Minister Narendra Modi have been idolized for worship in temples built for them. Political pilgrimage is an emerging trend in India.
Not only politicians but some actors and cricketers are treated as demigods by common people, especially in the southern states of India. A new Narendra Modi temple with a 100-foot idol has been proposed for Rs. 10 crore in the Indian state of Uttar Pradesh.
Surprisingly, Telangana's villager and farmer Bussa Krishna does not know much about the US President Trump. Far from the most common act of political sycophancy, he admires and worships Trump out of his simplicity, values and faith in Trump's invincible leadership. Media quoted him saying, "I only know that he is the strongest invincible leader in the world. What I liked about him was his bold attitude."
Another reason why Bussa Krishna revers Trump as a god is his steadfast belief that his prayers to the US President would reach Americans one day and make them understand the 'greatness of Indians' post assassination of Srinivas Kuchibhotla, a software engineer from Telangana, in Kansas City. Krishna was deeply pained at the unjust murder of Srinivas Kuchibhotla in an abominable act of hate crime. He believes,
"Indians can win over anyone with their spiritual powers. When you cannot take on a mighty person directly, you can win over him with love and worship and that is what I am doing."

When he was being laughed at for his efforts to reach out to Donald Trump thousands of miles away from India, social media saved him from being an object of ridicule in public. Some of Trump's fans in the US responded to Bussa Krishna and thanked him on Facebook. One of the Trump supporters wrote to him, "I am glad to see that there are people like you who recognize what a great President we have."