Indian American teens are making a mark in different niches ranging from national spelling bee contests to beauty pageants. Even pre-teen Indian Americans are not lagging behind. They joined the rate race for academic and non-academic achievements early in childhood. Driven by an intense zeal to make it big right from the school days, they bring laurels to their community and contribute to the economy of innovation in America.
11-year-old Akshaj Mehta from California put a new feather in the cap of Indian American community by becoming "Youth Hero of the Year" 2017. This Sacramento-based California Indian boy is neither a spelling bee champion nor a technology wizard. Akshaj Mehta is an accomplished writer and published author. Since his debut as author at the age of 8, he has penned and published five books.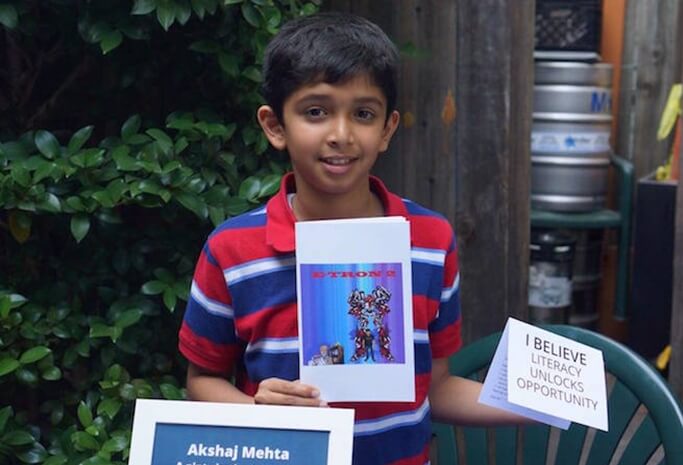 The American Red Cross recognized 11-year-old author Akshaj Mehta as its "Youth Hero of the Year" and felicitated him at its 100 Years of Sacramento County Heroes Presentation event in May. Akshaj was the youngest honoree at the American Red Cross' centenary event in Sacramento. He was awarded a certificate of recognition by Assemblyman Ken Cooley.
Akshaj Mehta from the Sacramento Indian Community is a prolific writer. He does not only have five published books but countless articles, essays and poems to his fame. He debuted into creative writing with his first book titled Super Mouse in 2014. His second book E-Tron saw the daylight in 2015. E-Tron 2, a sequel to E-Tron was published in 2016.
11-year-old author Akshaj Mehta is not just a writer but a social activist too. He actively takes part in community services such as blanket drives for shelters for the homeless, food drives for the Sacramento Food Bank for the needy and cleaning drives in neighborhoods. He also helps collect books for schools and libraries in Sacramento.
He is a budding philanthropist too. He donated a fraction of the revenue from the sales of his first book Super Mouse to the Sacramento Children's Home, where local children subjected to social abuse are provided food and shelter. He also donated to the Make-A-Wish Foundation after his second book became a hit. At a book signing event in Sacramento, Akshaj Mehta donated $500 to Reading Partners Sacramento.
In addition to the latest title "Youth Hero of the Year" from the American Red Cross Society, Californian author Akshaj Mehta treasures an array of honors including the Exceptional Youth Award, Natomas Unified School District Award, and Hometown Hero Award from KFBK Radio. He was named an 'Inspiring Kid' by Sacramento Parent Magazine. The author of Super Mouse was named "the Lone Child Author" in the 2016 ScholarShare Children's Book Festival.
Indian Eagle, a trusted travel partner of Indians in America for booking their travel to India from USA, publishes stories of Indians in USA, shares latest air travel news and lists upcoming Indian events in US cities on Travel Beats, a leading Indian community portal.
Read about More Young Indian American Achievers