96-year-old Gangadhar Sharma and his 90-year-old wife Saroj Sharma, who had founded the Hindu Society of North Carolina in Morrisville about 50 years ago, have seen the outgrowth of Indian culture and traditions over the swelling numbers of Indians as the largest Asian ethnic group in the northeast US. North Carolina's Indian-origin population being more than 120,000 has surged by over 50% in the past decade. Charlotte, Raleigh, Durham, Chapel Hill, Cary, and Morrisville are home to the growing South Asian population in NC.
Evidently, every bit of India is available in North Carolina these days, from Indian temples to restaurants, except direct flights from India to Charlotte or RDU Airport. Recently, Indian-origin leaders of the Research Triangle, NC have been vocal about their demand for direct flights to India from Raleigh-Durham International Airport. On SEP 22, Indian American Steve Rao, a council member of Morrisville Town, called for a town hall meeting at the Hindu Society of North Carolina where RDU Airport's CEO Michael Landguth addressed the Triangle's Indian community in response to their demand for nonstop flights to India.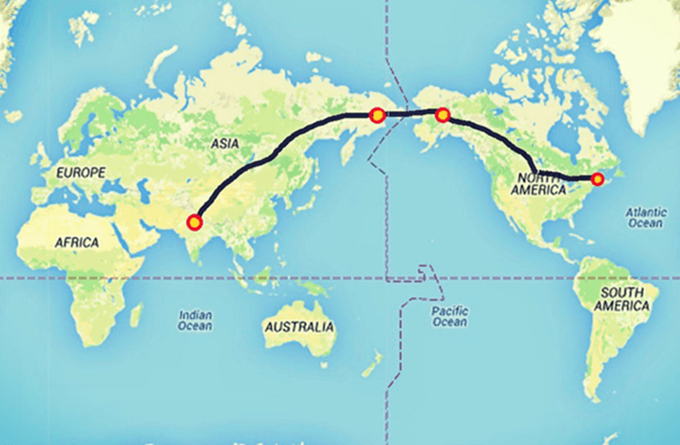 Jay Chaudhuri, the North Carolina Senate's first Indian American legislator representing Raleigh, also attended the meeting. He spoke about the importance of having direct air connectivity to India for the Triangle's growing Indian community from an economic standpoint. The Indian community's explosive growth driving the availability of talent in the RTP area is the reason for Infosys to have set up a technology and innovation center at Raleigh. The same was factored in by Bharat Forge, an Indian conglomerate, for its opening of a manufacturing facility in the Triangle, NC. In view of this, Senator Jay Chaudhuri raised a question in the meeting, "Can we rally our companies to get a nonstop route from India to North Carolina so that our economic relations with India go to next level?"
The frequency of business class travel to India by high-profile employees of IBM, Google, Lenovo, Cisco Systems, NetApp and likes in the Research Triangle's expanding tech corridor is also fueling the demand for direct airline service from Charlotte or RDU Airport. Many of them look forward to having nonstop flights between North Carolina and India as they weigh in the travel time that one-stop or two-stop connecting itineraries take.
Besides the economic development that direct air connectivity to India is believed to spur in RTP, some 200 members of the Indian community in attendance at the meeting with RDU Airport' CEO spoke about the hassles of traveling between the Triangle and India via Atlanta, New York, Philadelphia, Washington Dulles, Boston, and Miami/Tampa. Long layovers, missed connections, and lost baggage are some of the disadvantages of traveling on two-stop flights to India from USA via Europe or the Middle East, according to them. Indians in and around the Triangle, NC mostly get two-stop itineraries from Charlotte to India via a major US airport and a third country.
A long-haul aircraft deployed for nonstop service to India, irrespective of airlines, can accommodate 240 to 275 passengers. It is a challenge to fill more than 200 seats on an ultra-long-haul flight from RDU Airport every single day, according to RDU Airport's CEO Michael Landguth. 2019 saw about 75 passengers travel to India form the Triangle a day; but the "number has dropped to about 50 a day "in post-pandemic times, according to Campbell-Hill Aviation Group, a consulting group. Given the numbers falling short of filling an airplane for a long-haul destination, nonstop service to India from RDU Airport can only be expected in the distant future, said Michael Landguth.
Any airline that the Triangle's Indian community wishes to fly them to and from India without a layover needs marketing support from the community and financial incentives, said RDU Airport's CEO. "A combination of both helped the Triangle get nonstop flights to London and Paris early this year," he added. RDU Airport waived $1.2 million of fees for Delta Airlines' nonstop service between RTP and Paris. A number of private groups, including MNCs in the Triangle, funded the service with another $1 million.
Both RDU Airport's CEO and the Indian community leaders concluded that getting better one-stop connections between the Triangle and India rather than two-stop connections should be the first interim move. The data processed by the Campbell-Hill Aviation Group reveals that only a third of India-bound travelers from the Triangle are able to make it on one-stop connecting flights, whereas two-thirds of them are traveling on itineraries with two-stop connections. Since the first goal is to cut itineraries short to one stop from two stops, Emirates Airlines or Qatar Airways seems the most feasible option to connect RDU and India with one-stop flights via Dubai or Doha, according to most of those present in the meeting.
"Indians in Atlanta, Houston, Dallas, Miami, and Detroit have been lobbying Indian diplomats, consul generals of India, and major airlines including Air India for nonstop connectivity to India, but their efforts are yet to bear fruit. Since Atlanta, Houston, Dallas, and Charlotte airports are far ahead of RDU Airport in the race for nonstop flights to India in terms of infrastructure and finance, they have better chances than RDU. Since hope continues to glimmer but never dies, Morrisville Town's council member Steve Rao said that he would try to create a lobby of community and business leaders so that greater thrust could be produced to get the ball rolling," said Sourav Agarwal, the Editor of Travel Beats, a leading community portal for Indians in America.