Dosa is one of the few unique Indian snacks which unify people from different food cultures across the country. It had its magic on Prince William and Kate Middleton too, yesterday. The Royal Couple from Cambridge, who had a grand Indian dinner at Mumbai's iconic Taj Mahal hotel, tried their hands at making dosa.
It was their first ever tryst with the most popular South Indian snack which is available in more than 10 varieties across Hyderabad, Chennai, Bangalore and other South Indian cities. The Duke and Duchess of Cambridge successfully made a dosa-making attempt using DosaMatic. Prince William poured the battered rice paste into the automated machine and Kate Middleton pressed the buttons.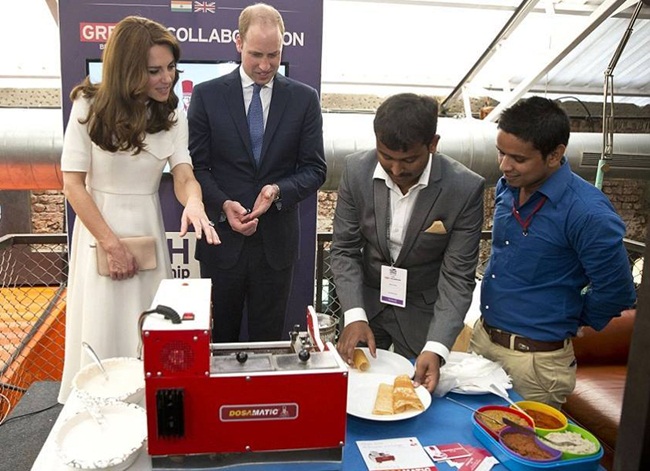 DosaMatic is the world's first automatic dosa maker, invented by Mukunda Foods based in Bangalore, the Silicon Valley of India. Dosa is primarily a manual preparation which DosaMatic has made a lot easier. It works at the touch of a few buttons to make dosas of varying thickness levels from 1 mm to 6 mm.
The Royal Couple was happy to get a crispy dosa in just one minute after they operated the machine. Prince William had a bite and exclaimed "Namaste Mumbai" out of joy. The Duchess shared his joy and gave a brief thanking note for the dosa experience.
Bound to the norms that the members of the British royal family do abide by, the Duke and Duchess usually avoid taking food in the public. But they could not help tasting the hot crispy dosa in India. Such is the irresistible temptation of Indian food!
Kate Middleton found DosaMatic an interesting device that helps to make dosa similar to crepe pancakes in Britain. She was much curious about the story behind the invention of DosaMatic and the device's role in the Indian society. In response to the Duchess' queries, the CEO of DosaMatic said that hotels and restaurants across India are using 500 bigger versions of the device. The plan of launching a mini residential version of DosaMatic is underway.
India is a major destination for diversified culinary tourism in Asia. The Union Ministry of India Tourism is looking to fetch in foreign tourists for food tours in heritage cities of India such as Agra, Lucknow, Delhi, Hyderabad, Mysore and likes. The best way to explore the culinary culture and heritage of India is tasting local cuisines across the country. – IndianEagle