Delhi has been the hotbed of political affairs from the British Raj in India till today when the Lok Sabha Election is around the corner. The history and heritage of Delhi never fail to overwhelm tourists. What more is the capital of India known for? It is versatile and cosmopolitan food culture. What to eat in Delhi is a number of snacks, chaats and desserts, some of which are listed in the street food guide. IndianEagle presents a brief picture of Delhi's sinful street food.
Samosa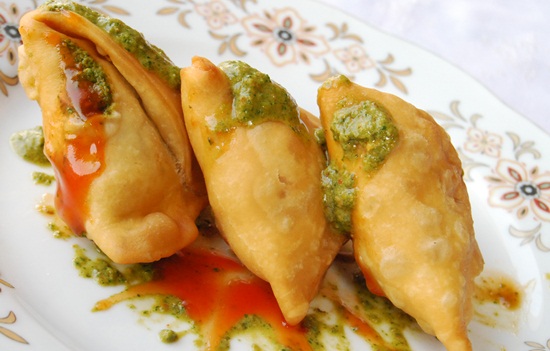 Samosa is one of the most popular Indian snacks in the Delhi food guide. For Delhites, it is a must have during nasta (breakfast) in the mornings and the evenings. They love to entertain guests with a couple of hot samosas. Samosas are deep fried goodies of triangular shape, made of flour and stuffed with a mix of spiced potato mash, onions and peas. Dipping every bite of samosa into a small bowl of spicy chutney (made of tamarind) is the way the native Delhites enjoy this crispy snack. The cosmopolitan Delhites prefer tomato sauce to accentuate the taste. Samosa chaat is another delicacy which is made by smashing a samosa open and spreading some yogurt, onion slices, spices, and chutney over it.
Chole Kulche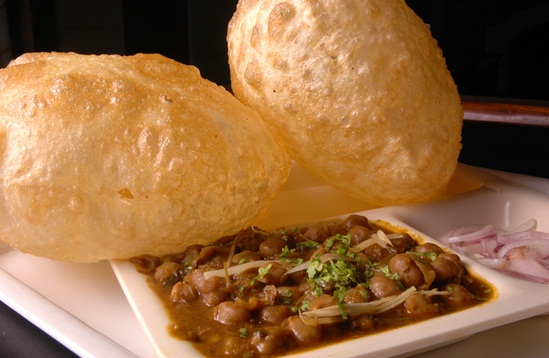 One of the most delicious street foods in Delhi, chole kulche is a craze with the locals. It is the Delhite version of Chole Bhature, a Punjabi dish. Kulche is fluffy baked bread, made from refined flour (maida). It is usually made in oval shape. Kulche is served with a plateful of chole that is a dense curry of boiled chickpeas. Many street food vendors in Delhi use yellow or green peas to cook chole. A plate of soft kulche and hot chole makes the best treat for the taste buds on rainy and winter days.
Dal Makhani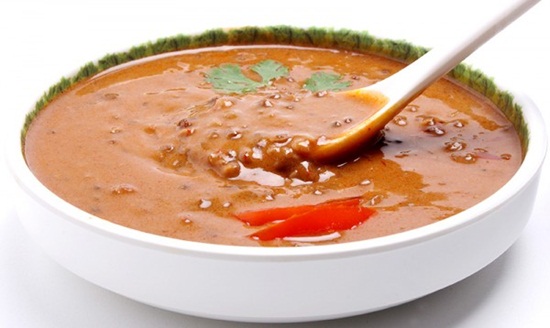 The traditional Punjabi cuisine has bearings on the Delhi food guide. One of the borrowings from the Punjabi kitchen, Dal Makhani is a spicy mix of boiled lentils and red kidney beans, fried in butter and flavored with tomato slices. It is made thick and the taste is enriched by adding some cream. Delhites are very fond of this buttery affair, a common item on the menus served at most of the restaurants in Delhi. A plateful of dal makhani is savored with bites of naan and tandoori rotis.
Dahi Bhalla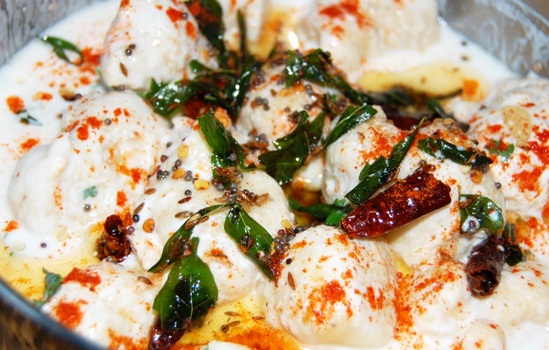 Dahi Bhalla is a cooling affair for the stomach on hot summer days in Delhi. This stomach-soothing dish falls to the chaat category. Bhalla, the main component of the dish, is deep-fried bread made from lentil paste. The bhalla is dipped and soaked in the yogurt. Flavored with sweet tamarind chutney, the dahi bhalla dish is topped with pomegranate seeds and yellow raisins. This typical Delhi food item offers a rich mix of tastes – spicy, tangy, sweet and snacky.
Gulab Jamun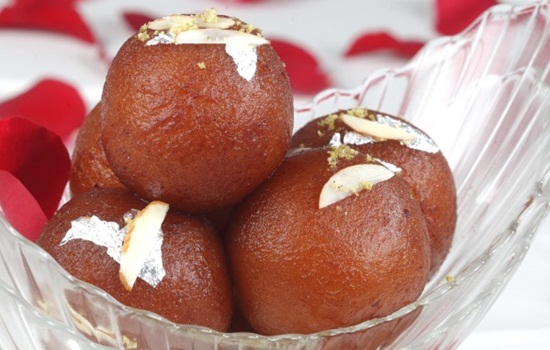 Gulab Jamun is the king of sweets in Delhi. Delhites say, "What do you eat if you don't eat gulab jamun?" Though a popular dessert all over the country, it is a favorite of the cosmopolitan Indians in the capital city. Tiny balls are made from the mixture of flour and milk. The balls are deep fried in pure ghee or refined oil, and then dipped in sugary syrup. The taste of hot gulab jamuns is inexplicable!
Kulfi Faluda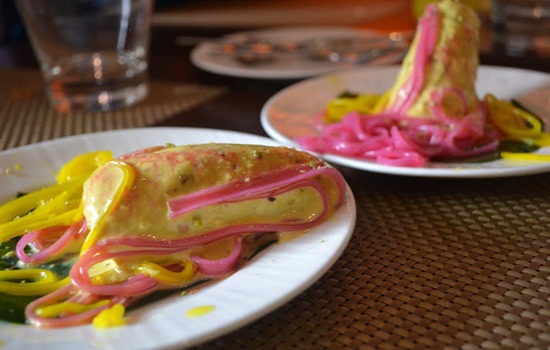 It is kulfi faluda which makes the ambience of Delhi enjoyable on summer evenings. Every Delhite is obsessed with the irresistible taste of kulfi faluda, an Indian dessert combined of milky ice cream and vermicelli noodles. The dish is served with creamy dressing and rose water. Foreign tourists may find the use of noodles in ice cream a bit odd, but they return to their native lands with a sweet memory of kulfi faluda in Delhi.
Kulle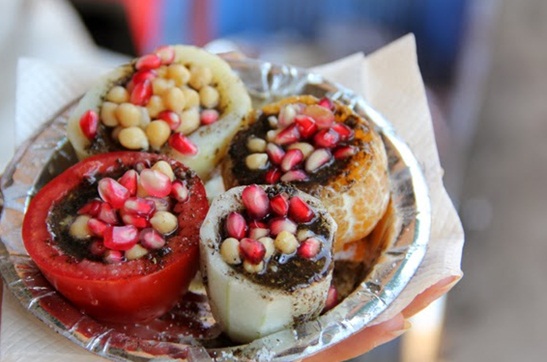 Kulle is another popular street food item in Delhi. Unique to the city's love for food, this culinary invention is a spicy fruity affair. Popular on the days of summer, kulle is a mixture of pomegranate seeds and boiled chickpeas, flavored with salt and other spices. Kulle is served with fresh vegetable slices.
Do make sure to have a sinful indulgence over these food items without guilt when the temperature of Delhi will be soaring during the Lok Sabha election 2014. IndianEagle.com opens the window to Indian culture and history for the NRIs by booking their flights to India at the lowest airfare.