The Jaipur Literature Festival of India is traveling to Colorado in the United States this September 2015. The American debut of the festival has rightly been described as a caravan of creative minds and heads from across the globe. To be held at the Boulder Public Library and Civic Lawns, the Jaipur Literature Festival will unify the West and the East in a unique bond of multilingual literary heritage. The festival will hold a mirror to different cultural aspects of Indians, Americans and Indian Americans through interviews, debates, panel discussions and live performances. The stars of the Jaipur Literature Festival at Boulder are the luminous faces from different genres of art, culture and creativity, who will grace the fest as guest speakers. Indian Eagle lists some of the eminent guest speakers to catch up with at the American debut of Jaipur Literature Festival Boulder, with a brief introduction below: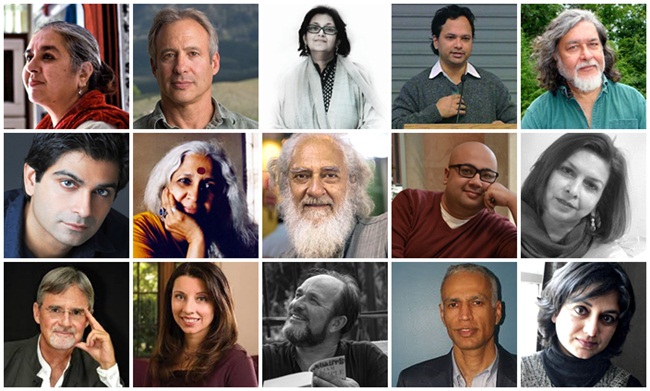 Anosh Irani is a bestselling author of such popular novels as "The Song of Kahunsha," and "The Cripple and His Talismans." The Song of Kahunsha has been published in 13 countries including Canada, Italy and China where the novel is a bestseller. He was nominated for the 2010 Man Asian Literary Prize for his "Dahanu Road."
Amitava Kumar is a prolific writer with several non-fiction novels to his fame and a professor of English language. He has recently published "Lunch with a Bigot", a collection of essays about his experience of fundamentalism in the world.
Esther David is a Sahitya Akademi Award winning novelist. She has penned stories about Jewish life in India and portrayed the changing face of Ahmedabad in some of her works, which are translated in several international and regional languages. She is an art critic and a columnist for the Times of India as well.
Manil Suri is an Indian-American author of "The Death of Vishnu," "The Age of Shiva," and 'The City of Devi." His critically acclaimed works have been published in as many as 27 languages and fetched him several prestigious awards. Born and brought up in Mumbai, he teaches Mathematics at the University of Maryland, Baltimore County.
Manjushree Thapa has authored 6 books of fiction and nonfiction about different aspects of life in her native country Nepal. She is equally famous for her English translation of Nepali literature. Leading international publications including New York Times and London Review of Books have given space to her though-provoking essays. "All of Us in Our Own Lives", the latest from her repertoire, will see the daylight in 2016.
Namita Gokhale, co-director of Jaipur Literature Festival, has several fictions and non-fictions to her name in Indian English literature. Her literary repertoire comprising "Paro: Dreams of Passion," "A Himalayan Love Story," "Gods Graves and Grandmother," "The Book of Shadows," and "In Search of Sita" is an illustrious one.
Vikram Chandra is an Indian American author and a professor of creative writing at the Universtiy of California in Berkeley. His "Geek Sublime," "Sacred Games," "Love and Longing in Bombay," and "Red Earth and Pouring Rain" have earned him international recognition. He has got the Commonwealth Writers Prize, the Salon Book Award, and the Crossword Prize.
Vijay Seshadri is a Bangalorean by birth and winner of the Pulitzer Prize for Poetry (2014). He has penned four collections of poems: "The Long Meadow," "Wild Kingdom," "The Disappearances," and "3 Sections." His literary repertoire also includes essays, reviews and memoirs. Currently, he resides in Brooklyn and teaches at Sarah Lawrence College.
Arvind Krishna Mehrotra owes his global fame to five distinguished collections of poetry, including "The Absent Traveller," and "Songs of Kabir." Besides, he is an accomplished editor. He has edited The Oxford Indian Anthology of Twelve Modern Indian Poets, A History of Indian Literature in English, and Arun Kolatkar's Collected Poems in English.
Kalyan Ray has two popular novels: "Eastwords" and "No Country." "No Country" holds a mirror to his firsthand experience of political upheavals and natural disasters in Bangladesh. He was brought up in Kolkata, India and educated in the United States. He is currently neck-deep in his third novel "A Rain of Stones."
Nayana Currimbhoy is an Indian American writer based in New York City. Of the published works in her repertoire, three nonfictions – "Indira', a biography of former Indian Prime Minister Indira Gandhi; "Living in Deserts," a book on cultural diversity of geography; and "Entrances," a design book – are worth a mention. Her first novel, "Miss Timmins' School for Girls," saw the daylight in 2011.
Uday Prakash is a widely published author whose literary works have been translated in several foreign languages and critically acclaimed across the globe. Most of his stories including "Peeli Chhatri Wali Ladki," "Mangosil," "Areba Pareba," "Mohan Das," "Raat Mein Harmonium," and likes have been staged and adapted for short films. An independent writer and filmmaker, he was honored with Sahitya Akademi Award for his novella, "Mohan Das," in 2010.
Prajwal Parajuly ventured into the world of literature with his debut collection of short stories, "The Gurkha's Daughter." The anthology was on the shortlist for the Dylan Thomas prize in the UK. He earned international acclaim for his first novel, "Land Where I Flee," in 2015. Most of his works found mention in The Guardian, The New York Times and The Statesman. An eminent writer-in-residence at Truman State University in Kirksville, Missouri, he flits between London and New York.
William Dalrymple, co-director of Jaipur Literature Festival, is a must mention among the guest speakers at the festival's debut in Boulder, Colorado. He has authored nine books about India, including "City of Djinns," "White Mughals," "The Last Mughal," and Nine Lives: In Search of the Sacred in Modern India, which delve deep into India's historically rich past. He has been immensely awarded for his literary take on India and its political history from the Mughal Era. "Return of a King: The Battle for Afghanistan 1839-42" is his latest addition to his repertoire. William Dalrymple is a columnist for The New Yorker, The Guardian and other leading publications.
Arshia Sattar is best known for her translations of the "Valmiki Ramayana" and the "Tales from the Kathasaritsagara." She is equally famous as a children's writer. She has penned three books for her young audience, including the latest "Adventures with Hanuman." She has recently compiled and translated stories from several Sanskrit books about different attitudes to money in the bygone eras. "Lost Loves: Exploring Rama's Anguish," an anthology of essays on the Ramayana, was nominated for the Crossword Nonfiction Award in 2012.
Ausma Zehanat Khan advocates human rights against war crimes. She has done Ph.D. in international human rights law and specialized in military intervention as well as war crimes in the Balkans. She designated the distinguished title of editor-in-chief for "Muslim Girl" magazine. Author of "The Unquiet Dead," a critically acclaimed novel, she currently lives in Denver, Colorado.
Kai Bird is a historian and journalist. He is a Pulitzer Prize winner too. His latest book, "The Good Spy: The Life and Death of Robert Ames," is listed as a bestseller by The New York Times. Being a historian, he travels back to dig deep into the history of civilizations and being a journalist, he writes insightfully about his observations. He has penned critical essays and stories on the Vietnam War, the Cold War, Nuclear Weapons, Hiroshima and the Arab-Israeli conflict.
One of the bestselling American authors, Peter Heller is a noted author of "The Dog Stars." He is a popular adventure writer too. He is associated as a contributing editor with Men's Journal, National Geographic Adventure, and Outside Magazine. Denver in Colorado is his home.
About Indian Eagle
Like the Jaipur Literature Festival, Indian Eagle bridges the gap between the United States and India, offering cheap flight tickets online from international airlines. Indian Eagle also promotes art, culture and literature as part of its social responsibility.