The aging out of H4 dependent children is giving jitters to hundreds of thousands of Indian parents who have long been waiting for the Green Card. Driven by the fear of parting from their aging-out children, once they turn 21, five Indian families recently filed a lawsuit in order for the children to continue being on H4 Visa and be exempted from self-deportation.
Amidst such tensions showing no sign of abating, the state of New Jersey has come forward to level the field in education for the children of H1B visa holders. Phil Murphy, the governor of New Jersey, signed Tuition Equality Legislation to put H4 dependent children on one end of the fulcrum, in balance with the children of US citizens on the other end.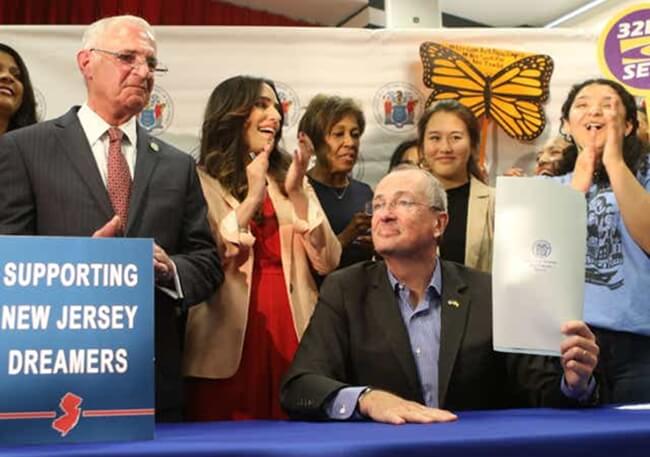 The Tuition Equality Legislation titled S2555 is aimed at bringing the children of H1B visa professionals into the ambit of affordable in-state tuition at public institutions of higher studies. It exempts them from paying out-of-state tuition fees that foreigners or international students are required to pay, provided they meet certain eligibility norms. They must have graduated from or attended a New Jersey High School for minimum three years.
In order to evade self-deportation and stay back in the US post expiration of their H4 status, Indian children obtain an F1 visa that likens them to foreign students in USA. Higher education costs them the same as what international students pay. It means the children of Indian parents seeking lawful permanent residency are unequally treated where they have spent their childhood and grown up.
While signing the Tuition Equality Legislation titled S2555, Phil Murphy said, "The people of New Jersey deserve equal access to higher education, and today we are taking another step toward making that possible." "I am proud to sign the legislation S2555 to help our students, irrespective of their nationality, achieve their education goals, pursue a successful future, and live their dreams here," he said further.
Described as a boon for H4-visa dependent children, the Tuition Equality Legislation enables New Jerseyan students of Indian origin to pay the same in-state tuition fee as what they American classmates pay to study at any college or university in New Jersey. The legislation S2555 is sponsored by Senators and Assembly members including Vin Gopal, Raj Mukherji, and Daniel Benson.
The New Jersey Assembly members opine that denying H4 children the right to affordable in-state education is denying them space to grow, nurture their talent, and contribute to the growth of the state. Unequal treatment of H1B visa holders' children means shutting the door on a whole new generation of brilliance and intellect.
Also Check: Air India's New Baggage Policy for Newark
Travel Beats, a leading overseas Indian community portal, strives to promote good news and inspiring stories of Indians in USA. A subsidiary of Indian Eagle, Travel Beats publishes the latest community, visa, immigration, passport, and air travel news.