Finally, the White House introduced a new social media vetting form DS-5535 for US visa applicants from across geographies, after much to and fro. The newly instituted form DS-5535 is fundamentally an additional questionnaire for American visa applicants who may be required to provide their social media details and email contacts used for the past 5 years, in compliance with the United States' new security policy for immigration and travel. The US visa vetting does not end here.
The three-page form DS-5535 for additional scrutiny in connection with the national security requires US visa applicants to furnish 15 years of their residence and employment too. They are required also to disclose their travel history for the past 15 years (including the countries which they have been to) and the source of finance for their trips. The most controversial section of the new US visa vetting form DS-5535 is the one that requires applicants to provide the user names that they have used on social networking sites for the past five years.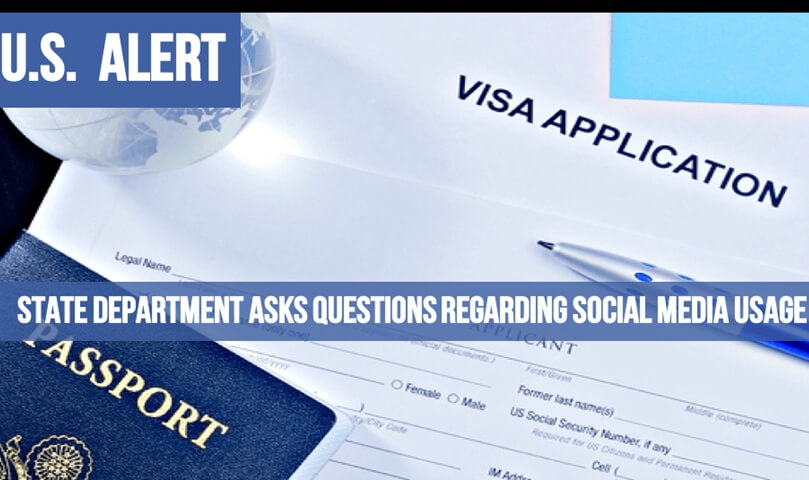 Here's what the form DS-5535 asks for precisely: 
Travel History during the last 15 years, including the source of funding for travel
Address history during the last 15 years
Employment history during the last 15 years
Names and dates of birth of all siblings
Names and dates of birth of all children
Names and dates of birth for all current and former spouses, or civil or domestic partners
Social media platforms and identifiers, also known as "handles" used during the last 5 years
Phone numbers and email addresses used during the last 5 years
The new US visa vetting form DS-5535 is said to be temporary. Reportedly, it will remain effective until November 2017, but the timeframe may be extended based on the scenario in or after November. Approximately 13 million applications are submitted for US visa in different categories.
Available at US consular offices throughout the world, the new questionnaire for additional scrutiny is not for all applicants. US consular officers reserve the right to determine which applicants are required to fill up the form DS-5535, in their discretion. This questionnaire may be issued to nearly one million out of 13 million visa applicants, according to the Department of State.
Also Check Indian Government's New Portal for Abused NRI Brides
The question that has been pouring in from different parts of the world is, "Who will the form DS-5535 affect most?" The group of American visa applicants to be affected by the new US visa vetting form is students, according to leading immigration lawyers. Undeniably, students are more exposed to social media than any other group.
Students applying for US visas to study in American colleges and universities are required to be careful about the accuracy of information they provide. They should deliberately answer the questions in the form DS-5535, leaving no reason for further inspection after additional scrutiny of their biographical history and social media usage. It is assumed that foreign students may be denied entry into USA or may face delay in visa processing because of their politically outrageous tweets or Facebook posts.
The new US visa vetting form DS-5535 is a matter of concern for India because the second largest number of students applying for education visa to USA is from India. A recent survey points to a drop in the number of US visa applications from students in India and China due to uncertainties about H1B visa and US immigration policies. Nearly 2 lakh students from India are currently studying in the United States.
Indian Eagle is a leading travel organization booking cheap US-India flights tickets round the year. Indian Eagle's digital magazine, Travel Beats publishes the latest visa, immigration, travel, tourism and Indian community news. Subscribe to our free newsletter for the latest updates.