Let's congratulate Indian American Sakshi Satpathy this Diwali for having received the 2018 National Gold Award from Girl Scouts of the United States. The way she took the bull by the horns in fighting against and educating people on such social evils as child marriage and human trafficking catapulted her to global limelight. She is among the 10 young women shortlisted for the National Gold Award 2018.
Sakshi Satpathy, a desi teenager from Palo Alto in California came out of the cocoon of her age and took up the issue of child marriage to combat. She initiated Project Greet – Girl Rights: Engage, Empower, Train. To execute the project across a great length and reach out to an international audience, she conceptualized and made documentary films on some heart-wrenching cases of human trafficking and child marriage.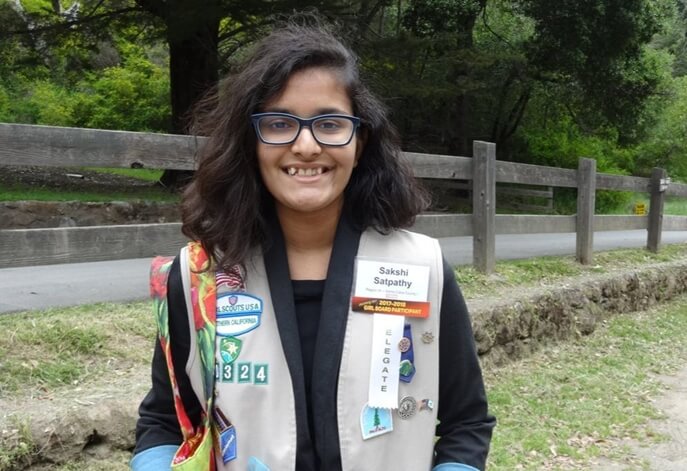 The 2018 National Gold Award recipient, Sakshi Satpathy not only made documentaries but also created illustrative training programs to make people aware of how child marriage and human trafficking for sex slavery are destroying the gender ecosystem across the globe. Her 'Guidelines to Rehabilitate Young Trafficked Girls' have been appreciated by activists and helped nonprofit organizations to develop vocational training courses for rehabilitation of trafficked girls and exploited child brides.
The global impact of Bengaluru-born Sakshi Satpathy's stand against child marriage and human trafficking is evident from the screening of her documentaries at 59 places in 15 countries. In addition, her Project GREET was applauded at the United Nations' 62nd Commission on the Status of Women.
While working with Amnesty International as the founder and president of the Gunn Amnesty International Club, San Francisco Bay Area-based Sakshi Satpathy came to know the shocking facts and figures of such inhuman practices as forced child marriages and trafficking of girls for sexual exploitation. In her interview with the Girl Scouts of USA, she condemned the violation of girls' rights to dignity and liberty.

While India is infamous for the highest incidence of child marriage in the world, the United States witnessed legal marriage of over 200,000 minors, mostly girls between 2000 and 2015. About 27% of girls in India are forced to sit on the altar of marriage before their 18th birthday, as per findings by Girls Not Brides, a registered organization for girls' rights. In India, most child marriages are reported from Rajasthan and Bihar.
Any minimum age for legal marriage is not specified in 27 USA states. As of October 2018, there are exceptions in the law and order of 48 US states for minors to get married. Only New York and Delaware put an absolute ban on child marriage recently. Marriage of minors is prevalent in several US territories including Puerto Rico. Still, minors have no legal right to file divorce in some parts of the USA.
Meet America's Youngest Biomedical Engineer of Indian Origin
"Many Americans remain unaware of child marriage in their own backyards," CBC News quoted activist Fraidy Reiss saying. Though there is a decline in the numbers of child marriage under the age of 15, the number of girls at the risk of forced marriage above 15 and under 18 is increasing, according to Girls Not Brides.
Being a new-age fighter for girls' right to justice in cases of gender inequality, child marriage and trafficking, Indian American Sakshi Satpathy made the most of social media platforms including YouTube to educate netizens on trafficking prevention laws and familiarize them with measures to stop child marriage in the name of cultural practices.
A few days before Dussehra celebrations this year, Indian American Minal Patel Davis was honored with the Presidential Award for combating human trafficking in Texas, the largest US state.
Among the National Gold Award 2018 winners, Sakshi Satpathy relates to Isabella, an energetic, optimistic, cheerful, quick-thinking, brave and independent character in Phineas and Ferb, an American TV show. One of the girl scouts in California, she has been participating in numerous activities and leading various campaigns in San Francisco Bay Area, like making of crafts for sale at winter fests, and teaching leadership skills to younger girls.
This story is part of our continued series of inspiring stories about young Indians in USA, at Travel Beats, an Indian American community portal by Indian Eagle Travel. We not only strive to book cheap flights to India from US cities but also cater latest community, visa and immigration news to Indian Americans through our free newsletters.