Kavitha Reddy is among the few women who live their dreams at any cost. A corporate woman turned entrepreneur, Kavitha lives and dreams adventure. She promotes adventure as a learning tool to create environmental awareness and highlight the importance of conserving nature among the people from all walks of life. After 14 years of corporate career, she founded Basecamp Adventurers, an all-women agency in adventure training and consulting. An avid traveller, she is the first mountaineer to have climbed Mt Bhagirathi and Mt Satopanth in the year 2012. She is an Associate Member of Indian Mountaineering Foundation too. IndianEagle catches up with Kavitha Reddy to share her entrepreneurial spirit and passion for adventure with you. The excerpts from the interview are as follows: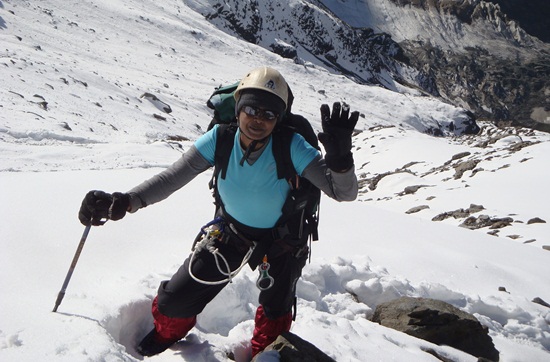 What made you pursue your passion for adventure after a stint in the corporate sector for 14 years?
I always wanted to do something different and unconventional, working with 2 very successful start-ups gave me the confidence and the edge to venture out on my own. The day I took up my corporate job I was very clear that I would be running my own company someday. I have always been an outdoor person and felt that there is a business potential in Adventure, given my corporate background I though adding Outbound Training or Experiential Learning will be a way to start off. Hence when we were ideating we decided we will be an Adventure Travel and Outbound Training company, and we firmed up on our Vision 'Evolve adventure as the most effective learning tool, to revive the spirit of adventure among people from all walks of life, and be environment cognizant'
How did you take up the challenge of developing your passion for adventure into a profession?
Actually that was the easy part, I was a qualified mountaineer and had already done many Adventure courses and has adequate experience even as a hobby, it was some want familiar ground, but I did spend about 7-8 months on doing research about the business potential, opportunities, constrains, impact, safety etc. It's not enough to have a Passion for Adventure unless there is a Potential and Profitability, so the study/research helps me to bridge the Passion to Potential to Profitability.
Your favourite adventure destination or destinations in India…
India is a great place for adventure Beaches. Rocks, Forest, Rivers, Snow-capped peaks – there is every opportunity to do adventure activities all 365 days in a year. It is indeed very difficult to pick a place as every place has a charm of its own. I love the South-of-India for the amazing green cover, forests, and wild life, North-East for its wilderness and Flora & Fauna, Uttarakhand for some of the best mountain ranges in the world.
How does adventure travel help with teambuilding skill development and leadership quality enhancement?
Adventure is perceived as risky, dangerous but equally exciting experience. The word Adventure largely refers to activities with some potential physical danger, such as Skydiving, Skiing, Mountaineering, Scuba Diving, Bungee Jumping and other Extreme sports. However, if viewed from a wider prospective it can refer to any venture /organization /enterprise /individual as they also take a market risk, a financially risk, a psychological risk, a consumer risk etc. to be successful in their chosen area.
In our outdoor and adventure activities there are many unexpected learning's which are not visible in classroom training. Activities are conducted in unknown and unfamiliar territory, that itself takes away the comfort zone the executives are used to. Outdoor/Adventure activities help in recognition of leadership types/styles because every person has his/her style and instead of trying to follow a style, it encourages them to strengthen their own styles. They are also exposed to aspects of conflict management, co-ordination, risk-taking, multi-tasking, resource management through our outdoor/adventure activities in a very practical and visible way.
What do you think about empowerment of women through travel? How can the current scenario be improved or changed for the safety as well as comfort of women travellers in India?
One of the key indicators of women empowerment is travel and empowered women will always travel more. So there is an urgent need to provide safe environment for women who travel on work or leisure. Mobility indeed determines participation of women in the economic, political and social structure.
Financial independence, Connectivity, Accessibility and Technology has opened up the world to women and crimes against women will curtail their travel there by impacting participation in the Social, Political and Economy progress of the country.
Indian Central & State governments have to do a lot more to create a safe environment for everyone irrespective of gender. Our society should take more responsibility in not just condemning the crimes against women but also grooming the boys in their homes to respects women and treat them as equals, and more importantly as humans. So the changes are need not just in Laws, Policing, But most importantly in the Society.
What are your responsibilities as Associate Member of Indian Mountaineering Foundation?
It is only a Membership of a recognised member, but I am also the Founder Secretary of Adventure Tour Operator Association of Karnataka (ATOAK), some of the key objectives of ATOAK is to promote Safe & Responsible Adventure Travel/Tourism/Sports.
Entrepreneur or traveller – what defines you better?
I am an 'Adventurer' and I will always want to be so. I have always taken the un-trodden or unconventional path in my career, I have been a risk taker who is looking for newer challenges and pushing the limits.
Your Women's Day special message for the aspiring women entrepreneurs and travellers…
Do not outsource our Dreams or Destiny, Go Girl…survive the wilderness, touch the skies, sail across oceans, live on the edge and travel the world.
IndianEagle.com is a leading online travel booking company. We at Indian Eagle are committed to promoting Indian travel & tourism to the NRIs. We connect them with India and offer them the lowest airfare too.