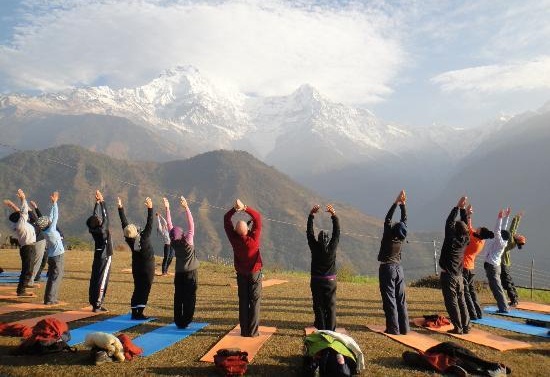 Yoga means union. It unites the human self with the divine through harmonious integration of the body, the mind and the soul with the forces of nature. Since the dawn of civilization, Bharat or India has been the cradle of yoga in the world. From the ancient era, the sages and saints of India have been teaching the art and science of yoga to generations across the globe.
The Himalayan region has several yoga destinations; the most popular is Rishikesh in Uttarakhand. Nestled amidst the hills, Rishikesh is the abode of hermits and monks who have kept the tradition of yoga alive till date. Parmarth Niketan Ashram in collaboration with the Tourism Department of Uttarakhand organizes the Yoga Week in March every year.
Many think of yoga as a key to good health and fitness. To be precise, yoga is not just a health remedy or fitness formula but also a source of divine enlightenment. It synchronizes the beats of the heart, the pulses of the nerves and the flow of the blood with the powers of nature as well as the cosmic energy of the universe. The International Yoga Week in Rishikesh is the best opportunity to experience the transforming magic of this art and science.
Initiated in 2001, the Yoga Week has gone global with participation of foreign nationals in large numbers. Learning of yoga under the tutelage of spiritual gurus is the mainstay of the event. Besides, prominent exponents of yoga attend the event and give demonstrations on different yoga postures. The experts hand over the key for physical wellbeing, mental wellness, relaxed breathing, higher concentration level, calm inner self and the ecstasy of the soul to the enthusiasts.
Parmarth Niketan is a haven of spirituality in the lap of the Himalayas. Close to the Ganga River, the ashram provides accommodation with modern facilities and soulful atmosphere to pilgrims. Most of the visitors develop a tryst with spiritual simplicity while staying at the ashram in Rishikesh. Morning prayers, chanting, yoga classes, mediation lessons, lectures, demonstrations and the Ganga Aarti are some of the daily activities there.
Rishikesh, the City of the Divine, is the escape to nature for the materialistic minds and the road to spirituality for the erring souls. This is the place to know and be one with your inner self in India. The International Yoga Week is scheduled to continue from March 1 to 7 this year.
Indian Eagle books cheap air tickets for New Delhi flights to Indira Gandhi International Airport where Rishikesh is a 5-hour drive from. Don't miss the opportunity of flying at the lowest fare and attending the yoga festival this year!