Traveling to India has been an overwhelming experience for many from the time immemorial. In the previous centuries, it was the natural bounty and abundant wealth of India that attracted colonial traders from Europe. Sometimes, the ancient heritage and scriptures of India fascinated knowledge enthusiasts from across the world. Sometimes, foreign visitors were wowed by the cultural diversity and incredible stories of India.
Even modern-day globetrotters take fancy to the enigmatic being and the mystic soul of India. Whoever visits India carries the abstract footprint of India in their memory or concrete souvenirs in their bags while going back home. This is what happened to an American couple from Los Angeles during their first visit to India in 2004.
Charles Kramer and his wife Brenna Moore travelled to the Indian state of Kerala from Los Angeles in 2004. They fell in love with the scenic hill stations, quaint monuments, picturesque backwaters, exuberant culture, lush green landscape and progressive society of Kerala. The impact of Kerala tourism on them was so intense that they named their firstborn 'Kerala' after this particular state of India in 2009.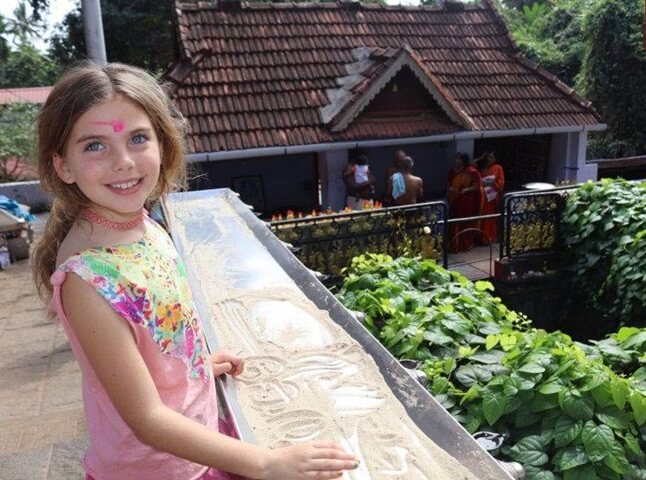 Charles Kramer and Brenna Moore are great travel enthusiasts, and so are their children including their 8-year-old daughter Kerala. In June 2016, the American couple from Los Angeles set out for globetrotting, along with Kerala and her young brother, Julian. Though India was not on their travel bucket list, they happened to visit India again as their daughter was eager to see and explore Kerala that she was christened after.
They did so also on being advised by their guide, Michel, who has an Indian connection in Kerala too. Michel has adopted a boy from a village in Kerala. She got the American couple accommodation in the house of her adopted son's sister in Cherppunkal, a small Keralite town blessed with the bliss of nature and the simplest way of living.
Kerala was enrolled in a local school where she learned Malayalam, the language of her namesake state, for a month or so. She was received with a hearty welcome on the first day of school and offered a chance to address the morning prayer assembly. Her brother, Julian, also got admission to a playschool there. Since she was curious to explore the nuances and experience the tidbits of Kerala's culture in the native language, her excitement knew no bounds.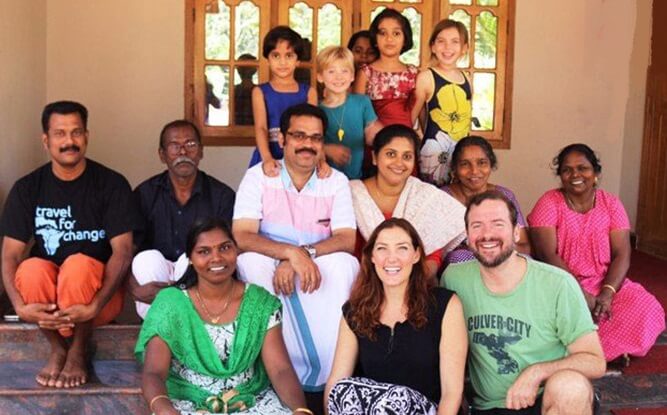 The globetrotting American couple from California spent quite a long time in Cherppunkal, giving their daughter adequate space and time to learn the interesting facts of Kerala's cuisine and culture. Kerala learned how to pronounce and write her name in Malayalam. It doubled her joy in God's Own Country, where bull racing and boat racing are the most popular mediums of sporty entertainment.
Charles Kramer and Brenna Moore, along with their children, left India in January 2017 to tour other places on their travel wishlist. Kerala made some friends in her namesake state, and felt happy about the fact that she would be able to make her native friends as well as acquaintances pronounce her name 'Kerala' accurately.
Kerala is a must visit during the Onam Festival and monsoon. The first Indian state to beat the COVID-19 pandemic, Kerala recently received a UN award for prevention and control of non-communicable diseases. This is what ensures safe travel to Kerala. We at Travel Beats, an overseas Indian community portal by Indian Eagle Travel, are happy to share the first-hand experience of safe travel on VBM and air bubble flights to India in recent times. (Watch the video of Kerala's experience in her namesake state below)