What 2017 has in store for you or us can only be guessed. But the New Year is certainly a promising one for Indian teen golfer Aadil Bedi from Chandigarh. Aadil is eagerly waiting to welcome 2017 as he is all set to play in three golf world cups in the United States. He has already qualified for the IMG World Cup in San Diego, the World Star of Junior Golf in Las Vegas, and the Optimist International in Florida. All these tournaments will be held in 2017.
The upcoming travel to USA for the golf world cups is not Aadil Bedi's first experience. He has already got into an international tryst with golfing. He made two national wins: the Northern India Junior Golf Championship, and the Karnataka Junior Golf Championship. In 2011, he achieved the first ranking in D Category of Indian Golf Union (10 years and under), and got the sixth position in the 2016 Optimist International in Florida.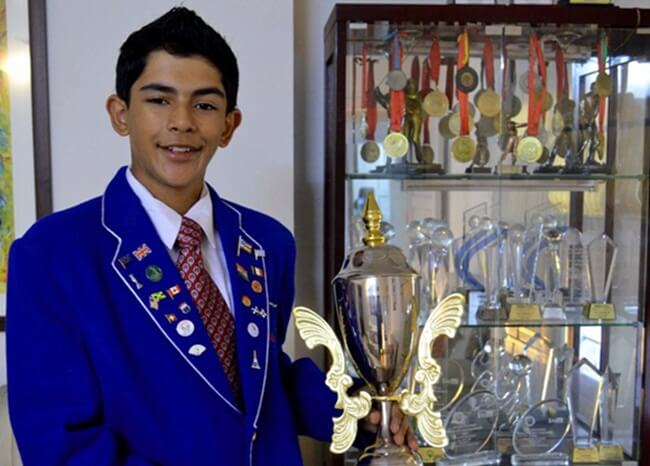 Not many people know that Aadil Bedi started playing golf at the very tender age of 4. He made his first visit to USA for the Junior World Cup in San Diego in 2010 when he was only 9. It was his first tournament in the US, and he ranked 18th. He was very thin then. His physique was not as strong and sturdy as American golf players of his age. That's when he realized how different it was playing in India than playing in USA. It made him feel that he was nowhere close to winning an international golf tournament.
It is more competitive to win in the US than in India. Each and every state has its own teen golfers in USA, and the best are selected from them. Even aspiring golfers from China and Japan undergo training in the US itself. 130-150 players are there from 35 nations. Only top two players qualify from each of the countries. I have traveled to USA five times till date. – Aadil Bedi
Indian teen golfer Aadil Bedi from Punjab opines that the United States has better golf courses than India does have. There are various types of golf courses, including windy golf courses, style golf courses and courses near the sea with very high-quality grass. The golf courses are professionally maintained in the US. American golfers are very aggressive and sincere, according to him. Especially those who are 15 are fit and fierce. They undergo very scientific training throughout the year. However, "golfers in the US are not very friendly," he says.
Among the young Indians, Aadil Bedi is a child prodigy with golfing in his blood. He inherited it from his father and maternal uncles who are golfers too. He was fond of cricket before he was fond of cricket before he was initiated into golfing. He got his first golf clubs from the US. Initially, he used to practice with his father, who he says, is a consummate golfer. Tiger Woods and Jeev Milkha are his idols in sports.
Golfer Aadil Bedi is indebted to his parents for the making of his career in golf and their support in all possible ways. His parents have sold almost half of their property to provide for his coaching in USA, participation in Indian tournaments, golfing equipment and intensive diet. Dr. Bob Byman, his coach in Las Vegas, charges $400 per hour. One trip to the US costs approximately $10,000 – $12,000. Even playing 10 to 11 golf tournaments in India, costs INR 5 to 6 lakhs a year. There is a separate budget for his diet and training in India.
In addition to the upcoming world cup golf tournaments in USA, Aadil is looking forward to the Asian Games and the Youth Olympics. Once he becomes pro, his destination will be the 2020 Olympics in Tokyo. Youth Olympics 2018 is one of his targets in the near future.