More and more Indian Americans are coming forward to make women literate, independent and self-reliant in India. Indian American filmmaker Nyna Pais Caputi makes films on crimes against women in India for spreading awareness of women's rights, while Los Angeles-based Pooja Nagpal trains rural Indian girls in self-defense.
19-year-old Pooja Nagpal from Los Angeles is a second-degree black belt Taekwondo performer. Recently she bagged the 2016 Gloria Barron Prize for Young Heroes for teaching girls martial arts so that they can defend themselves in Subathu, a far-off mountain village of Himachal Pradesh. Pooja has armed over 1000 socio-economically challenged women with self-defense techniques in the past four years.
Pooja started taking lessons on Taekwondo, Korean martial arts, at the tender age of 12 with the spirit of a fighter. She took up the challenge of training other girls in dynamics of martial arts for self-defense on completion of three years. She was motivated to take it as a mission on reading about crimes against women such as domestic violence and sexual harassment in developing countries including India. (Watch Pooja Nagpal in a video below)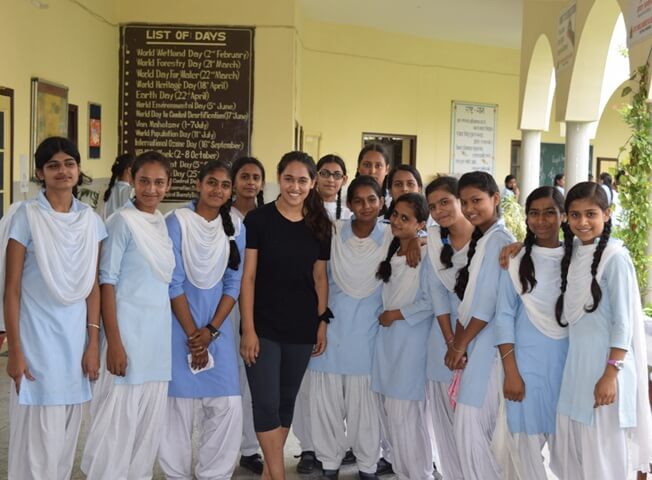 Pooja is currently graduating in electrical engineering and computer science at the University of California, Berkeley. One of the certified girl scouts in USA, she appeared as a speaker at TEDx in Manhattan Beach last year. She won the title of a National Young Woman of Distinction in 2015. She supports gender equality and believes in the virtue of social work.
This Indian American girl took flight to India this summer 2016 and trained 600 rural women as well as girls in self-defense across rural backwaters of Himachal Pradesh. She also visited a few orphanages in Delhi and Chandigarh for the same purpose. Pooja is not alone on her mission to prepare disadvantaged girls and women for a fight against crimes. She is assisted and accompanied by her sister Meera.
On having achieved the Gold Award from the Girl Scouts of USA, Pooja Nagpal founded a non-profit organization, For a Change Defend, to promote martial arts as a weapon of self-defense for underprivileged school girls. She also developed training curriculum to give them lessons on empowerment, willpower, confidence and leadership. She has also associated with the Los Angeles Police Department and domestic violence shelters to promote martial arts in local communities.
Pooja Nagpal has also planned to get a safety mobile app for women so that they can connect with the local police in times of sexual harassment. The Indian American sister duo – Pooja and Meera – also teaches English language to girls in remote villages of Himachal Pradesh and Punjab. When Pooja is in USA, her online videos keep the self-defense program going in India.
Travel Beats is a community portal for Indian Americans by IndianEagle, a trusted travel booking partner of Indians in USA. Sign up for our free newsletter to stay updated on latest news and stories about the Indian American community.