Flying solo across the world is not always adventure. It can be a philanthropic journey for some cause. These days, philanthropists from different age groups hit roads, fly to skies and ride waves for humanitarian missions. On a similar mission is 68-year-old Indian American Ravinder K Bansal from New York. A retired engineer and entrepreneur from the New York Indian community, Ravinder Bansal is all set to take a solo flight across 18 countries and 34 airports to raise $750,000 (Rs 4.83 crore) for a cancer hospital in his hometown of Ambala, Haryana where he was born.
The sole purpose of his 20,000-mile solo flight is to raise the hefty fund for buying an MRI machine for the Rotary Ambala Cancer Hospital in his hometown. On July 4, the US Independence Day, New York Indian Ravinder Bansal will take off in his single-engine aircraft Cessna 400 from Buffalo Niagara International Airport. His philanthropic mission will culminate in India.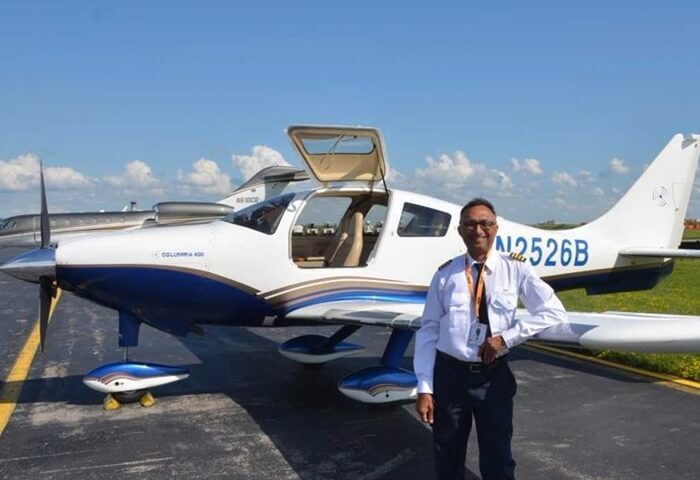 The six-week-long solo flight across the globe to raise $750,000 will cost him nearly $100,000 (Rs 64.4 lakh), which he will shell out from his own savings. Ravinder Bansal will be flying through England, France, Italy, Greece, Jordan, UAE, and Oman on his onward trip to India. He will stop over in Thailand, Malaysia, Philippines, Japan, Russia, and Canada during his return trip to USA.
Apart from raising the fund to buy an MRI for the Rotary Ambala Cancer Hospital, Ravinder Bansal will create awareness of breast cancer during his solo global flight. He lost his daughter-in-law, wife of his elder brother, to breast cancer in 2012. His father was the only private physician at Kasauli, Haryana. There were no proper medical facilities either in Kasauli or in Ambala in those days. His daughter-in-law, diagnosed with breast cancer, had to travel all the way to Ludhiana from Ambala for chemotherapy.
Providing the Rotary Ambala Cancer Hospital in his hometown with a much-needed MRI is a tribute to his daughter-in-law who was like a caring elder sister to him. This is what motivated him to plan a fund-raising solo flight across 18 countries and 34 airports. It took him over 6 months to prepare logistics of the flight and learn the basics of survival. Ravinder Bansal planned the itinerary based on the range of his aircraft, and the availability of gas, air space, landing permit and visa. He took the landing, ditching and survival training to help himself in adverse circumstances. This fundamental training is a federal requirement for pilots flying over the Atlantic.
Though Ravinder Bansal is equipped with personal locater beacon, satellite tracking SOS, back-up portable avionics, food and water, inclement weather is the biggest threat to his life during the 20,000-mile flight. However, he is not worried. Rather he is determined and committed towards the cause. It was his determination and confidence, by means of which he became a self-made entrepreneur. His company AirSep, a medical oxygen therapy business which he started with only three employees, was a conglomerate of 600 employees until he sold it for over $170 million in 2014.
A PhD holder in mechanical engineering from the Georgia Institute of Engineering, Indian American Ravinder Bansal from Buffalo, New York will be blogging his solo flight, his experience and the mission on Raviworldflight.com throughout the trip. His single-engine airplane is equipped with a satellite tracking device to display his itinerary details and the progress of his flight live on the website.
Indian Eagle is a leading travel partner of Indians in USA for booking their flight tickets to India. Indian Eagle's digital magazine, Travel Beats publishes the latest visa, immigration, travel and Indian community news. Subscribe to our free newsletter for the latest updates. 
Inspiring Stories of Indian Americans