MasterChef India Season 5 has already gathered lots of steam raising temperature of the culinary world. Adding flames to it are 16 contestants including Indian American Anagha Godbole from Fremont in San Francisco Bay Area, who will outshine each other in the kitchen of MasterChef India in the coming episodes.
Among the MasterChef India Season 5 contestants, 44-year-old Anagha Godbole has already managed to impress the judges with her exclusive recipes and unique cooking techniques. A senior product manager at Xoom Corporation, a PayPal service, she finds kicks in cooking which has nothing to do with her profession.
The only contestant from the Indian American community, Anagha Godbole chose to surprise the audience with a fusion of Indian and western flavors in her dishes which gave a tough competition to the other contestants of MasterChef India Season 5. She cooked and spiced up her dishes with an enigmatic mix of ingredients from India and other countries.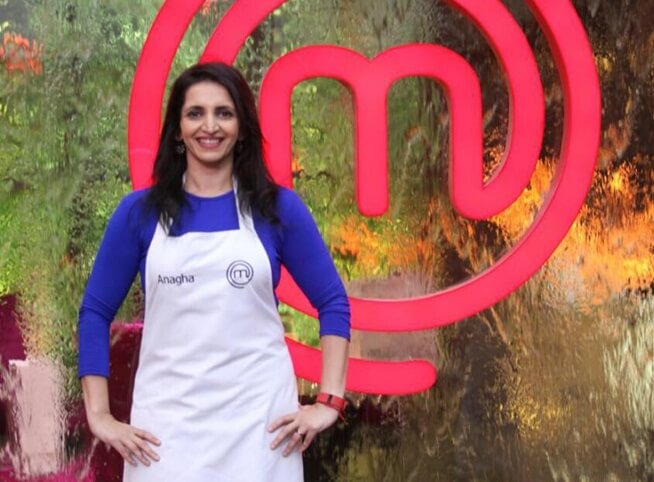 Though not a professional cook, she took up every culinary challenge with a winning attitude in the first two episodes of MasterChef India Season 5 on Star Plus. Aiming to make any dish better with her secret formula of mixing Indian and western ingredients, Anagha Godbole has given an amazing show of her culinary skills.
The first dish named Saoji Chicken from her repertoire gave goosebumps to the taste buds of the judges: Michelin-starred Chef Vikas Khanna and celebrity Chef Kunal Kapoor. Saoji Chicken is a spicy delicacy from the cuisine of Maharashtra and very popular in Nagpur. She gave the dish her signature twist by blending Indian ingredients with Tex-Mex flavors and served it with freshly cooked jowar tacos on it. Chef Vikas Khanna went gaga over it.
In one of the episodes, Anagha Godbole had to cook something tasteful with such ingredients as beetroot, spinach, coriander, chilies, bananas, almonds, chicken, oranges and mustard oil, she came up with beetroot halwa and smoky chili cilantro ice cream with orange sauce to the utter amazement of the judges. She named her preparation "East Meets West" which left Kunal Kapoor in awe. Beetroot halwa is an Indian dessert.
Indian American non-professional chef Anagha Godbole clicked with the judges in the next round too. She gave another impressive presentation of her culinary prowess by cooking val ravioli with saffron cream sauce. It earned her kudos from Chef Vikas Khanna who said, "Close to perfect dish." She won the top dish challenge and got herself immunity for the next week.
The viewers including foodies and aspiring chefs have held on their breaths to see what culinary magic this Indian American engineer from California would cast on the judges in the coming episodes of MasterChef India Season 5. If cooking is her passion, dance is her hobby. Anagha Godbole wishes to own a boutique restaurant and be its chef.
Travel Beats is an Indian Community portal by IndianEagle, a leading travel organization for Indians in America. Travel Beats publishes latest news, stories and events from USA and India. Sign up for our free newsletter and stay updated about Indian Diaspora.