Born and raised in Mumbai, Dipti Mehta is a celebrated Indian American actress and script writer in New York City. Smitten by the bug of acting at a tender age, Dipti chose light, camera, action and stage as her career forte despite having a PhD degree in molecular and cellular biology from the University of Arizona. From All India Radio to Indian TV shows to Bollywood to Cannes Film Festival, Dipti Mehta has constantly reinvented herself during her uphill journey in entertainment. Among the several theater credits in her repertoire are Yatra, Penumbra, Bollywood Wedding, Far Away, I Dream of Hope, The Black List, Golden Boy, Virrudh, and Summer of 2017. She is one of the few creative artists who pursue philanthropy through passion. Dipti Mehta's "Honor: Confessions of a Mumbai Courtesan," a one-woman theater show, is garnering accolades across the United States.
Indian Eagle catches up with New York-based actor Dipti Mehta to share with you her journey from India to USA, her tryst with reality, her passion for acting, her creative work on mass awareness about sex trafficking, her life in Mumbai and career in the US through a scintillating interview at Travel Beats, a leading Indian American community portal.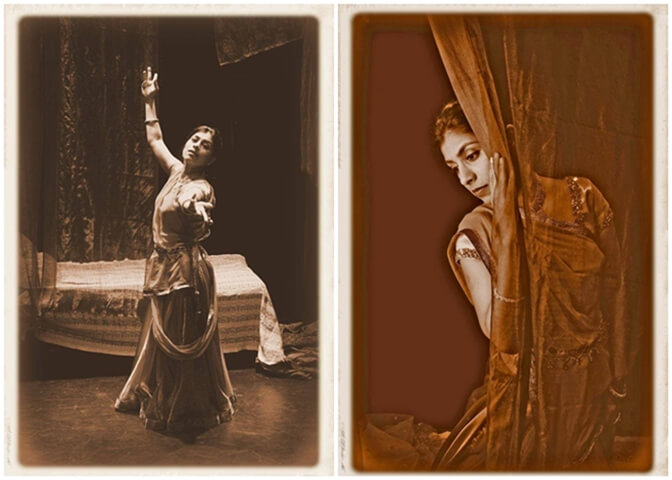 IE. How did theater happen to you at a very young age?
The first stage play I was cast in happened to me when I was 6, and I had a blast. Then I was cast in school plays regularly. In the 4th grade I was asked to direct a class play on Radha and Krishna. I enjoyed it immensely, and there was no looking back. I was too young to understand the word 'calling' then, but I discovered my passion, my calling and my forte when I was 6.
IE. You got trained in Kathak and Bharatanatyam while pursuing PhD in molecular and cellular biology at the University of Arizona. How did you balance the two different pursuits: fine arts and academics?
I was an international student at the University of Arizona. When you don't have social obligations or your family, you have a lot of free time. Opposed to what people think you do have time as a PhD student and you can pursue your interests. And I couldn't study 24/7; I needed some artistic outlet in my life to keep me sane. I had always wanted to learn Kathak but never had enough time while in Mumbai; so when I found out these classes in Arizona, I enrolled right away. I took lessons on Theater Jazz, modern dancing, Flamenco and Salsa alongside Kathak and Bharatnatyam. I was doing that just for fun. Still I am mostly a Bollywood dancer.
IE. Would you like to walk us through your journey from your career on stage to your debut film as a lead?
I did not choose stage. Rather stage chose me. It may sound a cliché. I was good at being other people but before I went to films I discovered radio. Once again you could say Radio chose me. I am very good at following up. So when the executive officer from All India Radio asked me to call her, I did. Then she asked me to write something and bring it in, well I did. That was how I became a regular artist on All India Radio, AM section until one day I found out radio jockey auditions for FM. I went for it and got selected. And then I was a regularly aired voice on FM. That opened doors to voice over and hosting big events. Then acting came my way. It was my goal to be a Bollywood actress. I tried to make it big in Bollywood but all I was able to do were some cameos. At one point I began to feel like my talent was not being noticed. That time I decided to move to New York. And the first audition I went for was a short film, which I booked. The second one was also a short film, "Life! Camera Action," which ended up being a feature length film and getting me 3 awards for the best actress out of 11 nominations. Since then things have looked up. I do still desire to work in Bollywood films. However I will continue working in the United States until I am noticed and recognized for my talent in Bollywood.
IE. "Life! Camera Action…," your debut film as a lead actress, was screened at several reputed international film festivals including the New York Indian Film Festival, and awarded in different categories. Even your work was critically acclaimed. Did your life change following the success of "Life! Camera Action…"?
The film's success showed my success. I knew that I had it in me, but now the world knew. It made me grounded and confident. I got more offers from other directors who either knew Rohit or anyone else connected to the film or had seen my work in the film.  It does not mean that I don't give auditions. I still do. And I still work hard on each project that is offered to me.  While my life changed and I started getting more work, I didn't take success for granted. As they say, "yesterday's success is today's ego-trip". I want to keep my feet on the ground; so I try my best to keep my work sacred. In that regard not much has changed about who I am as an actor.
IE. You have essayed multiple different characters, to say Priya in "Yatra," Nisha in "Bollywood Wedding," Reina in "Life! Camera Action…," Krishna in "Penumbra," and Gauri in "Victory". Which character is very close to your heart? 
They are all unique and have something special about them. It's hard to pick favorites. Reina was my first full-fledged role in my debut feature film, "Life! Camer Action…. Naturally this character will always remain special. Priya was based on a real person of flesh and blood who I know; so I connect to playing Priya in a more visceral way. Nisha was so much fun. Krishna was a complicated character that lived in the imagination of the other actor and she presented a unique challenge and so was very special. Gauri was the first character I enjoyed playing in a big Bollywood production with few of my favorite actors.  To be honest, they are all special in their own ways.
IE. Have you ever experienced 'culture shock' or socio-cultural differences while working with American actors, filmmakers or producers?
Not really. I had already spent some time here as a PhD student, so it was not like I was transitioning cold to the entertainment industry. People are just people, and I have been treated with a lot of respect and dignity on every set I have been on.
IE. Your one-woman show, "Honor: Confessions of a Mumbai Courtesan," is winning hearts across the United States. Do please brief us about the story. And, how was the story seeded into your mind?
I moved to New York in 2009 and found that there was not much work for a woman of color. Diversity conversations were still only beginning in the industry. I am not one to sit waiting with my hands folded.  I had to take action. So I started writing a show. I have been a feminist all my life and write about women's issues. Sex trafficking is an issue that I feel strongly about. The mystery around these women who are in red light districts intrigued me. I could not understand why prostitutes were bad women, and why red light districts were bad neighborhoods. So I figured I would write about them. "HONOUR: Confessions of a Mumbai Courtesan" is a coming of age story set in a red light district of South Mumbai. The show is an attempt to break social stigma around the people living in these areas. Rani who has just turned 16 desires a normal life, and 'Honour' is a heart-touching story of her attempts to change her circumstances.
IE. There are many books, films and plays on the gloomy lives of sex workers and the evils of sex trafficking. What distinguishes "Honor: Confessions of a Mumbai Courtesan" from the lot? I mean its exclusivity.
I would have to say its individuality. While there have been a lot of books, films and plays on the lives of sex workers, HONOUR is a unique portrayal of humanity that exists in brothels. In your question you have used the words "gloomy" and "evils", HONOUR showcases the love, laughter, hopes and dreams that also reside in brothels. HONOUR is not judging these people, but merely trying to break the social stigma around them by softening the audience's hearts.
IE. Many Indian women or brides on H4 visa find their lives in the US meaningless and insubstantial. Their misery and helplessness has been talked and written about in the media. What's your take (view) on this issue?
The fact that they cannot work is really disturbing. In most cases these women are talented, intelligent and highly educated. To deprive them of the right to work is like taking away their soul from them. When one becomes dependent, one starts to lose the sense of self, sense of choice, freedom and the ability to be a meaningful contributor to the family and society. My view is that laws should be changed.  These women should be allowed to have choices and freedom to work. It would be so beneficial for the USA itself. I am surprised that the lawmakers don't see the damage in not allowing talented, qualified Indian women on H4 visas to work in the US.
IE. You worked at All India Radio, acted in Bollywood films and appeared in Hindi TV shows. How challenging or difficult was it to create your identity as an individual artist thousands of miles away from India?
Markets in both countries work very differently. I had to learn the rules of the market here. I didn't have any connections here. In India I had been working since I was a kid, and so things automatically came to me. I didn't have to work hard to get jobs in India. Here I didn't have representation for a year or so and then casting directors were still not aware of my abilities. Speaking of abilities and talent as Indians we are very expressive and culturally very big. One would think just scaling down would be an answer but that is not the truth. I would essay roles very easily in films of South Asian origin, but other projects were challenging. So I started studying and fortunately found some amazing acting coaches that I continue to study with. I am constantly working on my voice, my accent and my acting abilities. I think I still have a long road ahead of me.
IE. Would you ever like to make a film or stage a play on hate crimes against minority communities in the United States?
Now you got me thinking. Perhaps I should write about it.
IE. What makes it possible for you to pursue philanthropy through passion?
HONOUR did not start out as a philanthropic piece, but as the play developed I realized that I had to connect the dots. I reached out to ApneAap and met with Ruchira Gupta. I wanted to offer part of the proceeds to them and ApneAap is doing such amazing work. I am grateful to collaborate with them.  Yes, HONOUR makes it possible to pursue philanthropy through passion.
IE. It is said that an artist is never satisfied with himself / herself. Is it true about you?
It is very true about me. I am always on the edge when it comes to improving my work, my character portrayal, scripts, etc. We just did some massive changes in our set and choreography this year. And there is more to come the next year. When I see myself on TV or in a film, I look for the areas of improvement in my work so that I can make it better the next time.
IE. Who or what inspires you to do better than the best in acting, filmmaking or script writing?
When I used to come first in school, my father would say, "The goal is not to come first by doing better than others. The goal is to compete with yourself so one day you might get 100% on that report card, and when you do, then it's your job to see that so does everyone else." My parents had a lot of faith in me. I am their life's work and everything I do is to honor their memory, their life's work. They are my eternal inspiration and strength.
Travel Beats is a digital publication by Indian Eagle, a leading travel booking partner of Indians in the USA. Travel Beats represents the Indian American community and caters the latest visa, immigration, travel, and community news to them. We at Indian Eagle not only strive to make US to India travel cheaper but also celebrate achievements of young Indians and give a shout out to noble work by Indian philanthropists / social activists in the US.