While the whole of the US is rife with cacophony about visa and immigration, two mellifluous voices from the Indian American community have made international headlines. Indian American singers – Falguni Shah and Snatam Kaur – have got tickets to the race for a Grammy Award in two different categories. Falguni Shah, aka Falu, has earned a nomination for her "Falu's Bazaar" album in the 'Best Children's Album' category of the Grammy Awards 2019. Snatam Kaur's "Beloved" album has been nominated in the 'Best New Age Album' category at the 2019 Grammy Awards.
Both of the albums racing for the 2019 Grammy Awards have bearings on Indian music and culture. Made for children, Falguni Shah's Falu's Bazaar seeks to familiarize young minds with a number of essential things through songs, like how to learn Hindi, how to obey traffic signals, tidbits of south Asian cooking, nutritional value of spices, etc. The music album is also a window to diverse cultures the world over.
Indian American Snatam Kaur's Beloved is a smooth ride on the waves of soulful melodies blending classical Indian basics with Western folk music and contemporary tunes. Beloved is said to be a watershed moment of the evolution in her musical journey, which leads listeners to their innermost world of absolute peace.
If their prayers for a Grammy Award are answered, they will join of the club of Grammy Awards winners of Indian origin, including Pandit Ravi Shankar, Zakir Hussain, Vikku Vinayak, Vishwa Mohan Bhatt, A R Rahman, H Sridhar, P A Deepak, Ricky Kej, Tanvi Shah, and Boston-based percussionist Sandeep Das.  We at Travel Beats, a leading portal for overseas Indians by Indian Eagle Travel, took a sneak peek into their career in music.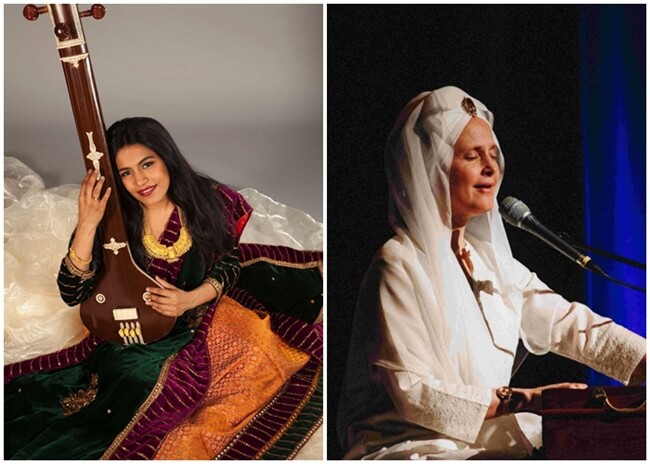 Having a Grammy nomination for her album, New York-based Indian American Falguni Shah is another step closer to fulfilling her American Dreams. Out of excitement, she exclaimed on Facebook, "I immigrated to this country with many dreams. One hidden dream has always been to win a Grammy. I am thankful for the dream that America offers to millions of immigrants like me who want to share their story. Thank You to the true America, a nation of immigrants!"
Falu Shah from Mumbai shifted to the United States in 2000, and then became a visiting lecturer at Tufts University in Massachusetts. While growing up in Mumbai, she took lessons on the Jaipur musical tradition and the Benares style of Thumrie. An ambassador of Indian music at New York's Carnegie Hall in 2006, she has worked on several prestigious projects in collaboration with such eminent artists as A R Rahman in Slumdog Millionaire, Yo-Yo Ma in The Silk Road, Blues Traveler, Ricky Martin, and Phillip Glass.
There has been no looking back since 2004. Following her debut as a solo performer at the Carnegie Hall in New York in 2006, Falu Shah lent her voice to the score in Angelina Julie's documentary directorial, A Place in Time, in 2007. In the same year, the Wall Street Journal featured her as a representative of a new age of musical hybrids.
Falu Shah's endearing rendition of 'Jai Ho' from the Oscars-winning Slumdog Millionaire at the Time 100 Gala attended by Michelle Obama, Oprah Winfrey, Barbara Walters and likes earned her a coveted opportunity to perform at the Obamas' White House State Dinner in honor of the then Indian Prime Minister Manmohan Singh.
With the Falu's Bazaar album, Indian American Falguni Shah pursues her mission of taking children on a rollercoaster ride through the wonders of the world, including South Asia. She has been honored with various titles and recognitions, including the Women Icons of India award in Mumbai.
An eminent figure in the field of new age Indian devotional music, Snatam Kaur is not just a singer, but a songwriter and author too. Her parents migrated to the USA and settled in Sacramento, California when she was 2 years old. She owes her passion for devotional music to her mother who learned kirtan in India. At a tender age, she joined her mother in performing kirtan at Sikh temples and on religious ceremonies in the Sikh community. While in school, she performed scintillatingly at an Earth Day concert in San Francisco in 1990.
After having graduated in biochemistry from Mills College in Oakland, Snatam Kaur took up a job as a food technologist in Oregon. She got a break in music with her debut album titled Reunion in 2000. When Oprah Winfrey began to take interest in her music, Snatam Kaur shot to limelight as a leading devotional singer. Snatam Kaur is also a peace ambassador for the 3HO Foundation, an UN-affiliated NGO.
Indian Eagle Travel not only strives to book cheap flights to India for economy, business and last-minute travel, but also gives a shout out to achievements of overseas Indians, including Indian Americans at its community portal, Travel Beats.