Indian Mythology is full of stories of Divinity vs Satanism, good vs evil, creation vs destruction, heaven vs hell, life vs death, blessing vs curse, peace vs violence.….No wonder why the Mythology of India is popular the world over. This time, it captured the imagination of American artist Android Jones for a social initiative in New York!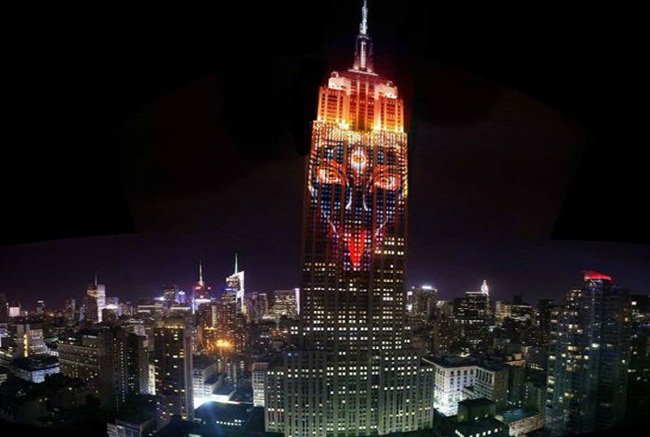 One of the most prominent mythical characters and most worshipped divine figures in India, Goddess Kali became a virtual face of the wildlife savior in a visual initiative called "Projecting Change," conceptualized and executed by filmmaker Louie Psihoyos. The artwork exhibition "Projecting Change" on New York City's Empire State Building is an attention-grabbing visual medium to highlight conversation of endangered animals as a pressing need of the hour.
New York City's 1250-feet high Empire State Building penetrating the Manhattan skyline displays virtual images of some 160 different animal species along with a fierce image of Goddess Kali as ultimate destroyer of evils, harbinger of change, ruler of time, and source of power. The awe-inspiring portrait of the goddess on display as part of the initiative in interest of threatened wildlife is designed by artist Android Jones.
Cecil the Lion and bald eagle are among the endangered animals that appeared in the grand artwork exhibition on the iconic Empire State Building. The infamous killing of Cecil the Lion by an American dentist in Zimbabwe last month is one of the threats to wildlife across the globe. "Projecting Change" is a thought-provoking initiative to make people aware of the animal species on the verge of extinction and inspire them to act towards saving those rare creatures.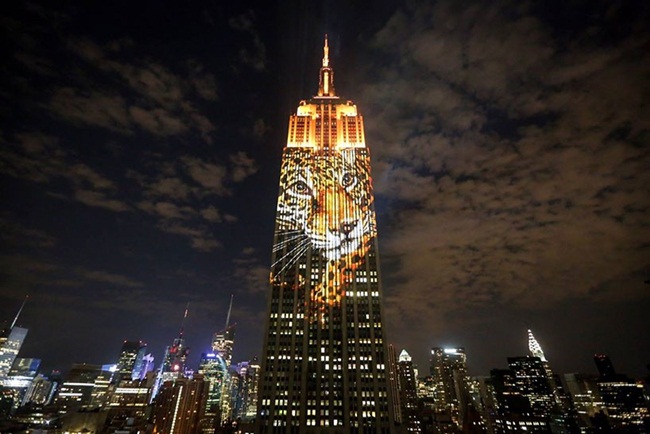 Artist Android Jones used the image of Goddess Kali on New York's Empire State Building to give an impression of some "fierce new avatar" that the world is awaiting to protect Mother Earth from extinction, pollution and global warming. It struck a chord with not only Indian Americans but Americans too.
It may be that artist Android Jones' choice of Goddess Kali as cosmic destroyer of evils is inspired by 20th century Irish poet W. B. Yeats' apocalyptic imagination of Sphinx (a ferocious avatar with the head of a lion and the body of a human being) in his poem "The Second Coming." – Indian Eagle
Indian Eagle, a Texas based leading travel organization booking flights to India online at incredibly low fares, supports such innovative initiatives in interest of Humanity, Nature and Earth.