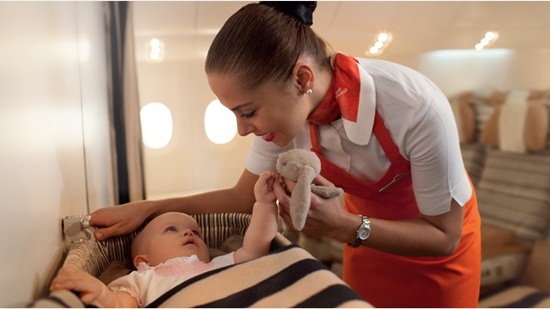 Etihad Airways added a new feather to its cap by introducing the flying nanny service for travelers with kids on board and on ground. One of the leading airlines in the world, Etihad offers first-class inflight hospitality that consists of a number of services for the comfort and convenience of travelers.
Out of its sensitivity towards travelers' need for extra ease and convenience when they fly with infants on long-haul routes, the airline has initiated the flying nanny service, a dedicated childcare assistance program. The initiative is purposed to reduce the difficulty of flying with little ones. It ensures hassle-free travel both for you and your kid.
Etihad Airways' flying nannies are special cabin crew members certified by Norland College in the UK. Norland College is a leading professional training college where Etihad's cabin crew members have been trained in childcare and certified as nannies. They will be providing a helping hand to take care of children's needs, keep them sitting on the seats and occupied, make them sleep, and feed them.
The Flying Nannies are equipped with bags which contain games for the entertainment of kids, and the things needed to take care of them. This kind of support on board and on ground will ease the pressure on parents during the journey. Moreover, the airline has introduced some fun activities including face painting, drawing, magic tricks and likes for children.
Travelers on long-haul Etihad flights can read books or magazines, watch movies, do some work on personal laptops, have a meal, or take a nap with ease while their kids are taken care of, busy playing games or occupied with fun activities. The Flying Nannies are sure to enhance your travel experience with Etihad Airways.
The cabin crew members with bright orange aprons are easily identifiable as Flying Nannies. They will be looking after the minors traveling alone on Etihad flights so that the parents stay worriless and rest assured about their unaccompanied children. Moreover, they will be providing you with useful tips on how to handle your kid during emergency.
For your queries about airlines and their services, click your way to the FAQs section. IndianEagle.com books the cheapest flights in association with Etihad Airways.