The US President Donald Trump celebrated Diwali 2017 at the White House yesterday (October 17), in continuation of the tradition that Barack Obama officially initiated in 2016. He ignited a diya (earthen lamp) to mark the celebration of Diwali 2017 at the White House. He was joined by his daughter Ivanka Trump and the Indian American members of his administration on this momentous occasion. Some other eminent leaders from the Indian American community were also in attendance.
Celebrating Diwali 2017 at the White House with Donald Trump were Nikki Haley, the US Ambassador to the United Nations; Seema Verma, Head of the Centers for Medicare and Medicaid Services (CMS); Vanila Singh, chief medical officer at the Department of Health and Human Services; Ajit Pai, Chairman of the Federal Communications Commission. Shalabh 'Shalli' Kumar, a renowned Indian American businessman and the Republican Hindu Coalition founder, also attended Trump's celebration of Diwali at the White House.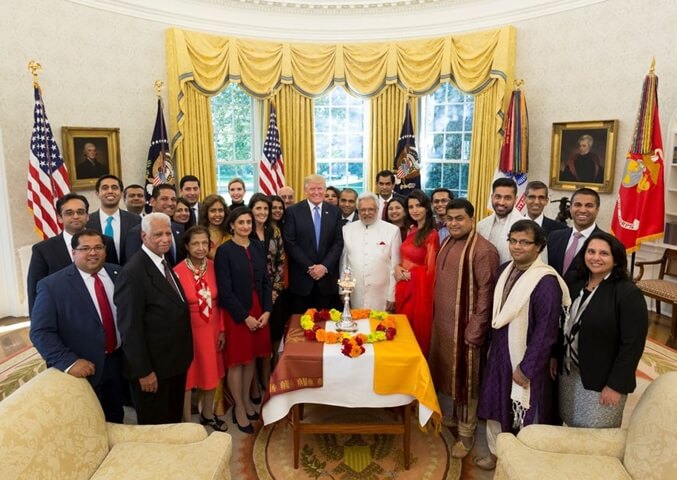 A brief speech in recognition of Indian Americans' contributions to the socio-economic progress of the USA was the highlight of Donald Trump's first Diwali celebration at the White House. The President's speech preceded the diya lighting ceremony. Trump began his speech saying that he was genuinely honored to be joined by so many Indian American leaders and the state administration officials of Indian origin. He added:
"You have made extraordinary contributions to art, science, medicine, business and education. America is especially thankful for its many Indian-American citizens who serve bravely in our armed forces and as first responders in communities throughout our great land."
Having remarked, "We especially remember the people of India, the home of the Hindu faith, who have built the world's largest democracy," President Trump made Diwali 2017 at the White House a memorable event for Indians in America. At the same time, he acknowledged the value of his strong relationship with Indian Prime Minister Narendra Modi.
Trump concluded the speech saying, "Diwali is one of the most important celebrations in the Hindu religion."
Donald Trump's Principle Deputy Press Secretary Raj Shah also attended the celebration of Diwali 2017 at the White House yesterday. Naperville-based Krishna Bansal, President (Midwest Region) of the US Pan-Asian American Chamber of Commerce, graced Trump's Diwali celebration with her presence at the White House.

Though the White House celebrated Diwali in the India Treaty Room during former President George Bush's administration in 2003, Diwali was recognized with the US Postal Service Department's release of a Diwali stamp in 2016. Notably, Barack Obama was the first US President to light a traditional lamp in the White House's East Room in 2009.