Britain owes its taste of Chicken Tikka to Lord Ghulam Noon or Ghulam Kadebhoy Noon, a food baron of Indian origin. Famous as "Curry King" in the culinary world, he made his fortune by catering Indian food to the British taste buds. Lord Ghulam Noon's journey from a small sweet shop in Mumbai (then Bombay) to a multibillion dollar food empire in the United Kingdom is an eventful one full of inspiration despite an honors scandal for his whopping donation to the Labour Party.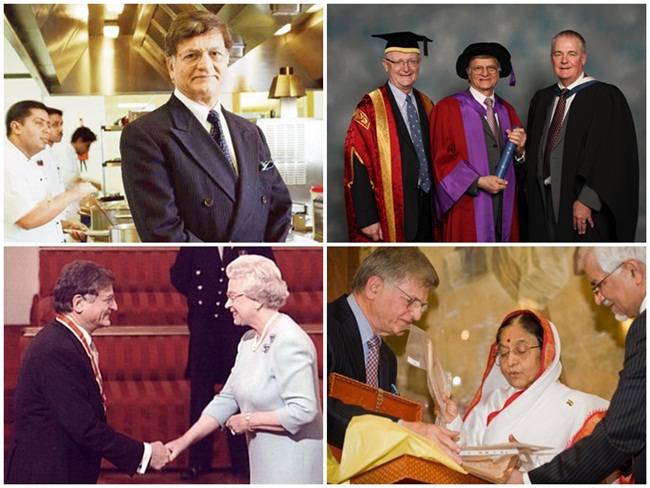 Noon Baron was born into a Muslim family in Bombay in 1936. His father owned a small sweet shop, and he died when Ghulam Noon was only 7 years old. A relative was trusted with the family business until he joined it at the age of 17. He got his first entrepreneurial lesson in food business when he renamed the shop "Royal Sweets." He stepped into the shoes of an ambitious entrepreneur and expanded the family business by exporting Indian sweets to international markets.
Lord Ghulam Noon traveled to London in 1964 when he realized the popularity of Indian food outside the country. He started with a sweet shop in Southall, London, in order to cash in on the demand for Indian food by the Brits. He founded and ran several food product manufacturing companies in London. The backbone of his entrepreneurship in the UK was the business of Noon Products, which he set up in 1987 after his permanent settlement there with only £50 in 1972.
One of the most popular Noon Products is Bombay Mix, a traditional Indian snack. What is known as Chanachur in India is called Bombay Mix in the UK and Ireland. Named after Bombay, the previous name of Mumbai, it is a mixture of dried, spicy ingredients. His confectionery company was known as Bombay Halwa. However, it is Indian chicken tikka masala, which added to his fame and fortune.
One of the units of his food business in the UK was that of packaged meals, which he started with 11 employees in a small setup. With orders for packaged meals from Birds Eye, Sainsbury's and others pouring in, it became an ultra-modern factory and the workforce touched nearly 1000 people by 2006. His business was the largest for packaged Indian food in the supermarkets of London. Thus the chicken tikka masala dish became a favorite of Britain.
His business suffered a serious setback due to fire breakout in the factory in 1994, and one of his entrepreneurial initiatives bit the dust in the USA. He was not just a businessman but a fighter. On strength of his vision and optimism, the company was up in 10 weeks of the disaster. Surprisingly, he did not lay off a single employee. Diversification of the business into such areas like aviation catering, dietary supplements and luxury cruise liners is a proof of his entrepreneurial acumen.
Lord Ghulam Noon was a dedicated Indian-British citizen. He was a diehard supporter of the English Cricket team. He flew to London in 1966 to celebrate England's victory in the Football World Cup. He was a member of Surrey County Cricket Club, too, and proudly possessed 30 autographed bats.
His love for Britain was out of question. Reacting to the July 7 blasts in London, he stated, "These (terrorists) are monkeys who tie bombs to their chests and pull the strings. They are kids. They have been brainwashed. The Muslim community has a responsibility to make sure that those in the business of brainwashing people should be brought to book."
The food baron was a social entrepreneur as well. He was a member of several charitable trusts including the Prince's Trust, Care International, and Cancer Research UK. He used to make monetary contributions to a trust for the education of girls in rural India and a Jewish-Muslim interfaith organization. In 1995, he established the Noon Foundation with four million pounds to promote education of girls and fund health projects. He was once elected President of the London Chamber of Commerce.
Lord Ghulam Noon was one of those trapped in Taj Hotel Mumbai during terrorist attacks in November 2008. He was lucky enough to have a narrow escape from it. The then Prime Minister Gordon Brown was first to check whereabouts in Mumbai. He published his memoirs of the infamous 26/11 terrorist attack in "Noon with a View: Courage and Integrity."
He presented a collection of letters written and received by Mahatma Gandhi, and a piece of khadi cloth spun by Gandhiji, to Pratibha Patil, former President of India, at a function organized by the Indian High Commission in London in 2009. He along with an NRI entrepreneur had bought those memorabilia of Mahatma Gandhi at an auction in London.
There are several feathers in the cap of Lord Ghulam Noon. He was appointed a Member of the Order of the British Empire (MBE) in 1996. He was honored with Knight Bachelor in 2002 and awarded an Honorary Degree by the University of East London in 2009. He was appointed the Chancellor of the University of East London in 2013. Even he was introduced in the House of Lords in 2011.
The Curry King of the UK, as the food baron Lord Ghulam Noon was popularly known, breathed his last yesterday. We at Indian Eagle pay our regards to the food baron, who made Indian food popular beyond India.