India's travel advisory and visa restriction that came into effect on March 13, 2020 has left lakhs of Indian nationals and foreign citizens of Indian origin at a loss, with concerns and queries regarding their travel this month or in April. Many foreign citizens of Indian origin, with or without OCI cards, who are currently in India, are wondering whether they are allowed to travel back. Many Indian nationals abroad are going through news articles and social media posts seeking to know if they are barred from returning to India amid the travel restrictions over COVID19.
We at Travel Beats, a leading overseas Indian community portal by Indian Eagle Travel, are up with a primary list of FAQs on travel to and from India amid the COVID19 visa restrictions and travel ban.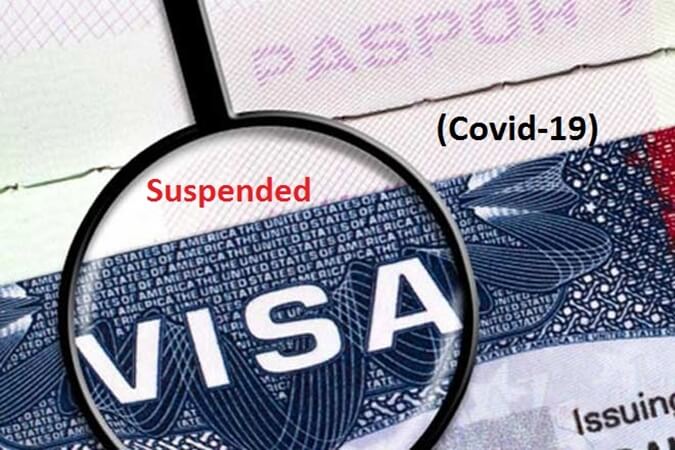 Are US Mission India Posts cancelling immigrant and

non-immigrant

visa appointments?
Yes, appointments for immigrant and non-immigrant visas are cancelled from March 16, 2020 onward. Visa-stamping appointments will be rescheduled once the US Embassy and consulates in India resume regular consular operations. Interview appointments for all visa types, including H1B, H4, L1, L2, B1, B2, F1, ad F2, stand cancelled from March 16. US visa fees are non-refundable. Your visa interview will be rescheduled once the next slots are available.
My visa will expire by the end of April. I am planning to travel to India this month or early in April. Is there any hurdle if I choose to travel now, as GOI has restricted inbound travel till April 15?
Indian nationals are not restricted from traveling to India. The government of India's travel advisory issued on March 11 applies to foreign citizens of Indian origin, OCI card holders, green card holders from the US, and foreign tourists in general. If you are on H4, H1B Visa or any other employment visa, you can travel to India even before Indian government's inbound travel restriction ends on April 15. It is better to travel now, because the situation is volatile and may worse further. Do make sure to check with the nearest Indian mission and airlines before buying flight tickets to India. Please note, you may be quarantined for a minimum of 14 days on arrival in India.
Can OCI card holders presently in India travel back to the US or any other country of their residence amid India's travel and visa restrictions?
Yes, they can. The OCI cards of foreigners, who are currently present in India, remain valid. India's revised travel advisory for OCI card holders, which came into effect on March 13, suspends their travel to India till April 15, not their travel from India. OCI card holders traveling from India back to their country of residence should check whether they will face quarantine on arrival, and what preparation they need to take for it before boarding flights to their country of citizenship.
I am traveling to USA from India on March 30. My itinerary includes a stopover in France, which I have to cancel due to the ban on travel from Europe to USA. What route should I consider while rebooking my flight from India to USA?
In current times of the novel coronavirus pandemic, direct flights from India to USA are recommended for the shortest travel time and no stopover hassles. You can choose to fly on Air India or United Airlines or Delta Air Lines if any one of them has direct flights to your destination in the US. The United Kingdom is exempted from Trump's current ban on travel from Europe. Hence, you can rebook your travel to USA from India via London. Also, any Middle East airline is the best bet to travel via Doha, Dubai, Abu Dhabi, or Istanbul.
Has Qatar Airways cancelled flights to and from India? Can I book Qatar Airways flights for my US-India round trip via Doha?
Qatar Airways is still operating to and from India. Travelers from India are currently banned from visiting Qatar, but they can transit through Doha while traveling on Qatar Airways flights between India and USA. Passengers from India are not allowed to step outside the transit area at Doha Hamad International Airport. It is strongly recommended that you check with your travel agency or Qatar Airways before booking an itinerary with a transit stopover in Doha.
I need to travel to India with my family in the next few days. I know we can't enter India as long as the government's travel advisory continues to suspend the visa-free travel facility for OCI card holders. Will we be denied to board flight? Do airport authorities hold back OCI card holders?
Yes, you will be denied boarding at the port of departure for onward travel to India. Those having compelling reasons to visit India within April 15 are advised to contact the nearest Indian mission or consulate. Besides, the government of India has urged foreign citizens of Indian origin to cancel or postpone non-essential travel to India.
According to an OCI card holder who contacted the Indian Consulate in New York and Atlanta, they are considering three major reasons to allow OCI card holders to visit India: death in the family, serious health issues in the family, and visa validity expiring in few weeks.
Are infants / children who hold foreign passports with or without OCI cards, but parents are Indians, allowed to travel to India? 
No. Infants/children with OCI cards are required to get a fresh visa from Indian Mission. The visa-free travel facility is temporarily suspended for OCI card holders.
Are dependents of diplomats and recognized international organization officials allowed to visit India on normal passports?
No.
I have an Air India flight to India in the coming days. Being a foreign citizen, I won't be allowed to travel to India now. What is Air India's cancellation policy amid COVID19 travel ban?
Air India is not permitting free cancellation amid India's travel ban and visa restrictions over the novel coronavirus pandemic. The national carrier of India is allowing one-time free date change for flight rescheduling or travel rebooking between any places in its network. Air India's one free change applies to all existing bookings for travel till April 30, and new reservations booked till March 31, 2020. Fare difference will apply in case of re-routing and if the same fare level/class is not available at the time of rescheduling or rebooking.
My parents from India came to visit me in the US. I don't want them to travel back in the current situation. Please let me know the process to extend the visiting visa for USA?
I-539 is the form for non-immigrant visa extension. Visit the USCIS website, download the form I-539, fill it duly and send it to the address mentioned in the instructions. Do make sure to attach a letter explaining the reason for making the visitor visa (non-immigrant) extension request. The USCIS website offers online chat support to help you out. However, consulting an attorney or seeking advice from a visa consultant is recommended these days.