The Supreme Court Verdict in favor of a Ram temple has put the town of Ayodhya on the cusp of a new identity, new makeover and new development. After the Gurudwara Darbar Sahib Kartarpur corridor was thrown to Sikh pilgrims, Indians are eyeing at Ayodhya as the next big project for religious tourism. Reportedly, the Uttar Pradesh government is all set to transform Ayodhya into a spiritual city like Tirupati.
Everything is grand about the developmental agenda for Ayodhya and the upcoming Ram Temple. From a bell weighing 2100kg to a 824-ft tall Ram statue to an international airport to a five-star hotel to world-class resorts to a cruise on the Saryu River – everything on agenda is planned to make the birthplace of Lord Ram become what one can only dream of. The world's tallest Ram statue in Ayodhya will supposedly dwarf the Statue of Unity in Gujarat. Recently, the UP government sanctioned Rs 446 crore, 20% of the total Ayodhya development project cost.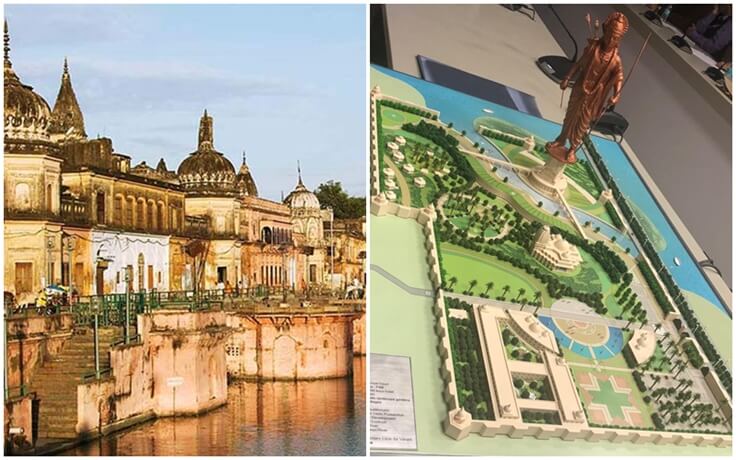 Ayodhya Teerth Vikash Parishad will be formed, and the project will be executed in a phased manner over four years to make the temple town a most popular pilgrimage site like Tirupati, according to Murlidhar Singh, the deputy director of information for Ayodhya.
An international airport will be the gateway to Ayodhya for millions of overseas Indians and foreign tourists, though a domestic airport can connect the temple town with major global cities via New Delhi IGI Airport. The first flight will, most probably, be scheduled to take off on the occasion of Ram Navami (Lord Ram's birth celebration and a grand festival in Ayodhya) in April 2020. Delhi's BJP chief Manoj Tiwari has demanded an international airport for the holy city in a letter to India's civil aviation minister Hardeep Singh Puri.
Ayodhya Railway Station will get a makeover like that of Varanasi. It will be expanded manifold to handle an ever-increasing number of tourists and be equipped with topnotch facilities. An international bus terminal is also on the developmental plan for Ayodhya.
The proposed construction of a Ram temple in Ayodhya will be completed in two years and a half. With carved stones and intricate pillars, the temple will be a wonder of the world, as per the reports. More than half of the stones have already been carved, and as many as 2000 craftsmen will be working at a fast pace for 8 hours a day, according to Murlidhar Singh. The 77-acre Ram temple campus in Ayodhya will be developed to house various religious institutes and institutes for spiritual practices, like institute of Vedic knowledge.
A bell weighing 2100kg will hang from the ceiling of the dome of the main shrine in the upcoming Ram temple complex of Ayodhya. The colossal bell measuring 6 feet in height and 5 feet in width has been crafted for nearly Rs. 12 lakh. The ten incarnations of Lord Vishnu, including Ram and Krishna are engraved on the outer surface of the bell. Reportedly, the bell has been made by a Muslim craftsman named Iqbal.
The proposed spiritual city of Ayodhya will be developed like a citadel with ten Shri Ram dwaar (gates) in ten directions. Construction of as many as 10,000 'rain basera' (community resting place) is also part of the development project. The Saryu River front will be beautified. Plans are underway to start a cruise on the river and build luxury resorts along the length of the river.
How to Reach Ayodhya
Ayodhya, the birthplace of Lord Rama and one of the most important Hindu pilgrimage sites, is a 2.5-hr road trip from Lucknow, which is a short flight away from New Delhi and Ahmedabad International Airport. Ayodhya finds mentions in India's history of the Gupta Period dating back to the 4th-5th century. Hanuman Garhi Fort, Ramkot, Ramkatha Museum, Laxman Qila, Balmiki Ramayan Bhawan and Janki Mahal are among the best places of tourist interest in Ayodhya, Uttar Pradesh.