Truly, India is a land of paradoxes. On one hand, the country is nearing the completion of its first Bullet Train corridor and laying the first underwater Metro route in Kolkata. On the other hand, there is yet no solution to the issues affecting the everyday life in India. In some parts of Mumbai alone, common people continue to grapple with multiple problems in their day-to-day lives.
Water woes, resulting from the leakage of the underground pipeline, were not unknown to some areas of Mumbai City unless Asim Bhalerao and Nidhi Jain returned home from the United States to improve water supply using artificial intelligence and robotics technology. Mumbai's water problem has been troubling the city dwellers long before Chennai's severe water crisis drew global attention in 2019.
In 2014, Asim Bhalerao's visit to his parents in Mumbai changed his own and his wife's course of life. The disrupted water supply that he experienced back then continued on his next visit to Mumbai 6 months later. On approaching the Bombay Municipal Corporation (BMC), Asim got to know that the chief engineer and his team had been using an outdated technique to detect the leak in a 2-km underground pipeline.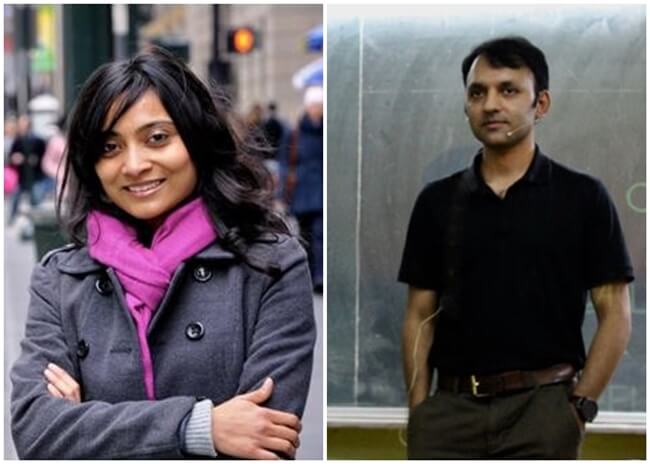 Due to the archaic methods of mapping and inspecting underground pipelines, the municipal corporation did often resort to digging the surface for weeks. At times, reaching the pipeline would not ensure detection of the leakage, simply because of the futile method of using sounding rods.
Asim discussed the problem about Mumbai's pipeline maintenance and water supply with his wife, Nidhi Jain in the US. The discussion culminated in a research on the existing issues with Mumbai's drainage system, sewage treatment and water management. An irresistible urge to fix the issues for betterment of Mumbai's overall water management led to the foundation of Fluid Robotics and their return to India in 2016.
Both Asim and Nidhi are postgraduates in computer science from the University of Southern California. Asim has 15 years of experience in developing surgical robots, drones, autonomous submarines and robotic systems. Nidhi has similar experience in software design and development. Both of them have worked in the San Francisco Bay Area.
Also Read: A Tale of Two Indian American Mt. Everest Conquerors
60% of the sewage generated by the urban populace of India is discharged untreated into water bodies, which not only pollutes the water and leaves it unfit for use, but also affects the environmental well-being of society, according to the National Green Tribunal. Asim and Nidhi found not only Mumbai but other Indian cities suffering a socio-economic setback from poor water management and archaic methods of underground pipeline maintenance.
The US-returned Indian couple's Fluid Robotics came forward to fill the void the government and the public, as there was no technology company to develop new-age techniques to solve the problems. Today, their startup is help the local governments minimize water pollution, maximize wastewater treatment and improve water management infrastructure.
Fluid Robotics has worked on multiple projects in India. The Municipal Corporation of Greater Mumbai collaborated with Fluid Robotics to execute the Powai and Mithi River Rejuvenation project, using robotics, artificial intelligence and data analytics.
Also Read: Indian Women from USA to India Redefine Freedom 
In order to minimize water loss and maximize water reuse, Asim and Nidhi's Fluid Robotics maps the underground pipeline infrastructure, and evaluates its operational efficiency as well as structural health. Fluid Robotics also digitizes the data collected through mapping, which is used to detect structural defects and other issues later. Fluid Robotics' mapping system comes with sensors which help measure the flow of sewage into water bodies.

Asim Bhalerao and Nidhi Jain have also worked on Maharashtra State Irrigation Department's crop pattern and water requirement analysis project in Satara district of the state. They created AI models for crop pattern analysis and water source identification, which facilitated the mapping and digitization of 100,000 acres of farm data in a very short time.
Asim and Nidhi's Fluid Robotics has also prevented nearly 6000 hours of manual scavenging in India. Though legally banned in 1993, manual scavenging of blocked drains is still prevalent in the country. Since January 2017, one person has died every week while cleaning septic tanks in India.
Asim and Nidhi have successfully solved several water issues in Maharashtra and other parts of India. They have developed AI models for interception and diversion of more than 600 MLD (million liters a day) of wastewater from flowing into water bodies. They have identified and prevented the loss of over 20 MLD of water from leakage in the underground pipeline infrastructure. Fluid Robotics has also mapped data on actual water requirement for farming in over 100 villages of Maharashtra.