Prevention is better than cure. Likewise, knowing the travel warnings is better than regretting not knowing them later. It is always wise to avoid facing last-minute hassles and ending up feeling at a loss. The current travel alerts for those awaiting their flights to or from USA in September 2019 include British Airway pilots' strike, San Francisco Airport's runway shutdown, United Airlines' suspension of service to Hong Kong, and ban on Apple MacBook Pro laptops (15-inch models) aboard. With Tropical Storm Dorian strengthening into a hurricane over Florida by Labor Day weekend, there may be a fresh travel alert for flyers.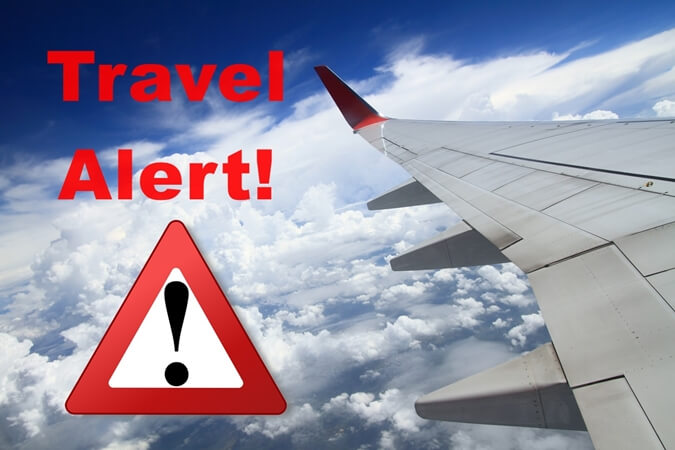 British Airways pilots to be on strike in September    
Travelers need to be concerned about their reservation on British Airways flights for three days in September 2019, as the British Airline Pilot Association (BALPA) has announced a strike on September 9, 10 and 27, in response to the "enormous frustration" over the payment dispute with the airline.
Most of British Airways flights are likely to be disrupted on the above-mentioned dates, as 90% of BA pilots will be on strike. The airline is willing to rebook or refund the travelers whose flights will be cancelled. The airline insists on taking every possible measure to minimize flight cancellations though.
San Francisco Int. Airport to close its busiest runway
San Francisco International Airport (SFO) has made an announcement about the shutdown of one of its runways for 20 days in September. The 28L runway, which caters to 68% of flights – domestic and international – will remain closed from September 7 until September 27 for a mammoth repair work. The runway shutdown at San Francisco Airport will cause flight delays and (possible) cancellations, thereby reducing the flight operations by 13%.
Since the intersection of the runway 28L and two other busiest runways at SFO is the most crucial part of the runway system of the airport, the 20-day shutdown will affect a certain number of United Airways flights and the operations of other airlines, including American Airlines. Flights from San Francisco, which are scheduled to take off before 9 am, are expected to be the least affected. Flights scheduled for departure or arrival post 9 am will be delayed by up to 2 hours.
In order to let travelers evade inconvenience during the runway closure at SFO, United Airlines has removed certain flights from its September 2019 schedule and changed the schedule of some flights.
United Airlines, which accounts for 45% of the total annual air traffic to and from San Francisco has announced to waive schedule change fees. Those who booked UA flights before Monday, August 26 don't have to pay the schedule change or rescheduling fees and any fare difference for traveling between the originally ticketed cities. The difference between the originally ticketed fares and new fares may apply to United Airlines flights booked on and after August 26, 2019.
American Airlines has also allowed its passengers to seek travel on alternate flights or rebook to different dates before / after the SFO runway closure in September. No fees for rescheduling or rebooking American Airlines flights may apply to those whose travel to, from or via San Francisco International Airport will be affected due to the runway shutdown. The airline may entertain requests for a full refund against cancellation too.
Some of the flights to or from San Francisco Airport may be diverted to San Jose International Airport and Oakland International Airport to help travelers avoid disruption of their travel plans during the SFO runway shutdown. It would be the wise of flyers to check and recheck their flight status or the schedule with the operating airlines, so that they can evade hassles in the eleventh hour.
"Whether the SFO runway closure in September will affect direct Air India flights from San Francisco to New Delhi, is not yet known. Air India's spokesperson has not yet made any remark on this. The airline operates SFO-DEL flight nine times a week," said the chief customer relations officer of IndianEagle.com, a leading air-ticketing portal.
United Airlines suspends flying between Chicago and Hong Kong
According to a CNN report, United Airlines will suspend all flights to Hong Kong from its hub in Chicago starting this September. O'Hare International Airport to Hong Kong flights form significant legs of many multi-city itineraries operated by United Airlines and its codeshare partners. The airline cited a decreased demand for flights from Chicago (ORD) as the reason for the suspension of daily service to Hong Kong where the mass protests have been going on for nearly three months. However, Cathay Pacific Airways has resumed its operations to and from Hong Kong.
Apple MacBook Pro Laptops are banned on flights
Earlier this month, the Federal Aviation Administration (FAA) banned Apple MacBook Pro laptops (15-in models) on all flights within, to and from the USA, citing overheating of the laptop batteries as a reason for the move. As a result, U.S. airlines have announced to deny boarding to travelers carrying old-generation 15-inch MacBook Pro laptops in checked-in or cabin baggage.
The ban on Apple MacBook Pro laptops has spread from U.S. airlines to Qantas Airways, Virgin airlines, Thai Airways and Indian airlines. The Director General of Civil Aviation (DGCA) has banned the same Apple laptop models, purchased between September 2015 and February 2017, on all flights in India. Singapore Airlines has imposed the same ban on its passengers, and the ban will continue unless the recalled batteries of the Apple laptop models in question are replaced.