If you enjoy traveling, planning your next vacation can be almost as much fun as the trip itself. The internet has made researching destinations and arranging a vacation quicker and more accessible than ever before. But the numerous options for flights, cruises, and tours may be overwhelming even for the most seasoned travelers. If you desire to travel soon, know why travelers choose Indian Eagle for booking tickets and start your trip plans accordingly. As working with this travel agency is a smart option, these travel experts can help you plan your trip and keep everything going smoothly now more than ever.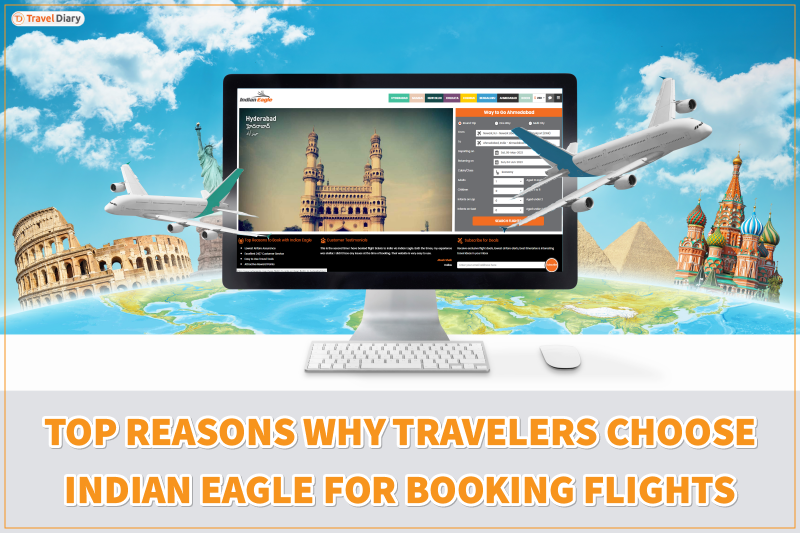 Recognizing that someone is ensuring your trips run successfully takes a great weight off your shoulders and helps you enjoy your trip more. Here are some of the reasons why Indian Eagle Bookings is the preferred option for clients.
About Indian Eagle
Indian Eagle is a travel agency that focuses on booking flights between USA and India. One of the advantages of selecting Indian Eagle as your travel agent is that it offers cheap airline pricing and discounts. It is a user-friendly website where you can quickly and conveniently search for and book flights. Choosing Indian Eagle flight booking  agency is a decent option if you are seeking a reasonable travel agency to book your next vacation.
Why Travelers Choose Indian Eagle? 
Indian Eagle is a renowned online best travel booking agency that provides flights to and from India and USA, catering to the needs of travelers. Many customers choose Indian Eagle for a variety of compelling reasons. Here are a few of them.
Competitive Prices
Indian Eagle is well-known for offering reasonable flight fares, allowing travelers to discover the best deals on flights and save money on their trip expenses. The platform provides several options, including economy, premium economy, business class, and first class, to accommodate a variety of budgets and preferences.
If you are planning to book EWR to BOM Flights, then book through Indian Eagle to enjoy a budget-friendly trip.
Multiple Airlines and Routes
The agency works with a variety of airlines like United Airlines, Delta Airlines, Singapore Airlines, Lufthansa, Qatar Airways, and more. As it provides travelers with a diverse assortment of flights and routes to choose from, this agency also enables travelers to identify the most convenient and appropriate solutions for their travel plans, whether they are a direct flight or a multi-city journey.
Also Read: Ultimate Guide to Find Cheap Flights
Easy Booking Process
This agency also offers a user-friendly booking procedure that allows travelers to swiftly and easily browse, compare, and book Indian Eagle flights. The platform has a simple and user-friendly layout that allows travelers to input their travel data, browse choices, and finish their bookings with a few clicks.
24/7 Customer Service
Indian Eagle customer care offers a 24/7 service, guaranteeing that travelers may seek help on queries like what are the prices of flights from Newark to Mumbai or any other. Its travel agents also resolve issues or complaints about their itinerary. The agency offers a dedicated customer care team that can be contacted via several methods such as phone, email, and live chat.
Flexible Booking Options
The agency offers flexible booking options, allowing travelers to change or cancel their bookings as needed. People can avail Indian Eagle benefits such as peace of mind while ticket booking, flexibility on schedule, various fare types, etc. It includes refundable and non-refundable fares as well as clear information on cancellation restrictions, change costs, and refund processes.
A Reward Program
One of the major reasons why travelers choose Indian Eagle as their travel partner is the "Reward Program". The agency provides a useful reward program called "Eagle Points". It allows travelers to collect points on their international flight bookings, enrollment, and referring friends or family. These points can be used for future bookings, allowing them to save even more money on their travel expenses.
Trustworthy and Secure
Indian Eagle is a reliable and secure travel agency that protects travelers' personal and payment information. The agency employs industry-standard security safeguards to protect user data and transactions, allowing travelers to book flights with confidence.
These are some of the reasons why travelers choose Indian Eagle for their travel needs. Booking everything for your trip online appears to be simple, but it might be inconvenient sometimes. With dozens of airlines to choose from, the procedure becomes extremely time-consuming and perplexing. So, reduce your stress by utilizing Indian Eagle's services and focus on your trip rather than worrying about other things. You can also join their newsletter to get updates on special offers.
So, choose Indian Eagle as your travel agent for unsurpassed peace of mind. It offers all services under one roof and ensures that each client has a wonderful trip. Don't put it off any longer! Plan your journey and book your Newark to HYD flights or USA to India flights to have a budget-friendly and enjoyable trip.