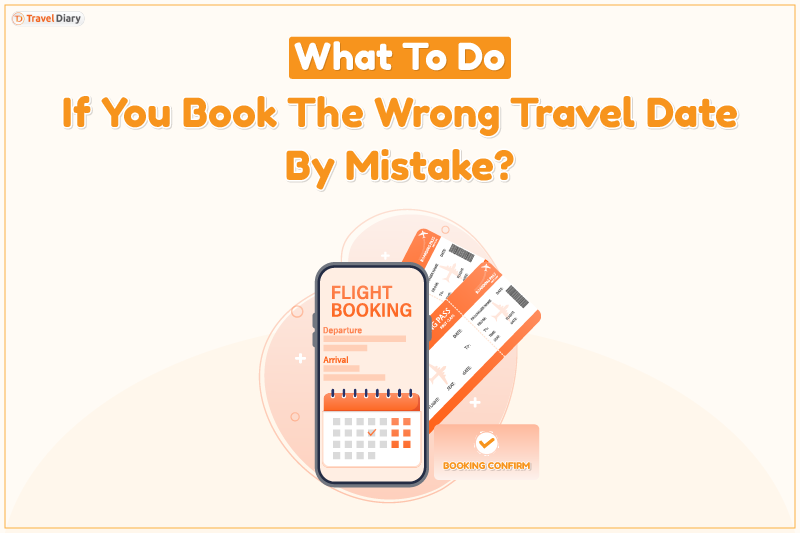 You must be excited for that long-awaited trip and would have booked your flight tickets in advance. But amidst all the travel plans, you might at times book an itinerary on a different date. This could cause you a little anxiety but it can be changed if you follow the right process. If you have queries about what to do if you book wrong travel date by mistake, you'll find the answers below.
You must fill the column for travel dates very carefully. If you make a mistake with the date, altering it later can be a hassle. So, when you discover that you booked a ticket for a wrong date, you can get it changed with your airline or by paying a small change fee.
Most of the low cost flight deals have the condition that your booking date cannot be changed. If you book your itinerary for the wrong date, you must either pay the full amount for a new ticket. Or can adjust your plan to suit whatever dates are displayed in the confirmed ticket. 
What to do if you booked a ticket for wrong date?
Check the details of your flights once your booking is confirmed. If you find that you have booked your itinerary for a wrong date, you might have to pay up to $400 to make the revisions for international flights. You can contact the concerned airline officials and let them know about this issue. If you choose  Indian Eagle flight booking to get your tickets, you can contact customer support. A team of experts are available 24/7 to resolve all your queries and concerns.  
What are the charges imposed? 
A change fee is charged when your reservation is altered to a different time or date. The price difference is the variation between initial fare and new flight price you selected. If you make modifications to your confirmed booking that might result in a lower sum payable. While the unused amount is not refundable in accordance with certain airline's terms and conditions. 
What are your options for changing a ticket if you booked the wrong date?
If you had noticed the wrong dates right away, you might have been able to modify them without incurring additional fees under the 24-hour reservation requirement. It allows carriers to hold reservations at the indicated fare for 24 hours without payment. If you miss that window, the airline may impose a change fee. So it is recommended that you buy cheap online flights carefully to avoid such hassles.
You're not alone if flight travel seems a little more complicated these days. While the good news is that travel is absolutely back to normal and people are flying again, the plain fact is that the entire experience, from booking to in-flight, looks a little different than it used to earlier. You can cancel the tickets yourself if you manage your booking online. 
When you book almost any airline ticket, you have a 24-hour grace period during which you can cancel for a full refund or make certain changes in your itinerary. This is especially useful if you have a misspelled name on your ticket or realize you bought the wrong flight for whatever reason. 
If you discover another airline with a considerably lower price, you can skip the extra expense. And in case you cannot find a better offer, you must re-book your ticket and pay the fees. Again, thoroughly go through all trip details.
Indian Eagle flight ticket is one of the most affordable ways of traveling from USA to India. If you are thinking about how to book flights on Indian Eagle, just visit the website and use the flight search menu to purchase your cheap air ticket.
Are you planning to travel soon? For a low-cost journey, book your international flights with Indian Eagle. You will get 24/7 customer care assistance so you have a seamless travel experience. And if you have made an error and are wondering what to do if you book wrong travel date by mistake? Indian Eagle Customer Care has your back!