Historic Route 66 doesn't need an introduction for avid motorists. Every road tripper or history buff dreams of taking to this road for that once-in-a-lifetime experience. The iconic Route 66 that traverses more than 2,000 miles through the heart of America all the way from Chicago to Los Angeles hits a nostalgic button for Americans, reminding them of the good old days. Dotted with beautiful landscapes and historical highlights, Route 66 compels you to a detour to discover more. A detailed itinerary of what places to see is nonetheless required for this days-long Chicago to Los Angeles road trip, and here's the one!   
A minimum of 2 weeks is required to cover all the main attractions along Historic Route 66. Listed here are the must-see places during your Chicago to Los Angeles road trip. So, call up the vehicle rental companies and arrange your vehicle in advance and also book that flight ticket to Chicago!
Route 66 Quick Facts:
Year of establishment: 1926

Length of the Chicago to Los Angeles road trip: 2,448 miles

Number of states Route 66 crosses: 8 

Route Map:

Illinois-Missouri-Kansas-Oklahoma-Texas-New Mexico-Arizona-California

Starting point: Chicago

Ending point: Los Angeles
Chicago to Los Angeles Road Trip
Attractions State-by-State:
Illinois:
Gemini Giant, Wilmington: With a silver rocket ship in hands, the 30-foot-tall muffler man named after NASA's Gemini space program stands in front of the Launching Pad drive-in restaurant.
Route 66 Hall of Fame Museum, Pontiac: This museum boasts of several historical memorabilia and artifacts related to the 'Mother Road'. Pontiac is also famous for its spectacular Route 66 murals.
World's Largest Catsup Bottle, Collinsville: At 52 meters, the water tower designed as a ketchup bottle is the largest in the world. Great photo op, isn't it?
Other popular Illinois attractions: 
Historic Route 66 Begin Sign

Historic gas stations (Odell, Dwight, etc.)

Ariston Café (Litchfield)
Missouri:
Chain of Rocks Bridge, St. Louis: This mile-long historic bridge built over the Mississippi River leads your way into St. Louis from Madison. It is very popular among pedestrians as well as motorists. 
66 Drive-In Theater, Carthage: Another historical attraction, the 66 Drive-In Theater has been a favorite entertainment stop for all those taking the Chicago to Los Angeles road trip. 
World's Second Largest Rocking Chair, Fanning: The "Route 66 Rocker" is one of the iconic landmarks along Mother Road. Stop for a quick photo with this giant rocking chair when you get here. 
Other popular Missouri attractions: 
Gateway Arch, St. Louis

Route 66 State Park, Eureka

Meramec Caverns, Stanton

Circle Inn Malt Shop, Bourbon
Also Read: Travel Guide to California
Kansas:
Kan-O-Tex Service Station, Galena: This vintage service station, now operating as a gift shop and cafe, is home to the tow truck that inspired the "Mater" character of the Disney movie Cars.
Williams' Store, Riverton: Also known as 'Eisler Brothers Old Riverton Store,' it is the oldest continuously operating store on Route 66 and hence, a must-visit during your Chicago to Los Angeles road trip.
Other popular Kansas attractions: 
Baxter Springs Independent Oil and Gas Service Station

Bush Creek Bridge, Riverton

Galena Historic District
Also Read: Los Angeles Travel Guide
Oklahoma:
Blue Whale, Catoosa: A popular roadside attraction, this spot was a favorite swimming hole. Although swimming is no longer allowed, the Blue Whale of Catoosa never fails to attract passers-by.
Totem Pole Park, Foyil: Included in the National Register of Historic Places, the park showcases folk art and boasts of the world's largest concrete totem pole. It also has a 'Fiddle House' that displays hand-made fiddles.
Route 66 Museum, Clinton: You can learn more about the history of Route 66 at this museum dedicated to the nation's most popular road. It houses photographs and other interesting Route 66 memorabilia. 
Other popular Oklahoma attractions: 
Dairy King, Commerce

Rock Cafe, Stroud

Wheeler Ferris Wheel, Oklahoma City

Pop's Restaurant, Arcadia
Texas:
Cadillac Ranch, Amarillo: A famous public art installation, Cadillac Ranch features 10 Cadillacs half-buried nose-first in a wheat field. Travelers love to leave their mark on Route 66 by spray painting on these graffiti-covered Cadillacs. 
The Conoco Tower Station and U-Drop Inn Cafe, Shamrock: A stunning example of Art Deco architecture, this former filling station is a famous Route 66 landmark that every traveler must see. 
MidPoint Café, Adrian: One of the oldest continually operating cafes along Mother Road, this historic café is situated midway between the starting and ending points of Route 66 and marks the halfway point of your Chicago to Los Angeles road trip.
Other popular Texas attractions: 
Leaning Tower of Texas, Groom

Big Texan Steak Ranch

Palo Duro Canyon State Park, Amarillo 
New Mexico:
Blue Hole, Santa Rosa: A popular swimming and diving spot in the US, this natural sinkhole is filled with sapphire blue waters and is a popular recreation spot for Route 66 travelers.
Blue Swallow Motel, Tucumcari: Built before World War II, this historic motel has been restored as part of the Route 66 Corridor Preservation Program. It is famous for its neon lights and vintage-style rooms.
San Miguel Chapel, Santa Fe: The oldest church in the US, San Miguel Chapel hosts regular services to this date. It is a must-see attraction on your Chicago to Los Angeles road trip. 
Other popular New Mexico attractions: 
Route 66 Auto Museum, Santa Rosa

Tee Pee Curios Shop, Tucumcari

El Rancho Hotel, Gallup

66 Diner, Albuquerque
Also Read: Tourist Attractions in Chicago
Arizona:
Meteor Crater Natural Landmark, Winslow: Formed about 50,000 years ago when a meteorite collided with the Earth, this huge impact crater is worth a stop.
Petrified Forest National Park, Holbrook: Driving through the breathtaking landscapes of this national park is a thrilling experience. It is the only national park that contains a section of Historic Route 66. 
Jack Rabbit Trading Post, Joseph City: A sign that reads "Here It Is" with a silhouette of a jackrabbit next to it is one of the most famous road signs along Route 66. 
Other popular Arizona attractions: 
Grand Canyon National Park, Williams & Flagstaff

Standing on the Corner Park, Winslow 

Oatman Town
Also Read: Best American Road Trips
California:
Elmer's Bottle Tree Ranch, Oro Grande: One of the eclectic Route 66 attractions, this ranch features hundreds of metal trees with colorful glass bottles hung on their metal branches. It is a surprisingly impressive sight.  
Original McDonald's, San Bernardino: A pitstop at the Original McDonald's has to be a part of your Route 66 itinerary. Grab a quick bite at the first McDonald's and learn some history of this iconic chain. 
Santa Monica Pier, Santa Monica: The "End of the Trail" sign at this pier brings your adventurous Chicago to Los Angeles road trip to an end and leaves you with unforgettable memories.
Other popular California attractions: 
Mojave National Reserve

Emma Jean's Holland Burger Cafe, Victorville

Rt. 66 Museum, Victorville

Roy's Motel & Cafe, Amboy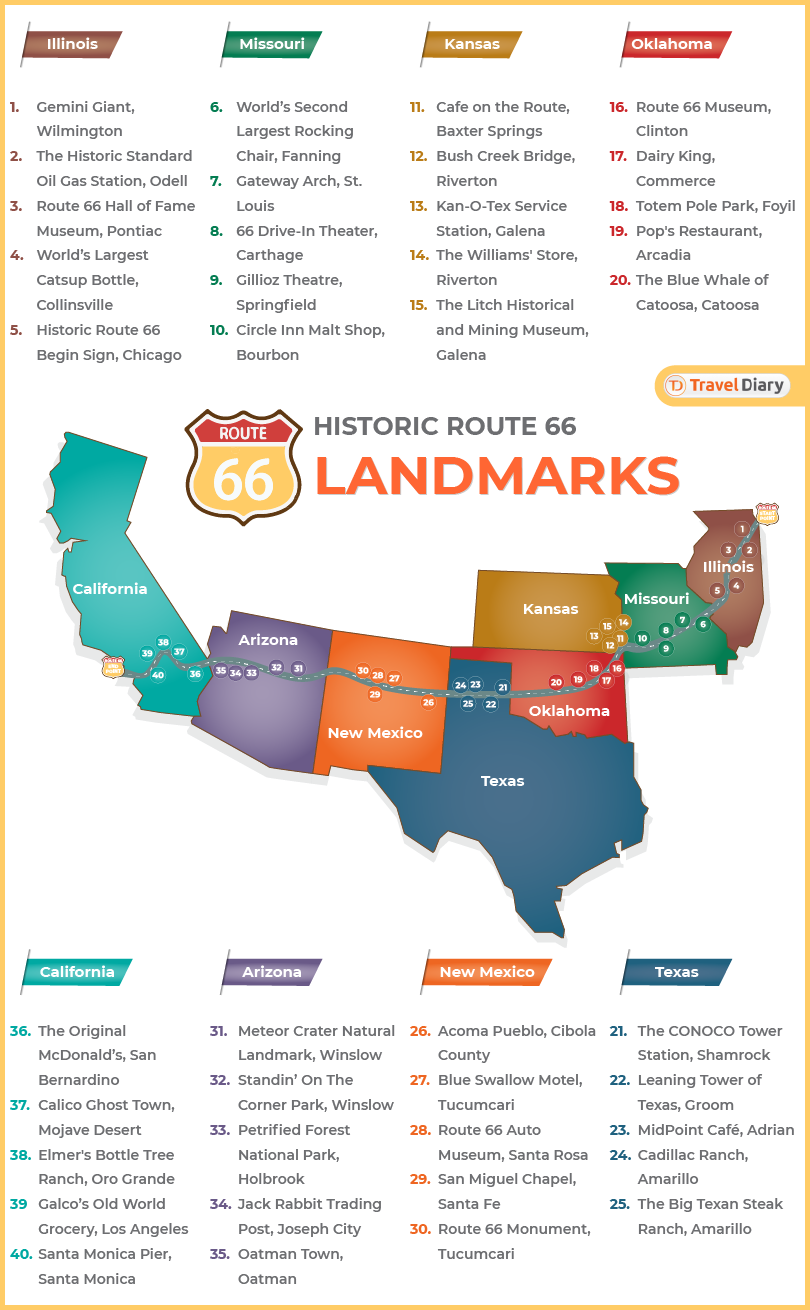 Get ready to set out on an epic Chicago to Los Angeles road trip! Plan your itinerary and search through Indian Eagle deals to book your international flights at affordable prices.