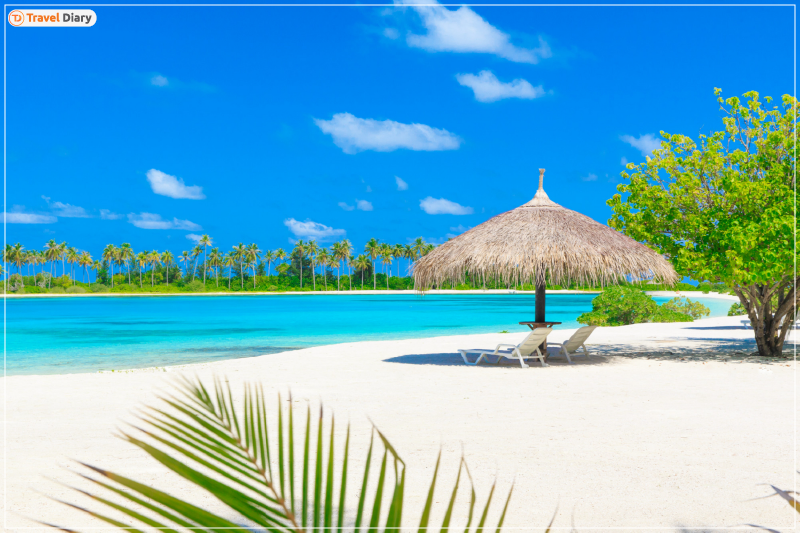 It's normal to desire a change of atmosphere as summer approaches and the attraction of beautiful beaches beckons. While the relaxing white beaches of classic coastlines are inviting, there are a hidden treasure trove of coastal beauty waiting to be discovered at  the beaches in USA. These aren't ordinary beaches; they're nature's palette, with sands of varying hues creating magnificent and unique scenic views. 
These unique beaches will bring a touch of excitement and surprise to your next summer trip, ranging from black to green and even purple. So plan your trip, book low-cost Indian eagle flights, and get ready on an exciting journey through America's rainbow of coastal sands. Here are some of the best beaches in USA that reveal the hidden gems of vibrant places. 
Punalu'u Beach
Location: Pahala And Na'alehu, Hawaii
Punalu'u Beach, located in the center of Hawaii, is famous for its obsidian sands. The colored sands are the outcome of old volcanic lava particles, creating an exotic and stunning coastline scene. While enjoying the rays, keep an eye out for the sea turtles who make this magnificent beach their home.
Pensacola Beach
Location: Pensacola, Florida
For those seeking the purest of sands, Pensacola Beach is a paradise of sugar-white quartz. These perfect cereals brought down from the Appalachian Mountains, provide a strange and wonderfully quiet experience. As part of the Gulf Islands National Seashore, it's not just a visual treat but also a haven for wheelchair-friendly Mobi-mat points of entry. Do you desire to know how to get cheap summer flight tickets? Booking tickets at a discount needs a combination of strategies and flexibility. So with smart trip planning you can have a wonderful vacation.
Kaihalulu Beach
Location: Hana, Maui
Kaihalulu Beach, hidden among the lush surroundings of Hana, Maui, provides a peaceful escape. This red coastline, a world uniqueness, requires an adventurous plunge down a steep and dangerous road. This is one of the best beaches in the USA which is a retreat for individuals seeking loneliness and a close connection with nature.
Pfeiffer Beach
Location: Big Sur, California
California's coastal beauty reaches new heights at Pfeiffer Beach. Here, the sands transform into a stunning violet hue, a result of manganese garnet deposits from nearby cliffs. Don't miss the chance to witness the enchanting Keyhole Arch and the majestic coastal bluffs. After a day of exploration in this one of the most popular beaches in USA, rest at the Alila Ventana Big Sur for a true Californian coastal experience.
Summer Bay Beach
Location: Glacier Bay, Alaska
Summer Bay Beach, located in Alaska's Aleutian Islands, offers amazing views of black sandy terrain, towering dunes, and beautiful freshwater lakes. It's a surfing paradise as well as a culturally significant location for the Indigenous Seasiders. Summer Bay Beach is an excellent choice for individuals looking for adventure and cultural enrichment. You may be required to be patient and flexible if you are preparing for a vacation and seeking cheap flight deals. Prices change, so stay updated until you find a good discount that's suitable for you. Also, based on the necessity, either scheduling ahead of time or being open to last-minute options can help you save money.
Papakolea Beach
Location: The Kau District Of Hawaii
Papakolea Beach reveals the enthralling beauty of green beaches, due to semi-precious olivine stones taken over ashore by the ocean's touch. You have to go down into a bowl-shaped geological structure to reach this hidden haven. While the trek may be difficult, the reward of experiencing this green Eden is priceless. Are you wondering how to find business-class flight deals? Use fare comparison sites, alerts, loyalty points, & flexible dates to enjoy affordable travel.
The sands along beaches in USA come alive with a stunning kaleidoscope of colors. Each place provides a different geological tale, from the uncommon purple sands of Pfeiffer Beach to the obsidian shores of Punalu'u Beach. Sand's miraculous change shows the diverse landscapes that make this beautiful country. 
Let the memory of these vibrant sands remain with you. Nature has a never-ending palette of wonders to offer individuals with open hearts and curious spirits, whether it's the colors of a beach or the tones of a sunset. So, the next time you plan a beach vacation, book cheap flights to USA and consider adding a splash of color to your attire.
Disclaimer: 
Indian Eagle claims no credit for the images featured on its blog site. All the visual content is copyrighted to its respective owners only. We mention the source name of the image whenever possible and found. However, if we miss acknowledging the owner's source, please contact us. In case, owners don't want us to use their images, we will remove them promptly. We believe in providing proper attribution to the original author, artist, and photographer.