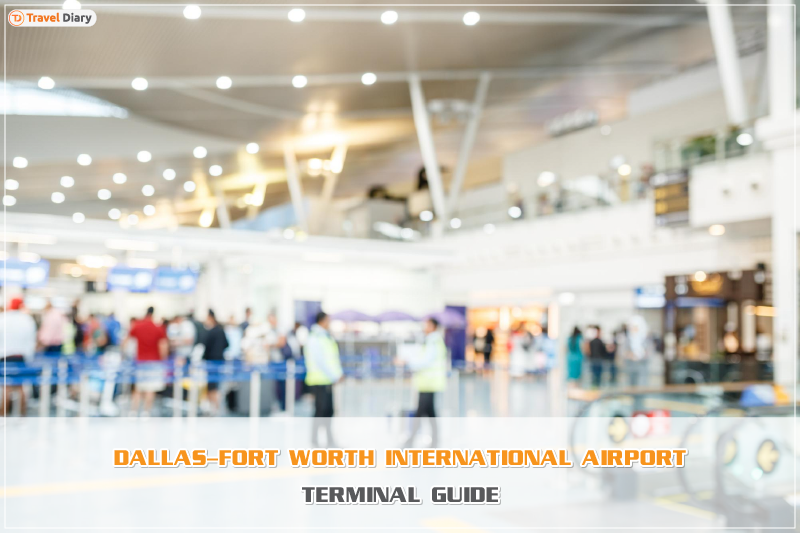 Dallas/Fort Worth International Airport (DFW) boasts an illustrious history. It remains one of the busiest airports globally, playing host to tens of millions of passengers annually. DFW Airport offers an extensive network of nonstop flights, connecting travelers to over 200 domestic and international destinations through its five distinctive terminals. And this Dallas Airport terminal guide will let you explore each one in detail. 
DFW is renowned for its commitment to passenger comfort. The airport's terminals are designed to provide a seamless and enjoyable travel experience. From a wide selection of dining options, shopping boutiques, to convenient services like lounges and charging stations, DFW Airport aims to cater to the diverse needs of its passengers.
DFW Airport Terminals
DFW boasts a labyrinth of five terminals, namely A, B, C, D, and E. These terminals collectively offer over 160 gates, serving as gateways to a multitude of dining options, shopping delights, and various travel services designed to elevate your travel experience. To facilitate swift inter-terminal movement post-security, DFW features two vital modes of transportation: the Skylink and Terminal Link. The Skylink, a complimentary light rail train, runs 24 hours a day, with trains arriving at two-minute intervals to link the terminals securely. The Terminal Link, a free shuttle van service, connects the terminals outside the security zones, with stops strategically located at specific gates. This DFW airport guide elaborates what you can expect from each terminal.
Terminal A at DFW
Through this Dallas Airport terminal guide you know that Terminal A predominantly hosts American Airlines flights, but it is not exclusively limited to them. Here, you'll find a spectrum of dining choices, ranging from fast-food outlets to upscale table-service restaurants, including names such as Panera Bread, Dallas Cowboys Club, and Starbucks among others. Shopping enthusiasts can explore stores for duty-free shopping. The Terminal A is also home to valuable amenities such as the American Admirals Club.
Terminal B at DFW
The Terminal B also accommodates flights from American Airlines, as well as other carriers. When it comes to dining, passengers have a myriad of choices. The terminal B at DFW also boasts an array of gift shops and newsstands etc. Many DFW airport terminal guides suggest that travelers in search of relaxation can visit the USO center or the American Admirals Club.
Terminal C at DFW
Another hub for American Airlines, Terminal C, is a culinary haven featuring dining options like Shake Shack. The terminal C at DFW is also dotted with duty-free outlets, candy shops, cosmetic stores, and newsstands. Travelers looking for pre-flight relaxation can unwind at the American Admirals Club or Spa Here.
Terminal D at DFW
Terminal D is not only frequented by American Airlines but also serves as a gateway for numerous international carriers. These airlines include AeroMexico, Emirates, Air France, Avianca, Qatar Airways, Japan Airlines, Korean Air, British Airways, Lufthansa, and Volaris. Dining choices are also aplenty. The terminal D at DFW boasts a variety of shops, including duty-free stores, newsstands, gift shops, and more. Travelers can also access several lounges, such as the American Admirals Club, Club DFW, American Flagship Lounge, Centurion Lounge, Korean Air Lounge, Lufthansa Lounge, and Qatar Airways Lounge, Emirates Lounge, along with a Minute Suites.
Also Read: Qatar Airways QVerse Metaverse Upgrades with Exciting Virtual Destinations
Terminal E at DFW
Through this Dallas International Airport terminal guide, you know that Terminal E accommodates flights from Alaska Airlines, Air Canada, American Airlines, Frontier Airlines, JetBlue,  Delta,  Spirit Airlines, and United Airlines. Dining options here encompass a lot of local delights. Travelers can shop for last-minute travel necessities and gifts at the newsstands and various shops. Terminal E is home to lounges such as the Plaza Premium Lounge, Delta Sky Club, and a United Club.
Inter-Terminal Transport
Skylink light rail connects terminals post-security. Departs every 2 minutes, offering quick transfers. Shuttle buses available for landside transport pre-security.
Navigating the vast expanse of Dallas/Fort Worth International Airport may seem daunting, but with this comprehensive Dallas airport terminal guide, you're well-prepared for a seamless travel experience. Whether you're dashing between terminals or looking for the best dining spots and shops to explore, DFW ensures that your journey is as comfortable and enjoyable as possible. 
So, book an Indian Eagle flight and embark on your next adventure from one of the world's busiest and most well-connected airports.
Disclaimer: 
Indian Eagle claims no credit for the images featured on its blog site. All the visual content is copyrighted to its respective owners only. We mention the source name of the image whenever possible and found. However, if we miss acknowledging the owner's source, please contact us. In case, owners don't want us to use their images, we will remove them promptly. We believe in providing proper attribution to the original author, artist, and photographer.