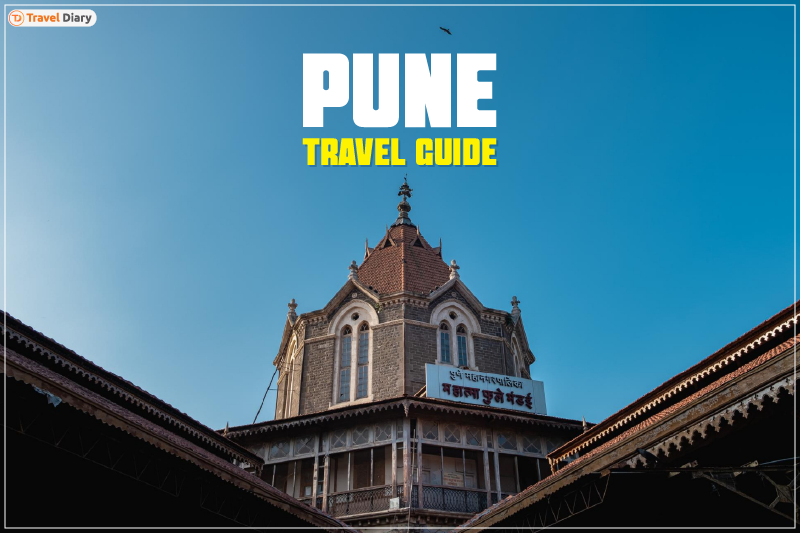 The city of Pune in the Indian state of Maharashtra is famed for its significant student population and thriving nightlife scene. Known as the 'Oxford of the East', Pune is worth paying a visit for exploring the rich cultural heritage and history of the Maratha kingdom.  From the iconic Agha Khan Palace of Pune and the magnificent Shaniwar Wada Fort built by the Peshwas of the Maratha Empire, there's no dearth of historical landmarks to sightsee in Pune. Here's a compact Pune travel guide for travelers who would like to explore the city's wealth of attractions including best nightlife, top-notch restaurants and must-visit places in Pune.
What is Pune Famous for?
Besides marvelous monuments, the city allures the incoming tourists with top night clubs, awesome shopping markets, an array of fine-dining restaurants, and pretty beaches. The vibrant city's close proximity to the Sahayadri Hill Range in the Western Ghats makes Pune a perfect location for adventure junkies who like to go on short road trips from Pune for adventure sports like hiking and trekking.
Pune Travel Guide:
Best historical monuments and places in Pune
Make sure you don't miss out on visiting the famous tourist places in Pune outlined in our Pune travel guide. A vital point to keep in mind is certain historical landmarks may require you to hire a tourist guide for learning about the significance and history of the landmarks under tour. The must-visit monuments in our guide to Pune are:
Shaniwar Wada Fort- A wall fortification and a top haunted place in Pune. There is an entrance fee of INR 5 per person for Indians and INR 125 per person for foreigners
Aga Khan Palace- A magnificent palace attraction built in 1892 by Sultan Muhammed Shah Aga Khan. There is an entrance fee of INR 5 per person for Indians and INR 100 per person for foreigners
Dagdusheth Halwai Ganpati Temple – A top religious site dedicated to Lord Ganesh. There is no entrance fee for visitors
Empress Garden- A botanical garden with rare flowers. The annual flower show in January at the garden is a thing to look for. There is an entrance fee of INR 15 per person for visitors
Osho Ashram- The place is a top attraction for transcendental meditation and gaining inner peace. It's more like a paid resort than an ashram and you need to pay for your accommodation, food and learning the art of meditation from well qualified instructors. There is an entrance fee of INR 870 per person for Indians and INR 1790 per person for foreigners
Weekend getaways from Pune
Pune's close proximity to the Sahayadri Range of mountains in the Western Ghats and the rich coastline of the Arabian Sea makes it a top location for taking short road trips from Pune to hilly mountainous landscapes and nearby beaches. The must-visit weekend getaways near Pune in our Pune travel guide are also the top tourist places in Pune like Tarkali Beach for soaking up the hot sun, Lonavala hill station for trekking & hiking, Kolad for white water rafting in the Kundalika River, and Malshej Ghat for admiring the spectacular waterfalls, scenic lakes and royal forts. The short road trips to the top weekend getaways near Pune can be very thrilling and the ride itself makes up for half the fun and excitement of the weekend getaways near Pune.
Pune's Nightlife
Pune is the second largest city in the Indian state of Maharashtra after Mumbai. The city of Pune has a thriving nightlife scene due to the presence of a significant number of students and academic institutions. From expensive pubs and lounges at luxury 5-Star Hotels like Mi-a-Mi at JW Marriot and Oak Lounge at Marriot Suites Pune to stand-alone pubs and restaurants like Penthouze near Westin Hotel and Euriska near Koregaon Park Plaza, the bustling city of Pune has so much to offer for the night owls who like to sample some quality cocktails along with great tasting finger-foods. No trip to Pune is complete without exploring its awesome nightlife and is a standard inclusion in any Pune travel guide.
Where to stay in Pune
From luxury 5-Star hotels to economy and budget hotels, from comfortable resorts to cheaper B&B style accommodations, there are plenty of options to choose for your night's stay at Pune. Whatever kind of accommodation you choose for your night stay in Pune, you can be assured of the best holiday experience as most of them are equipped with the best amenities for delighting the travelers. Our Pune travel guide compiles some of the best hotels in Pune for your accommodation: Malhar Machi Resort, Le Meridien, Vivanta by Taj-Blue Diamond, and Phoenix Hotel.
Pune for Gastronomy
There is no better way of exploring Pune than going on a food spree at the city's high-end restaurants and cheap hole-in-the-wall food joints. When it comes to gastronomy, Pune has its own signature style eateries for alluring the foodies. Be it Italian food, Mexican food, Asian food, authentic street food from Maharashtra or the utterly famous south Indian breakfast foods, Pune has a myriad of great tasting restaurants catering to the tastes of every foodie on this earth. Our Pune travel guide recommends these top restaurants in Pune: Arthur's Theme in Koregaon Park for French Cuisine, Little Italy near Pune Central Mall for Italian cuisine, Mainland China near Pyramid Mall for Chinese cuisine, and Southindies near Pune Central for South Indian breakfast foods like idly and idiyappam.
Now that you have got a bigger picture about the must-visit places in Pune, things to do in Pune and the excellent nightlife scene in Pune by reading our compact Pune Travel Guide, don't you think it's about time you took a travel plunge to Pune to get enchanted by its beautiful attractions? Have your cheap flights to Pune booked with IndianEagle.com right away for huge savings on airfares.

Disclaimer:
Indian Eagle claims no credit for the images featured on its blog site. All the visual content is copyrighted to its respective owners only. We mention the source name of the image whenever possible and found. However, if we miss acknowledging the owner's source, please contact us. In case, owners don't want us to use their images, we will remove them promptly. We believe in providing proper attribution to the original author, artist, and photographer.