Flying to a new destination in a new country or a new continent involves a lot of meticulous planning. Buying cheap international flight tickets to your favorite destinations is just one of the things to do before travelling abroad. Our blog post will throw light on 7 essential tips for flying internationally for a hassle-free travel experience.
1.Book your flights and hotels in advance
Always book your flights and hotels at least three months in advance for leveraging the lowest airfares. Indian Eagle is your online source for booking the cheapest flights from USA to India. Our alternate date deals can help you save even bigger if you are flexible with the itineraries.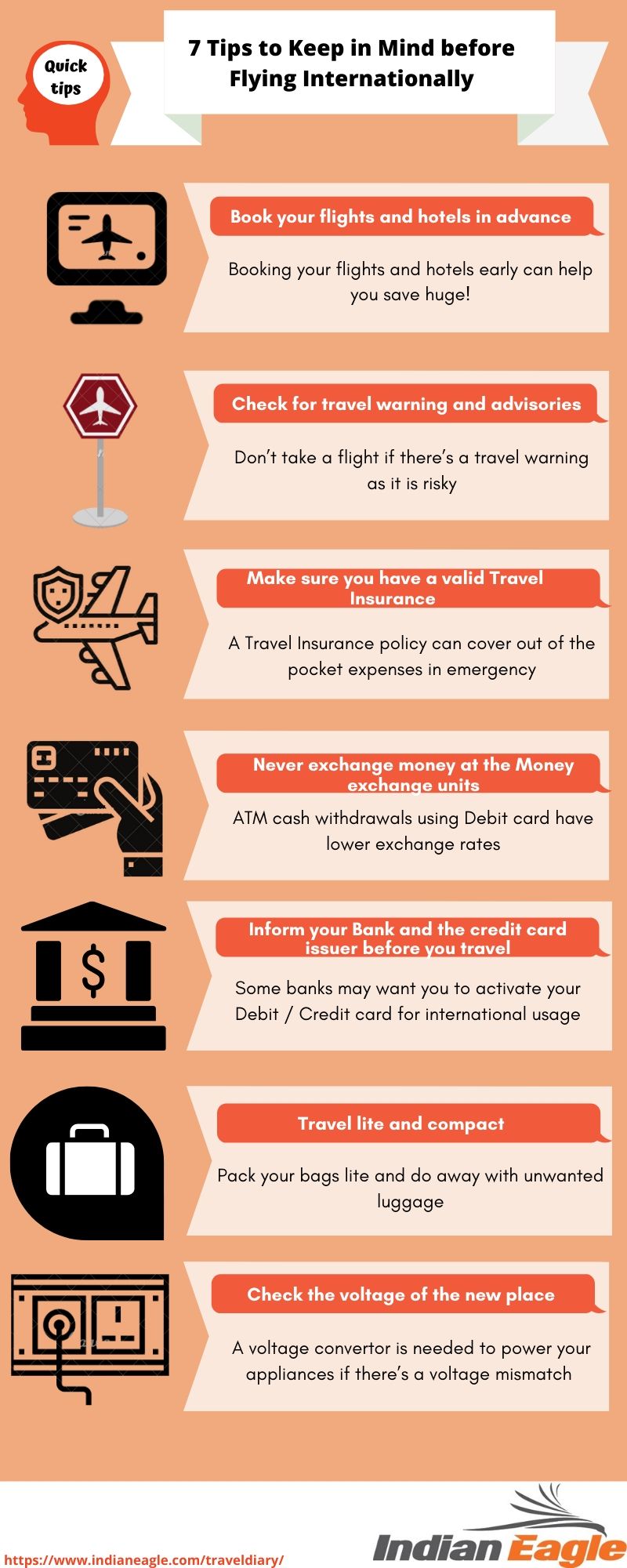 2.Check for travel warning and advisories
Another good tip for flying Internationally is before the departure of your scheduled international flight, make sure that there aren't any travel warnings or advisories against your Internationally location where you are flying to. There's a high risk of traveling to places affected with such warnings because most travel insurance companies don't consider countries with travel warnings.
3. Make sure you have a valid Travel Insurance
Having a valid Travel Insurance in place before traveling Internationally can help you cover the out of the pocket expenses in emergencies related to medical, trip cancellations, flight delays, and mishandled baggage. Make sure you read the terms and conditions of the policy well before buying it so that the policy can really help in an untoward incident, far away from home.
4.Never exchange money at the Money exchange units
Don't exchange your foreign currency with the local currency even at authorized money exchange units because they can really rip-off your money as the exchange rates they offer are very high. You are better off withdrawing the money from standard ATMs using your international debit card as the exchange rates through them are a lot lower and it works out cheaper.
Just a word of caution, foreign transaction fees are levied by your debit / credit card issuing bank for all foreign transactions irrespective of whether they are ATM withdrawals or card swipes. Never use a credit card for ATM withdrawals as they incur additional fees for withdrawals.
5.Inform your Bank and the credit card issuer before you travel
Calling your bank and credit card issuers before you depart to a new country is always wise because some financial institutions do not support international usage of the debit / credit cards without prior activation of the cards. We bet you wouldn't want to face an embarrassing situation of not being able to use your cards in a new country, far away from your own.
6.Travel lite and compact
Packing lite and compact is the key for a hassle-free internationally travel. Do away with the unwanted luggage and carry the ones that are needed; things like costly Jewelry and stacks of currency notes can be avoided as they attract the attention of thieves.
If such expensive items are unavoidable to carry, make sure you have them in your carry-on luggage during the long-haul flight for safety. And always remember to pack an extra pair of clothes in your carry-on bag so that you can use them in the event when the checked baggage is lost.
7.Check the voltage of the new place
Often travelers don't check the voltage of the new places they are visiting to and this could end up in a difficult situation of finding the right adapter for their electronic appliances if there's a mismatch in the allowed voltage limit of the new country and the home country.
For instance, travelers flying from USA to India must keep in mind that in India the allowed voltage is 220V unlike in the United States which is 110V.
So US travelers need to have the right voltage convertors to use their electric appliances like laptops in India and buying the right convertor before flying to India can save a lot of time and stress. This according to us is one of the best tips for flying internationally.