Kolkata, a city with immense historical and cultural significance, is home to some of India's iconic shopping bazaars such as the New Market and College Street. While the former is one of the oldest shopping markets in the country, the latter is the largest second-hand book market in the world. Be it apparel, jewelry, handicraft, or book shopping, Kolkata boasts of some of the best shopping destinations this country has. From age-old street markets to chic malls and designer boutiques, the best places to shop in Kolkata are plenty. Here we have listed the top shopping places in the city for every shopping enthusiast.
New Market
Arguably the most popular market in Kolkata for shopping, New Market (previously known as Sir Stuart Hogg Market) is lined with over 2000 stalls that sell a variety of items, including clothing, jewelry, footwear, electronics, cosmetics, toys, precious metals, home decor, kitchen utensils, flowers, fruits, and herbs. Tucked in between this maze of shopping stores are food outlets, where you can devour delicious Kolkata food to re-energize yourself during a long day of shopping that leaves you satisfied (a feeling that overpowers your weariness). This beloved shopping destination in Kolkata is also famous for its colonial architecture; its red brick clock tower is an iconic landmark here.
Bara Bazar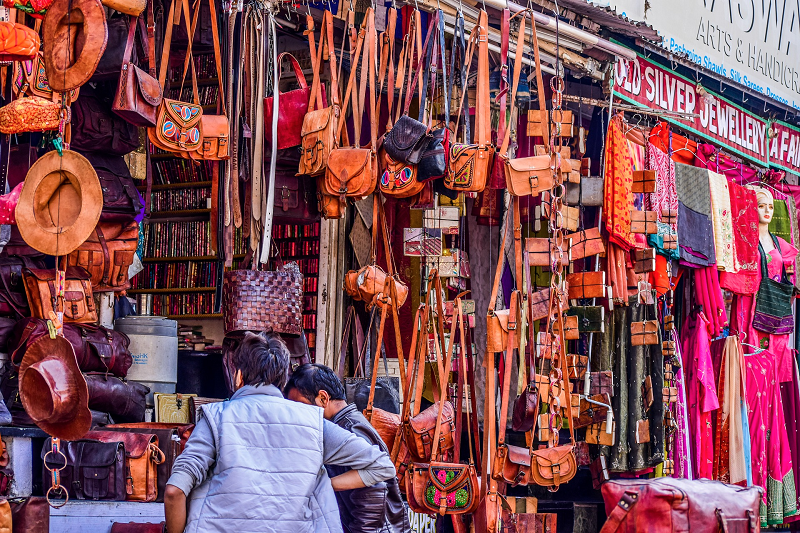 Bara Bazar, alternately spelled Burrabazar, is among the oldest wholesale markets in Kolkata and thus is every bargain hunter's delight. It originated as a textile and yarn market, but soon developed into a one-stop shop in the city for all your shopping needs. The huge market is divided into four major sections called Fancypatti, Tulapatti, Dhotipatti, and Chinipatti (named based on the goods they primarily deal in). This bustling bazaar is often likened to Chandni Chowk in Delhi. Bara Bazar draws more shopping crowds during Indian festivals like Dussehra and Diwali, with stalls restocked to the brim and decorated for the festive season.
Dakshinapan Shopping Center
One of the best places to shop in Kolkata for handicrafts, Dakshinapan has a rich collection of handicrafts and artifacts originating from different parts of the country. This open-air shopping center has individual state government emporiums, where you can buy handicraft varieties for which the respective state is known. It also features a store called Silence exhibiting beautiful handicrafts made by differently-abled artists. Dakshinapan Shopping Center is a go-to place for souvenir shopping in the city. You can also buy clothes at affordable prices here.
Also Read: Kolkata Travel Guide
College Street Market
A paradise for bibliophiles, College Street Market is located near the famous Presidency College. The entire street overflows with stalls selling all kinds of books, from academic to literary, at almost throwaway prices. From international bestsellers to regional classics, this book market has them all. College Street Market is also home to a few very old Bengali publishing houses such as Ananda Publications. Scour the many stalls for that rare manuscript or an early volume of a book that you wished to own; you might find it! Another major attraction at College Street is the Indian Coffee House, an iconic cafe that has been a hub for intellectual debates throughout its past.
Chowringhee Road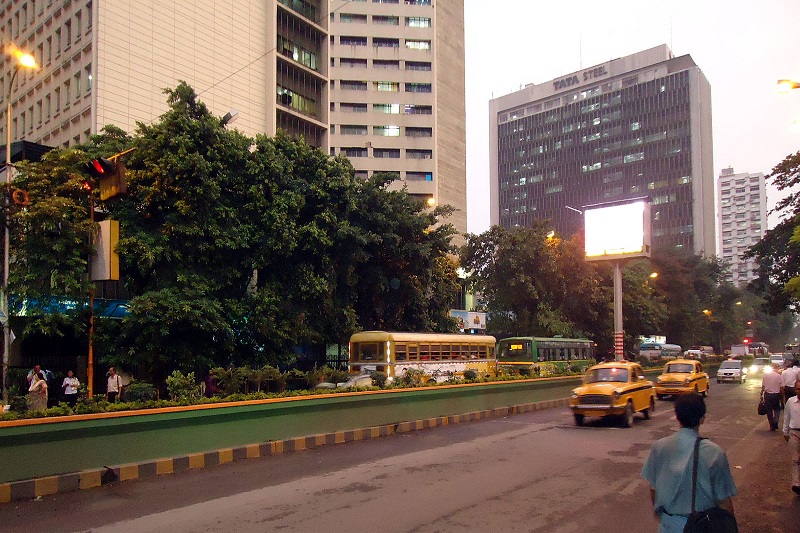 Terracotta artifacts are some of the most beautiful souvenirs Kolkata is known for and the go-to place to buy them is Chowringhee Road, officially called Jawaharlal Nehru Road. The beautiful traditional designs and perfect craftsmanship of the terracotta ware never catch shopaholics' eye. At Chowringhee Road, you can also get trendy clothes and lovely knick knacks for cheap (put your bargaining skills to test for the best price).
Other famous places to shop in Kolkata include Hatibagan Market, Gariahat Market, Oxford Bookstore, Quest Mall, City Centre, and South City Mall. These shopping places will get all decked up for the Durga Puja season and will usually be swarming with locals and tourists during this time, thus making the shopping experience all the more interesting. All set to return to your homeland for the grandest Dussehra celebrations? Take Indian Eagle flight to Kolkata and fly home! Go pandal hopping, pay obeisance to the Goddess, and indulge in food and shopping in Kolkata!
Also Read: Amusement Parks in Kolkata