We often get to hear about incidents of 'intimate' body frisking by security guards at US airports. It has even offended many Indian biggies traveling to and out of the United States. Recently, media reported an incident of humiliation and harassment that a wheelchair-bound Indian American traveler was subjected to at Indira Gandhi International Airport in India.
The wheelchair-bound traveler, who flew from the USA to New Delhi, is none other than Virali Modi who helmed the campaign to make major Indian Railway stations disabled-friendly. Virali Modi, a US citizen, is a renowned disability rights activist and motivational speaker. A runner-up in the 2014 Miss Wheelchair India contest, she featured on BBC's list of top 100 women of 2017.
While going through the obligatory security check at Delhi IGI airport for a flight to Mumbai, she did fall prey to a CISF official's utterly insensitive behavior towards her.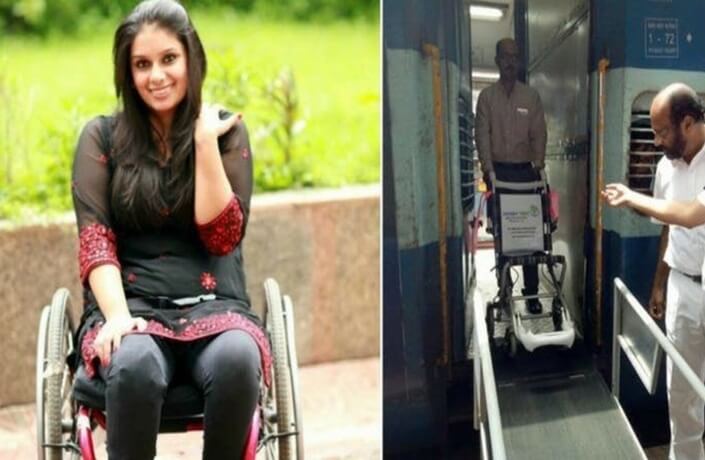 On landing at Delhi IGI Airport from her flight from USA to India, Virali Modi surrendered her personal wheelchair at the check-in counter. She got a wheelchair from the airport and hired a porter to escort her to her seat on the SpiceJet aircraft. A female CISF officer at the security check asked her to stand up from the wheelchair and walk.
Virali and the porter told the CISF officer that Virali has been paralyzed due to a spinal cord injury in 2006 and that she has been on a wheelchair since then. She showed her passport to prove that she has traveled internationally, but she has faced such disrespect nowhere. Reportedly, the CISF personnel turned a deaf ear to all her pleas and went on to yell at her.
When Virali Modi overheard the lady CISF officer speak to one of her colleagues, "Drama kar rahi hai (she is pretending to be wheelchair-bound), she was left with tears in her eyes. She gritted her teeth to confront the CISF on the latter's insensitive behavior to her.
When the argument heated up, a senior CISF officer intervened, conducted the security check and let her move on to the boarding area.
Expressing her disappointment at being ill-treated and harassed, Virali Modi wrote an email to the CISF after reaching Mumbai. In the email, she complained, "Is this how the CISF are trained to handle people with disabilities? If so, then it's a shame on our government. This sort of behavior is absurd and I request you to please look into this matter and take the necessary action so this doesn't happen to anyone with disability."
When she demanded a public apology from the CISF for meting out humiliating behavior to her, the same female CISF officer called her and rendered an apology to her over the phone.
Later on Virali Modi was told that the lady CISF officer stood her ground because there had been an incident of fraudulence and counterfeit a few days before, in which a 32-year-old man appeared as an 81-year-old and pretended to be too senile to leave wheelchair while going through the security check for a flight to New York from New Delhi.