The Biden-Harris administration is hell-bent on vaccinating the whole of America by July 4. Several US states and conglomerates have come forward to help accomplish the national mission by offering various incentives to people to get inoculated. Vaccination being the ultimate key to unlock the pandemic-hit economy is gaining momentum across the country by dint of contests, sweepstakes and freebies. The more people get immunized, the nearer life is to normalcy.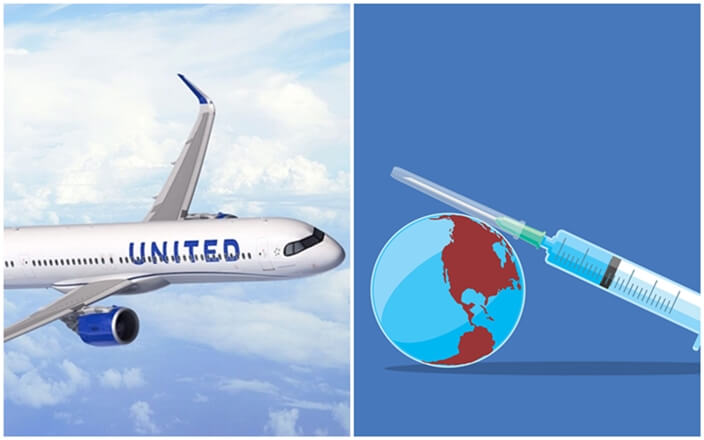 United Airlines that shares the vision of a virus-free America with the government has joined the bandwagon by launching a unique contest, "Your Shot to Fly," for travelers to get a vaccine prior to flying abroad. Lucky winners of United Airlines' 'Your Shot to Fly' sweepstake will be awarded a round-trip flight for two, in any travel class, to any destination in the airline's global network. Indians in the US can give it a try to win free round-trip flights between USA and India.
United Airlines' CEO Scott Kirby said, "We are proud to do our part to incentivize people to get their shot. Thanks to the vaccine, more and more destinations are opening up for travel – and we know our customers are eager to fly. We're excited to give people one more reason to get vaccinated so they can reunite with friends and family or take that long-awaited vacation which all could be just one shot away."
If you are a US resident and a member of United's MileagePlus frequent flyer program, you can participate in the sweepstake contest. You must be 18 years old or above. MileagePlus is an award-winning loyalty program for passengers of United flights. If you are not yet a member of United's MileagePlus, you can join the program before entering the sweepstake. All you need to do, once you have enrolled to the loyalty program, is to upload a copy of your vaccination card to your MileagePlus account through the airline's website or mobile app. The window is open till June 2, 2021.
Should you buy United flight tickets to participate in the sweepstake? 'You don't need," said Indian Eagle, a leading air-ticketing partner of Indians in America. Five grand winners of United's Your Shot to Fly will be awarded a year of free flights in any travel class (of course, given availability of seats in your choice of travel class). You and one companion of yours will get up to 26 round trips on United Airlines flights to India and other destinations. Hold on! There is more in the offing for five grand winners; each will be given a cash prize worth $275,000. Five winners will be selected randomly on July 1, 2021.
If you stand a chance to win the grand prize, you must take free flights for up to 26 round trips between July 15, 2021, and July 14, 2022. One year of free round-trip airfare will be issued in the form of 26 travel certificates which are non-transferable and non-cashable. Also, United Airlines is giving away a round-trip flight for two, in any travel class, to 30 winners selected randomly through June 30. Each of the 30 winners will additionally receive a cash prize of $7700.
With the 'Your Shot to Fly' contest, United Airlines – a major carrier in the US-India air bubble corridor – is encouraging both vaccination and safe travel. The winners of United's Your Shot to Fly can choose to travel to European countries including Italy, Spain, France, Greece and Portugal, as the airline is planning on resuming the suspended routes to Europe.