50% of the senior citizens who participated in a 2014 survey conducted by HelpAge India reported being subjected to verbal, physical and emotional abuse by their own children. In current times when old age homes are mushrooming in India and many senior citizens are ending up there, it won't be unjust to call Kailash Giri Brahmachari a Shravan Kumar of the 21st century, who took his blind mother on pilgrimage from Kanyakumari to Kashmir and walked 37,000 km in 20 years.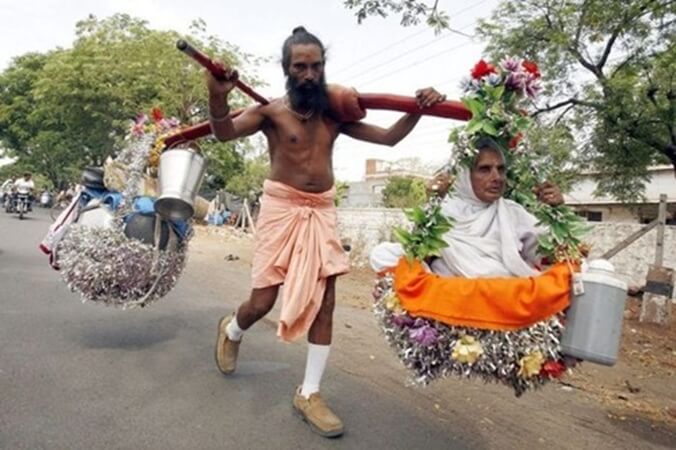 A villager of Madhya Pradesh, Kailash Giri Brahmachari, then 28 in 1996, set out on foot to fulfill his mother's dream of a pilgrimage of the Char Dhams – the four holiest places for Hindus in India, leaving the home, the cattle and fields behind. He carried his old mother in a basket slung over his shoulder, all the way of over 37000 km for 20 years, just like Shravan Kumar, a mythical figure in the Ramayana.
One of the baskets accommodated his mother and the other stored clothes, cooking utensils and other items that they may have needed during the journey. He took his mother to the temple towns and religious destinations along the length and breadth of the country, including Rameshwaram, Tirupati, Udupi, Shirdi, Puri, Chitrakut, Ujjain, Pushkar, Dwarka, Badrinath, Kedarnath, Haridwar, Rishikesh, Prayagraj, Ayodhya, Mathura, Varanasi, Ganga Sagar, and Tarapith.
Kailash Giri Brahmachari's journey for his mother's pilgrimage beyond the Char Dham was full of wonderful moments and replete with hardship at the same time.
Almost every day for 20 years, he would wake up by 6 am, walk for 4 to 5 hours, take rest in the afternoon and walk again until late in the evening. Some roadside temple or community inn was their shelter for the night during the course of the journey. Sometimes, he found food at some charities on the way. At times, he had to cook for both of them.
His mother's unfathomable love for him had been his strength and motivation for the 20 years of tireless pilgrimage. He fell from the top of a tree when he was 14. He would have surely succumbed to the injuries if his mother were not there to look after him, nurse his wounds and pray for his well-being. Since her affection and prayers gave him a new lease of life, it was more than his duty to fulfill her wish. His father and two siblings passed away when he was only 10. Who else could have taken his mother on pilgrimage across the country, if not he?
Another Shravan Kumar in India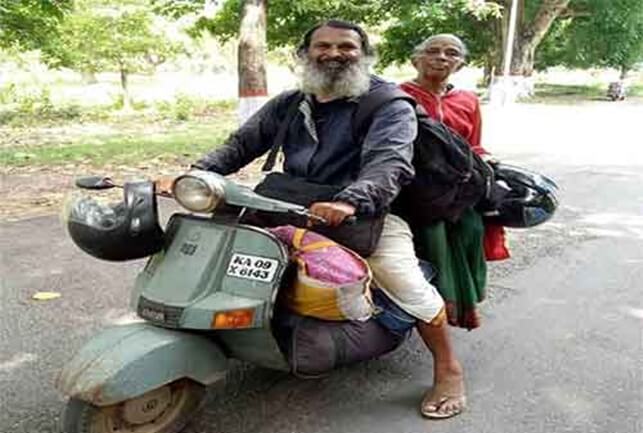 The other modern-day Shravan Kumar is 40-year-old D. Krishnan Kumar from Bangalore. He has been on pilgrimage with his 70-year-old mother as a pillion rider on his scooter. Till date, they have covered more than 41,000 km and visited as many as 20 holy sites across the country. After 13 years of his successful corporate career, he took his mother's dream of pilgrimage as a goal to achieve following his father's demise.
In January 2018, he quit his corporate job, got his 2000 model scooter customized for the journey and embarked on the pilgrimage which he describes as 'Mathru seva sankalpa yatra'.
Krishnan Kumar started from his hometown Mysore and visited major religious places in Kerala, Tamil Nadu, Pondicherry, Karnataka, Goa, Maharashtra, Telangana, Andhra Pradesh, Odisha, Jharkhand, Bihar, West Bengal, Sikkim and Arunachal Pradesh. Bhutan and Nepal have also been part of his holy expedition that is continuing.
This story (written and published in August 2019) is brought to you by Travel Beats, an overseas Indian community portal by Indian Eagle. Indian Eagle Travel, a leading air ticketing company in the US, helps Indian expats in America book the most suitable itineraries and best flights to USA and back to India for their parents' hassle-free long-haul travel. An NRI in the US shared his joy of booking a business class flight for his elderly parents' travel in comfort.