Nothing can dampen our will for survival, our enthusiasm for celebration, and our spirit for progress. Not even Hurricane Harvey. That's what Texas Governor Greg Abbott proved by celebrating Diwali, the festival of lights, to eclipse the lingering shadow of the devastating Harvey with the divine light. Held at his mansion in Austin, the Diwali party followed President Trump's celebration of Diwali 2017 in the White House on October 17.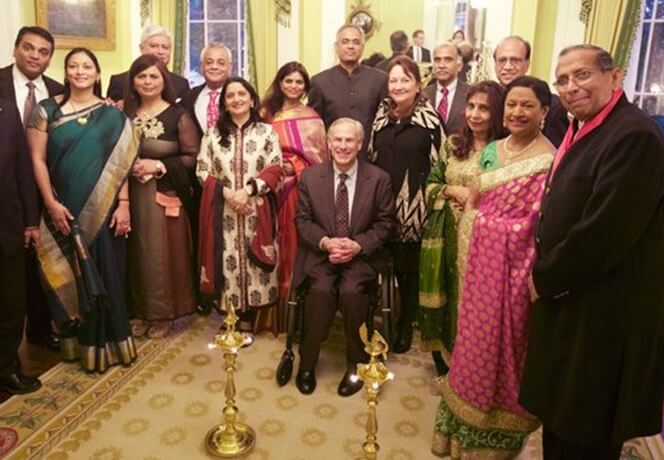 The Diwali celebration at Greg Abbott's mansion in Austin was a luminous occasion for Texas Indians. Above 30 members of the Texas Indian American community joined him during the ceremony of igniting Diwali lamps. Anupam Ray, the Consul General of India in Houston and a few eminent Indian Americans from Austin were in attendance, too.
Texas Governor Greg Abbott, along with First Lady Cecilia Abbott, exchanged Diwali greetings with the invitees and addressed the gathering of Indian Americans after lighting the ceremonial lamp. He announced his plan to travel to India and strengthen Texas' relationship with India. He said uninhibitedly that he was eagerly looking to cement the connection between Texas and India on a strong base.
Greg Abbott made the most of Diwali 2017 in Austin as an opportunity to praise Indian Americans' contributions towards the progress of Texas and thank them for their tireless voluntarism in the face of hard times like Hurricane Harvey. Notably, Houston-based Indian American entrepreneur Amit Bhandari donated $25,000 to the Hurricane Harvey relief fund.
He couldn't help showering kudos on the Indian American organizations which plunged into a battle against the odds of Harvey and catered to the needs of the Harvey victims.
Undeniably, Texas has been in good relationship with India. Bearing a testimony to the fact is eminent Indian actor Anupam Kher's honorary citizenship of Texas. Austin-based Devika Kumar's achievement as one of the National Young Women of Distinction 2017 for educating poor women and girls on menstrual hygiene in rural India is a must mention in this this context.

Greg Abbott concluded his speech for the Indian American community on the occasion of Diwali celebration in Austin by expressing his pride of being the first Texas governor to celebrate the Indian festival of lights.
Subscribe to our free newsletter for the latest visa, immigration, travel and Indian community news, and exclusive airline deals for cheap flights to India.