Indian Americans need no longer worry about how to connect their US-born children with Indian culture and heritage. They need not bring from India or request a relative in India to send or buy online books on Indian epics, Indian history, Indian cultural heritage or noble Indians. All thanks to young Indian American siblings – Nikhita Mahendru and Vikram Mahendru – for launching a dedicated portal of short videos with animated content on the stories of Ramayana, Mahabharata, Gita, Indian gods and festivals of India!
Named StoryChatter.com, the website is a single-key window to the traditional stories of India, which have been passed on from one generation to the other for centuries. New Jersey-based Nikhita Mahendru and Vikram Mahendru broke from the conventional way of telling stories and attempted visually engaging animated storytelling, a great hit with today's children in the current times of digital media.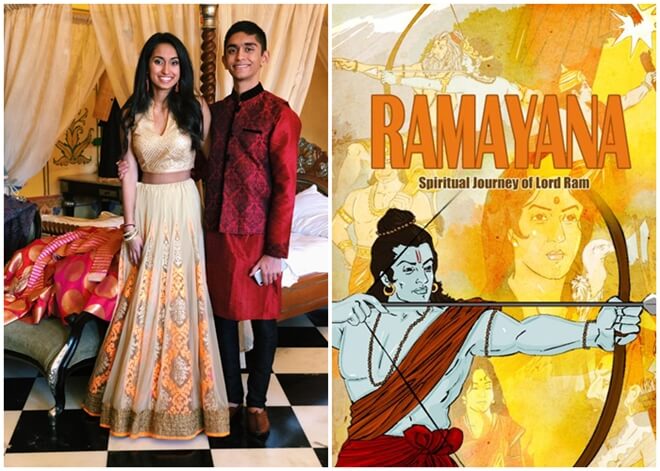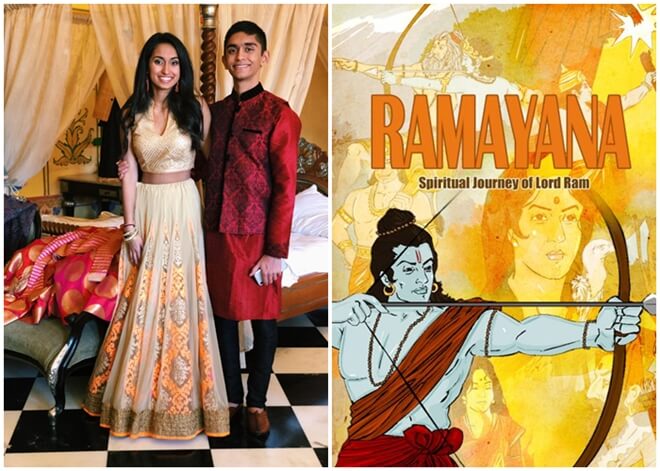 Through animated videos with visual narratives, the Indian American siblings have made it a lot easier for kids to know what the importance of Indian festivals is, why we celebrate Dussehra, Diwali and Holi; what the interesting facts about age-old Indian temples are, why we worship Lord Krishna, Lord Hanuman, Lord Shiva, Lord Ganesha, Goddess Durga, Lord Ayyappan and other deities; What the stories of Ramayana and Mahabharata are; who Guru Nanak, Rabindranath Tagore, Swami Vivekananda, Bhagat Singh, Mahatma Gandhi, Shivaji, Netaji and Maharana Pratap are.
To say in precise terms, the website StoryChatter is a mini video-based encyclopedia on Indian culture, heritage and history. It offers a free two-week trial period to new users. Once the free period is over, the users can buy a monthly subscription of unlimited video streaming only for $2.99. The videos available at StoryChatter website can be streamed on any supported website for hassle-free viewing anytime and anywhere. The subscription fees will be used to create new videos on the myths, epics, festivals, and legends of India.
"We tried our best to retain the charm of the way our grandparents would tell stories of Indian heritage and cultural values, in all of the 65 videos currently available. All throughout our childhood, we observed grandparents' animated storytelling style which was powerful enough to make us visualize the stories and engage with the characters. When they left for India, our parents got us enrolled in Sunday classes at a local temple, but the storytelling there did neither quench our thirst for interesting stories of India nor feed our imagination. The multifarious, magical Indian mythical figures were reduced to mere lifeless things in the textbooks there," said Nikhita Mahendru and Vikram Mahendru, the founders of StoryChatter video portal.

Nikhita Mahendru, a senior and Vikram Mahendru, a sophomore at Millburn High School in New Jersey have put months of research into this culturally edifying project for children of Indian origin in America. They compiled information about Indian cultural heritage from all sources available online as well as offline, penned original scripts, revised the scripts several times to come up with simple, easy-to-understand versions for young minds, mostly from elementary schools.
In the process of connecting US-born kids of Indian descent with their cultural roots, New Jersey Indian siblings – Nikhita Mahendru and Vikram Mahendru – have become cultural ambassadors for the Indian American community and philanthropists for the underprivileged children at the Social Outreach Foundation Primary School in Noida, their parents' hometown in India. Yes, a portion of the subscription fees from the StoryChatter website users goes to a welfare fund for those children.
Travel Beats, a subsidiary of Indian Eagle, strives to promote achievements of young Indians in USA. Indian Eagle, a most trusted travel booking partner of Indians in America, not only helps you travel for cheap last-minute airfares to India but also shares latest updates on visa, immigration, Indian passport and major airlines.