Singapore Airlines is all set to redefine comfort, luxury, hospitality and travel experience for the flyers of First Class, Business Class and Economy Class too, by upgrading the infrastructure and interior of the cabins. The national carrier of Singapore has recently announced a whopping investment of 325 million dollars for installing advanced seats and entertainment systems in the cabins of all travel classes on 19 Boeing 777-300ERs to make air travel more comfortable and enjoyable.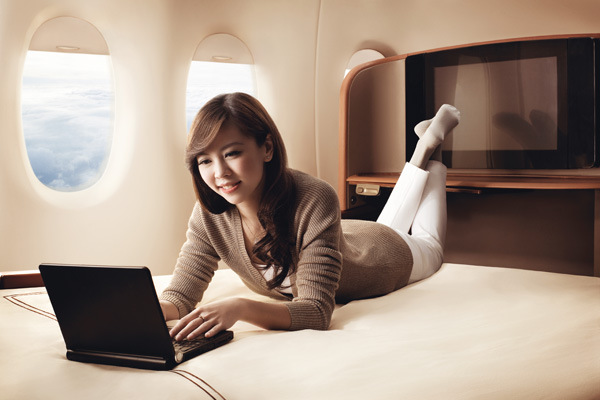 This move by Singapore Airlines dates back to September 2013 when the airline added the new-age cabin to the first Boeing 777-300ER in the fleet. The extremely positive feedback from customers motivated the airline to extend the same infrastructural development plan across all Boeing 777-300ER aircraft in the fleet. The implementation plan will be implemented in 2015 and is supposed to be completed by September 2016.
On completion of the installation work, the First Class cabin will have seats with a fixed-back shell design for extra comfort and with curved side panels for added privacy. The First Class seats will be refurbished with ergonomically designed cushion and cozy upholstery, and accessorized with flexibly adjustable headrest and mood-lifting in-seat lighting. The seats will be rolled out as flat beds with 35-in width and 82-in length making the First Class cabin of Singapore Airlines one of the most spacious travel classes in the sky.
The new ergonomically cushioned seats in the Business Class will offer super flexibility to let flyers sit, work and relax in their preferred ways. 132-degree recline is another great highlight of the Business Class seats. The seats will roll out into full-flat beds with 78-in length. Stowage space for laptop and other amenities will be increased too.
Singapore Airlines has put the Economy Class in the fold of the infrastructural development plan, too. The new Economy Class seats will offer extra personal space and legroom for added comfort. The seats will be refurbished with cozy cushions for better neck support and enhanced backrest.
At present, Singapore Airlines uses Boeing 777-300ER with the new cabin to operate select daily flights to London Heathrow International Airport and Tokyo Narita International Airport.
IndianEagle.com has a good record of booking cheap flights with Singapore Airlines. Book your trips at the lowest airfare online.