2024 will be the year of a premium economy war between airlines, including Air India and Emirates. With Emirates having scheduled its premium economy flights to India from 29 October, the competition will heat up in the US-India travel corridor, where Air India's Premium Economy service has already made its presence felt. Air India's brand new offering launched in June 2023 is on an expansion spree with modern planes lining up to join the fleet. Dubai-based Emirates known for its inflight service and hospitality is expected to provide a top-notch Premium Economy experience.
Air India vs Emirates: Premium Economy Seats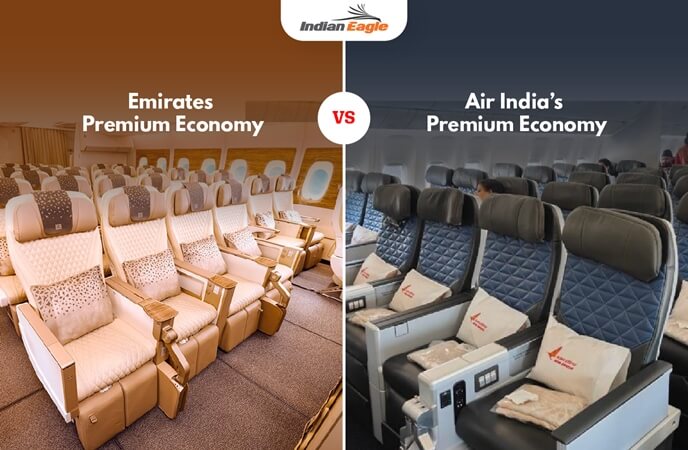 Emirates' Premium Economy on A380s (double-decker jumbo aircraft) is more spacious than Air India's on B777-200LRs (as of now). Evidently, premium economy seats on Emirates' A380 flights to India have better features than those on Air India flights from USA to Bangalore, Delhi and Mumbai. 19.5-inch width and 40-inch pitch set Emirates' premium economy seats a notch above Air India's premium economy seats with 19-inch width and 38-inch pitch.
You can recline your seat by 8 inches without causing inconvenience to your co-passengers behind in Emirates' Premium Economy. You get only 5 inches of recline in Air India's Premium Economy. Both the airlines offer adjustable headrest, leg rest, footrest and cushioned seating to elevate your comfort in premium economy. However, you can adjust the headrest at 6 different levels to your convenience and relax better against a soft pillow supporting your back on premium economy seats to be provided by Emirates flights to Mumbai and BLR Airport.
If both airlines' premium economy cabins are evaluated on the index of elegance and aesthetics, Emirates is likely to score higher than Air India. The upholstery of creamy leather seats exudes soft golden hues lending a regal look to premium economy of Emirates' A380s. On the other hand, soothing blue dominates the interior of premium economy cabins on B777-200LRs that Air India leased from Delta Airlines. More aircraft being retrofitted with premium economy and refurbished with exquisite upholstery will ramp up Air India's Premium Economy game in 2024.
Air India vs Emirates: Premium Economy Fares  
Needless to say, fares is an important consideration for long-haul international air travel. Indian Eagle, a leading travel-booking partner of Indian Diaspora, books cost-to-cost USA to India premium economy flight tickets with Emirates, Air India, and other airlines. However, Air India has better deals than Emirates Airlines for premium economy travel. Refer to the below screenshot for Air India Premium Economy fares vs Emirates Premium Economy fares for a one-way trip from San Francisco to Mumbai on 6 December 2023.
You can log on to IndianEagle.com, enter your preferred travel dates and some other route, to say JFK to Mumbai or SFO to Bengaluru, select Premium Economy, and compare Emirates vs Air India fare deals for your travel. You will be able to see the premium economy fare difference between the Indian airline and the Dubai-based carrier.
Emirates vs Air India: Inflight Dining in Premium Economy 
Emirates is second to none in offering an exclusive inflight dining experience – which won't be an exception in the soon-to-be-launched Premium Economy. If you travel in Premium Economy with Emirates flight tickets from USA to Bengaluru or Mumbai, you will be treated to a specially curated multicourse menu inspired by reginal cuisines. IndianEagle.com, a leading air-ticketing partner of Emirates, accessed the premium economy menu on the airline portal and found that it has grilled chicken, smoked salmon, chicken tikka wraps, classic Emirates pizza, mushroom omelet, paneer mutter masala, blueberry pancake, etc.
Air India's premium economy dining on some flights between USA and India have been praised by many travelers. Part of the best-in-class hospitality to passengers in premium economy, Air India's new menus for breakfast, lunch, and dinner on board are Indian to the core with a contemporary touch. The menus, inspired by India's urban culinary landscape, have both classics and fusions, such as Turmeric Chili Omelet, Mixed Vegetable Paratha, Mushroom Scrambled Eggs, Aachari Paneer, Grilled Prawns in Fennel Cream Sauce, Murgh Rezala Kofta, Murgh Elaichi Korma, Classic Chili Chicken, Chicken Chettinad Kathi Roll, Baked Fillet of Fish with Herb Almond and Garlic Crust, Masala Dal and Brown Rice Khichdi with sprouts.
"Some of our customers who got the best Air India deals for premium economy travel from Indian Eagle shared that they were given a refreshing welcome drink in fine glassware and a hot towel before every meal during the journey. They had liberal choices on the menu of drinks including mocktails, wines, whiskeys, and beers of premium brands. Masala Chia and Assam Tea are signature hot beverages served on Air India flights. We are keen to see what hospitality Emirates extends to premium economy guests on its flights to India from USA, starting 29 October 2023," said the chief customer relations manager at Indian Eagle.
Air India vs Emirates: Inflight Entertainment in Premium Economy
Be it premium economy or business class flights to USA, Emirates has the best inflight entertainment content in the sky for its guests of all age groups. Travelers to be flying in Emirates Premium Economy to and from India will get access to 650 plus TV shows, more than 2000 movies and 4000+ hours of music in various regional languages on Emirates' ICE inflight entertainment system. Premium Economy seats are equipped with 13.3-inch HD screens for you to stay entertained on long-haul Emirates flights from San Francisco, Los Angeles, Houston, and New York to Mumbai and Bengaluru.
Air India does equally leave its premium economy guests spoilt for choice with the volume and quality of inflight entertainment. As part of the ongoing transformation program, Air India has enriched its inflight entertainment content with myriad blockbusters and classics from Hollywood, Bollywood, and various language-speaking regions of India for the brand new Premium Economy cabins on B777-200LRs having modern inflight entertainment systems.