Among the Padma Shri awardees in 2016 is an NRI from the Gulf region. Dr Sundar Menon, Chairman and Managing Director of Sun Group International, has been honored with the Padma Shri for his social work. This prestigious recognition of his philanthropy by the government of India is a new feather in the cap of the Indian diaspora in the United Arab Emirates.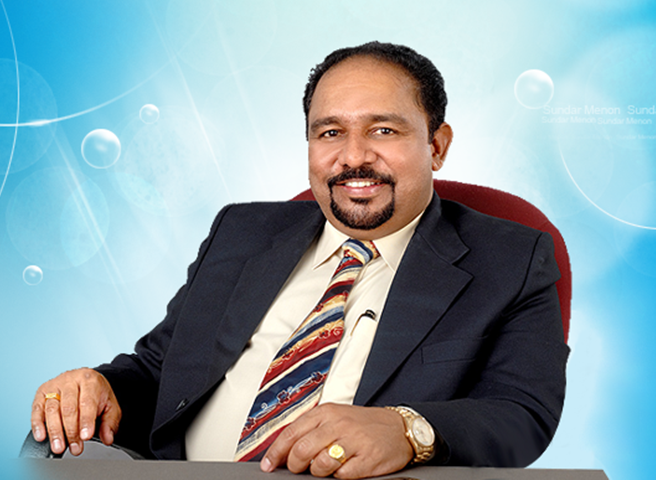 Listed among the leading businessmen in the Gulf region by Forbes Magazine, Dr Sundar Menon is equally renowned for his entrepreneurial achievements and philanthropic contributions. He has exemplified corporate social responsibility in India and the UAE through the Sun Charitable Trust, a social welfare wing of his conglomerate, Sun Group International.
Hailed from Kerala in India, Dr Sundar Menon relocated to the Middle East in 1985 and ventured out to become an entrepreneur from a business executive. Today, his multi-million dollar corporate empire drives large-scale employment and supports sociocultural activities in the Gulf region. His love for the root and the native land is evident from his philanthropic initiatives in Kerala, outside of the UAE.
The Padma Shri awardee has been contributing towards the socioeconomic upliftment of the underprivileged in the rural backwaters of Kerala in South India. His organization, the Sun Charitable Trust, has adopted a few villages in Kerala and taken some initiatives for improving the lives of the rural folks through better means of education as well as sustenance. Education of tribal children, inception of self-employment ventures and construction of clean toilets are some of his philanthropic pursuits in Kerala.
Dr Sundar Menon is president of the Kerala State Elephant Owners' Cooperative Society, which works for the wellbeing of elephants in Kerala. He played in a key role in modernization of the elephant care system in Kerala and implementation of welfare policies for elephant owners. His plan to set up a fully equipped medical treatment center for elephants in a 30-acre area in Trissur is underway.
His social work is not limited within Kerala. He contributed to the relief fund for the Uttarakhand floods in 2013 and joined the 'Clean India' campaign (Swachh Bharat Aviyan) launched by Indian Prime Minister Narendra Modi. Inspired by this nationwide campaign, Dr Menon founded a modern waste incinerator in Trissur Fish Market, Kerala.
The Sun Charitable Trust organizes mass wedding for the financially disadvantaged girls in India. It is also associated with Vivekananda Medical Mission Trust that runs educational setups and hospitals for the social welfare of marginalized tribes in India. Dr. Sundar Menon is a member of some 40 organizations including Pravasi Malayalee Federation headquartered in the United States.
Being an active member of several Malayalee communities in the Middle East and India, Dr Sundar Menon financially supports the cultural festivals of Kerala, including Trissur Pooram, an annual extravaganza which fetches one million people from across the world. He contributed to the massive construction of the Pooram Panthal, which was featured in the Limca Book of Records in 2010.
Dr Sundar Menon is not the only philanthropist from Kerala. Dubai based Sunny Varkey is another Kerala-born entrepreneur who topped Forbes Asia's 9th list of philanthropists in the Asia Pacific region. He has pledged to donate half of his fortune worth $2.25 billion dollar in response to the Giving Pledge Initiative, led by Bill Gates and Warren Buffet. – IndianEagle
IndianEagle, a U.S. based international travel organization, congratulates all Padma Awardees of the year 2016.