India celebrates Children's Day on her first Prime Minster Jawaharlal Nehru's birthday that is November 14. Schools, cultural institutions and social organizations observe Children's Day in India through various programs. The day is not all about celebration. It is about making children happy. Have you ever thought of putting a spark of smile to the faces of the children who are seen begging or working? Have you ever asked yourself how much a child's smile costs? Indian Eagle shares with you some ideas for Children's Day celebrations in India in a different way this year: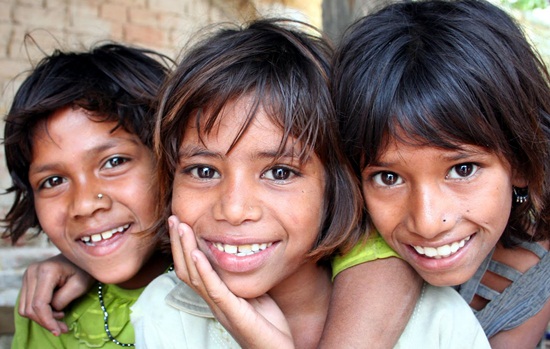 When your car is stuck amidst traffic at signals, some young faces loom large on the other side of the window glass. When you climb down the stairs of a temple or mosque, a few pairs of small feet walk behind you. When you are sitting by window in train or bus, some little hands try to reach out to you. It is common to see child beggars here and there in India. The number of begging children in the age group of 4-14 is close to one million in India. Some of them are trafficked, and forced into begging. Some others hit the streets, pavements and railway platforms to beg for their families with no adult bread-earning members.
Whatever the cause is, it is a bitter truth which one can neither hide nor boast of. If giving alms to beggars is a social crime or a virtue is a debated issue. It is not possible for individuals to identify a child beggar as a victim of utter poverty, or a trafficked member of a gang. If giving some alms to the begging children brightens their faces with a smile, it is worth keeping the controversy aside. However, you are neither encouraged nor advised to help them keep up with beggary. If you believe in philanthropy, motivate them with a piece of advice to rise over the state of misery, instead of giving only alms. It will not only bring smile on their faces but also boost their dejected inner selves. Remember what Swami Vivekananda says:
"The remedy for weakness is not brooding over weakness, but thinking of strength. Teach men of strength that is already within them."
In India, there are many orphanages run by NGOs. If you happen to visit an orphanage for a project on the development of children in India, carry some goodies for the young inmates of the orphanage. The priceless smile on their faces will cost you a little money which we generally spend every now and then. Those who have a lot want more and more. Those who do have almost nothing are happy with whatever they are offered. Obviously the orphan kids will give you artless smiles in return of the gifts, no matter how small your contribution is.
India received 66 lakh foreign tourist arrivals from different parts of the world, in the year 2012. The report from the Union Ministry of Tourism, India, states that the foreign tourists spent a total of 94,487 crore rupees last year. Each of the tourists spent Rs. 1, 43,162 ($2326.44) on average. Offering goodies worth two or three thousands rupees ($32.50 – $48.75) to the kids of an orphanage will not add much to your expenditure. It will be the best of all Children's Day celebrations. If any of your relatives or friends is associated with an orphanage in India, make sure to visit the place and spend the Children's Day there.
The sight of children selling various items at public places and on pavements is too common to remain unnoticed in India. Though pitiful, it is good to see them stand on their own small feet and work hard for earning livelihood in an honest way. While traveling in India, you can help them by buying some things from them. You will receive the goods along with a lovely smile for the money paid to them. They are not only helped but also encouraged to live with their heads held high this way.
If you are flying to India in the first or second week of November, or a few days before 14th November, then you must have bought gifts for your cousin or sibling or friend's children. Of course, children expect to receive something from guests in general. Almost every urban household in India has a maid servant. If there is one in your relative's house, make sure to bring something for her child. You will be surprised to receive a big thanking smile from her in return of your small gift.
Hope, our thoughts are welcome to you. Try these ideas and see how little a child's smile costs. At Indian Eagle, we are open to your views about the same.