Nate Natesan, the one-man army of Swacch Devalaya in the US state of Georgia, reminds us of Rabindranath Tagore's motivational song, "If no one responds to your call, move alone. O dear, move alone." We at Indian Eagle take pleasure in publishing and sharing the inspiring story of Nate Natesan as part of our continued effort to promote good work by Indian Americans, through our community portal, Travel Beats.
Nate Natesan, an Atlanta-based Indian American, is living Mahatma Gandhi's words "Be the change you want to see in the world" by keeping temples clean and instilling self-discipline among devotees through his reform movement Swacch Devalaya in Georgia. Since 2006, he has been putting visitors' shoes and sandals orderly on racks in order to keep temple premises clean and raise awareness about civic sense among the people.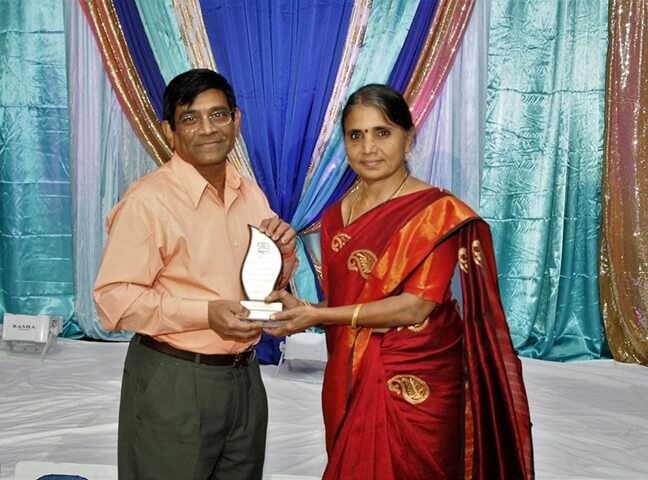 One of the few great humans of Atlanta and the founder of Swacch Devalaya, Nate Natesan is a business analyst. He traveled with a degree in Mathematics from Bombay University in Mumbai to New Jersey, and did MBA in finance at Rutgers University NJ. He has worked in several MNCs in Mumbai, Pune, New Jersey and Atlanta. He believes that the purity of soul begins with self-discipline and that no work is small or insignificant if it does good to the community.
Inception of Swacch Devalaya
Swacch Devalaya in Atlanta surfaced long before Swacch Bharat in India. Nate Natesan's generous act of arranging people's shoes at temples in Atlanta had been a nameless pursuit of volunteerism until he launched Swacch Devalaya on Facebook in June 2014. However, the present Swacch Devalaya in Georgia was ideated in 2006 during his visit to the Chinmaya Mission Balavihar where he found a mess of visitors' shoes scattered here and there to his utter surprise.
People's lack of self-discipline and no concern for cleanliness motivated Nate Natesan to set an example of leadership in bringing the change. Since then he has been arranging devotees' shoes on the floor and on racks to keep temple premises and entrance clean. He started from satsanghs at public places once a week and went on to do the same at Hanuman Mandir nearby his home, two evenings a week in 2010.
Nate Natesan took the mission to all temples in Atlanta following the online launch of Swacch Devalaya in Georgia in 2014. He single handedly clears the mess of footwear and keeps shoes in an order at Shirdi Sai Mandir, Sri Mahalakshmi Temple, Shakti Mandir, Shiv Mandir and Sanatana Mandir on both usual days and special occasions. Though it requires him to stand all the time to manage a huge throng of shoes, he continues it out of his love for community and his belief, "Cleanliness is next to godliness."
Response to Swacch Devalaya
Though temple priests, authorities and devotees admire him for his Swacch Devalaya movement, no one comes forward with a helping hand other than a few who randomly assist him for a short duration. However, it does not discourage him to continue volunteering at temples in and around Atlanta. Rather he attends various events and networks with people from different walks of life to promote the mission and vision of Swachh Devalaya in Atlanta, GA.
Wherever Nate Natesan finds a platform or whenever he gets an opportunity to speak about his reform movement, he does not step back. At times, he distributes fliers at public places to spread the message about cleanliness, self-discipline and civic sense far and wide. He is also active on social media. He posts updates of Swacch Devalaya and shares recognitions of the movement on his Facebook page.
Nate Natesan is a man of principles. He is so committed to the goals of Swacch Devalaya that he bears expenses for fliers, shoe bags, transport and other things as well as activities out of his own pocket. He neither approaches any organization nor asks anyone to donate to further his initiative. What he expects people to contribute or donate towards his mission is nothing but Time.
Mission of Swacch Devalaya
The mission of Swacch Devalaya is aligned with Nate Natesan's vision of a disciplined community with good civic sense and love for cleanliness. He says unambiguously that a temple is a community home, and so it is everyone's responsibility to keep it clean. He occasionally writes to various organizations to promote the cause. He concludes saying that he will continue volunteering at temples as long as his body permits.
The mission of Swacch Devalaya in Georgia is not limited to the act of arranging shoes at temples. It also emphasizes other areas of cleanliness like parking cars at designated places, abiding by temple rules, respecting public property, adhering to queues for Aarti and Prasad, teaching kids discipline and educating them on cleanliness.
Nate Natesan is a true leader in selfless service to the community. He has rendered various community services including volunteering in soup kitchens. He is looking to form "an army of volunteers to tutor children who hardly get any help towards learning.
Success Stories of Swacch Devalaya
Nate Natesan earned nomination for CNN Heroes. Every year CNN receives nominations for ordinary individuals playing extraordinary agents of change for betterment of the world, and selects ten CNN Heroes out of nominations. Nate Natesan is a hero of Atlanta to Indians in Atlanta Metropolitan area. Some of the major temples in Atlanta have recognized Swacch Devalaya and embraced it.
The inspiring story of Nate Natesan's Swacch Devalaya in Atlanta has found space in in electronic and print media. A possible change in children who are better organized at home under the influence of Swacch Devalaya, according to their parents, is the best achievement for this Atlanta Indian hero. Recently, Sewa International USA honored him for his initiative to keep temples clean.
We at Indian Eagle salute to Nate Natesan, who may be seen wearing a Swacch Devalaya vest and arranging people's footwear at temples in Atlanta and at various Indian community events. Do take a moment to thank him for his selfless community service if you happen to meet him ever. Let's promote and embrace Swacch Devalaya to give back to him.    
Also Read: Atlanta Indian Shefali Quit Lucrative Job to Serve the Poor