One of the predictions about the future of aviation that emerged this pandemic is a potential increase in the number of nonstop flights between the US and India. A successful run of Air India's nonstop services between Chicago and Hyderabad, San Francisco and Bengaluru, since they were launched earlier this year, seems to be a steppingstone for the efforts being made towards having a new nonstop route from the US to India. This time the preferred carrier is Delta Airlines, not the quintessential Air India.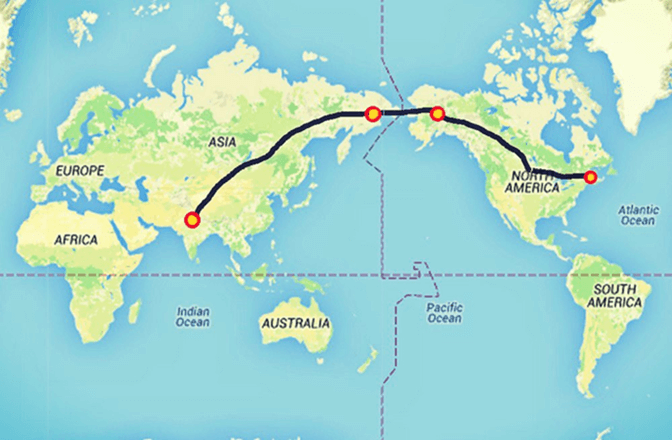 After several years of waiting, Indians in Michigan are all set to submit a petition for nonstop flights from Detroit to India. Recently, the Indian community growing in and around Michigan conducted a survey on the demand for a nonstop connectivity from Detroit to a major Indian city. A majority of travelers from Michigan, Ohio and Indiana travel to Chicago, Boston, New York and Washington DC for catching international flights to India. This is expensive and inconvenient according to most of the survey participants.
The survey proposal for the opening of nonstop flights from Michigan to India saw two groups of Michigan Indians: one group pitching for New Delhi and the other for Hyderabad as destination of nonstop flights. A sizeable Telugu population of the state proposed for nonstop Detroit to Hyderabad flights, while the other Indian ethnic communities voted for Delhi, Mumbai and Chennai. However, Hyderabad is the most preferred destination because other major Indian cities including Mumbai, Chennai and Bengaluru are just a short flight away.
Michigan's Indian community leaders have had early discussions with Delta Airlines, Detroit Airport and Hyderabad RGI Airport authorities. "Initial response from these key stakeholders is very encouraging. It is likely that Telangana and Michigan state government will extend their support in the near future," according to Miindia.com, a leading Michigan Indian community portal founded in 1999.
"If Detroit happens to get nonstop air connectivity with India, not only Michigan Indians, but also Indians from Ohio, Indiana and Kentucky will get seamless access to their home states in India. After Chicago, Detroit will be the second gateway in the Midwest USA. Unfortunately, major cities like Dallas, Houston, Austin and Atlanta in the south and southeast coasts are still waiting for nonstop air connectivity with India. Texas Indians' petition for nonstop flights to India from Dallas or Houston did not go through. Atlanta Indians' petition met the same fate. However, we are still hopeful," said the chief travel advisor of Indian Eagle, a leading travel-booking partner of American Indians, offering customized itineraries and cheap airfares to India.