You will not be complaining anymore that there is no Madame Tussauds wax museum in India. You will soon pose for photographs with lively wax statues of your favorite celebrities, starts and historical figures in New Delhi. Yes, Madame Tussauds is going to open a wax museum in the capital of India early in 2017. The London based museum house will honor not only the legends of India but also eminent personas from across the world by installing their life-size wax effigies at its New Delhi branch. You will be able to spend some quality time with Bollywood celebs as well as Hollywood stars at the upcoming Madame Tussauds wax museum in New Delhi.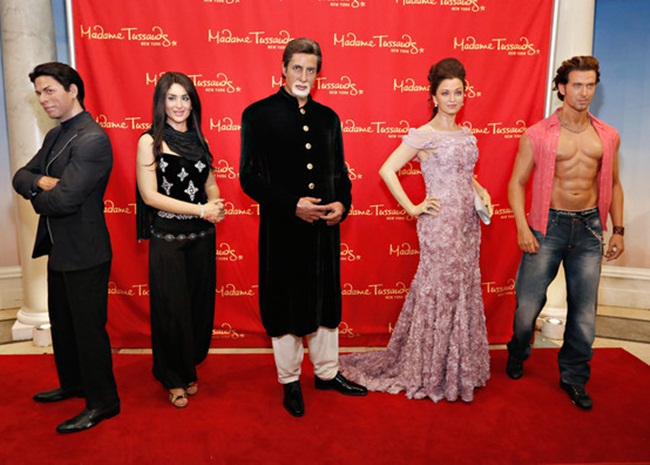 Among the offbeat things to see in Delhi, Madame Tussauds wax museum will be next to the famous Toilet Museum. The news came during Prime Minister Narendra Modi's visit to the UK. Thanks to PM Modi and British Prime Minister David Cameron who announced to celebrate 2017 as the India-UK Year of Culture. If Kohinoor Diamond will travel back to India is a question, but Delhi will get a wax museum for sure.
Expected to be an altogether different tourist attraction of Delhi, the wax museum is a part of the India-UK cultural exchange programs. Madame Tussauds wax museum in New Delhi will house wax figures of eminent personalities from different walks of life: entertainment, history, sports and politics.
There is a lot more in the offing when it comes to celebrating the cultural exchange between India and Britain. William Shakespeare's First Folio and a copy of the Magna Carta will travel from Britain to India for a nationwide display as part of the cultural exchange. Also, some of the rare treasures from the British Museum will be brought to India for the same purpose.
The First Folio refers to a collection of 36 plays by William Shakespeare, which was published in 1623. The plays in the First Folio include As You Like It, Twelfth Night, The Tempest, The Merchant of Venice, Romeo and Juliet, Macbeth, King Lear, Hamlet, Othello, Julius Caesar, Antony and Cleopatra as well. Shakespeare is one of the most revered and read figure in India. Some of his best comedies and tragedies are in the curriculum of English literature taught in colleges and universities across the country. – Indian Eagle
The United Kingdom will host an Indian festival when the culture of Britain will be celebrated in India in 2017. According to British PM David Cameron, the India-UK partnership would go beyond business relations to the boards of the Bard and the beaches of Bollywood. "It's the time to get together for celebration," said Cameron exuberantly.
PM Narendra Modi announced one year-long program to celebrate the 70th Independence Day of India in 2017. On this occasion, the British Library will pay a tribute to India by digitizing 200,000 pages of rare Indian books (from 1714 to 1914) in its South Asian archives to make those books available online for a global audience. Prime institutions in the UK will collaborate with top Indian institutions to showcase the best of both nations on the global stage in 2017.
Merlin Entertainments, which acquired the Tussauds Group in 2007 and owns all Madame Tussauds wax museums across the globe, will reportedly invest a whopping 50 million pounds to give Indian cities Sea Life aquariums and Legoland Discovery Centers among the UK favorites, in the next 10 years. The CSMVS Museum in Mumbai (Chhatrapati Shivaji Maharaj Vastu Sangrahalaya) will visually showcase the stories of Indian Civilization by means of some artifacts from the British Museum in 2017, the Year of Culture.
Apart from the upcoming Madame Tussauds wax museum in New Delhi, there is already a wax museum in Kolkata. Known as Mother's Wax Museum, it was built on the lines of the Madame Tussauds of London and inaugurated in 2014.
Travel Beats is a cultural wing of Indian Eagle, US-based international travel organization. Travel Beats publishes stories of India, news about Indian events in the US, and news about airlines operating flights to India from USA.